If you purchase an independently reviewed product or service through a link on our website, we may receive an affiliate commission.
Beating the heat is something that everyone is trying to do when it is extremely hot outside. Sitting inside where there is air conditioning is ideal but you have to spend some time outdoors to get fresh air. When you are outside, you might as well try and stay cool by jumping in a pool, ocean, lake, or spring. But if you can't get to any of those, you're going to have to find a way to make the season work. For your children, a water play center can really give them the enjoyment and fun they are searching for. There are many different kinds of play centers, such as slip n' slides and water tables, that offer you tons of fun with a sprinkler hookup. We've taken the liberty of hand selecting five of the best water play centers on the market for your kids to enjoy, so you can look like the hero parent while keeping your kids cool.
Give your kids multiple activities in the water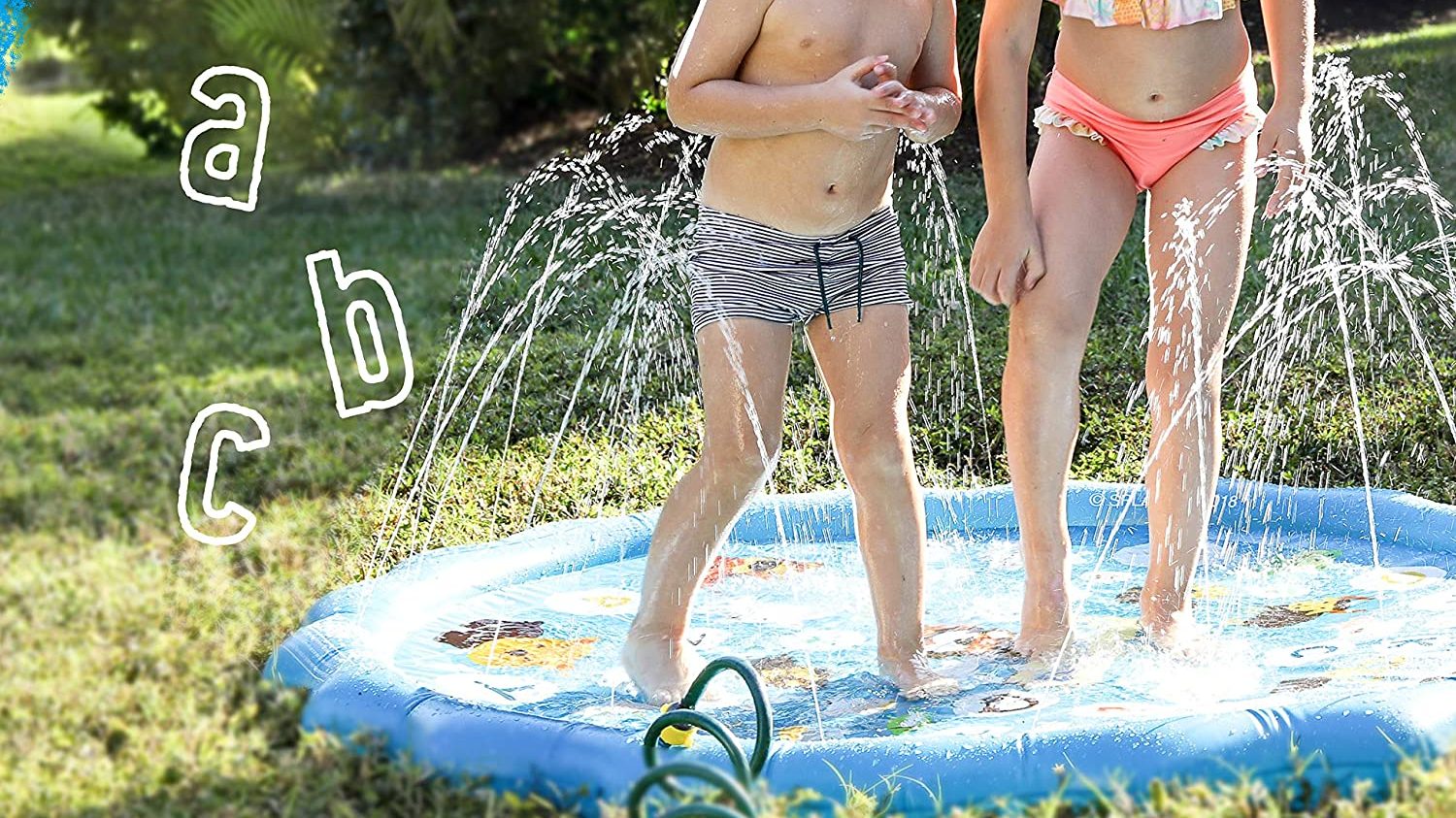 Perfect for small children and toddlers, the SplashEZ 3-in-1 Sprinkler for Kids, Splash Pad, and Wading Pool is an educational toy as well. This has a learning mat as the base, so your little ones can play word games and enjoy learning while cooling off. The inflatable pool is meant for kids 12 months or older and there's minimal water, so there's less of a risk. It is BPA- and phthalate-free and made from high quality materials. This is scientifically proven to help your child's development. The reusable pool features a soft and supportive rim that shoots streams of water into the air. This will give them plenty of fun in the sun.
Key Features:
Educational toy
Meant for kids 12 months or older
Scientifically proven to help child's development
SplashEZ 3-in-1 Sprinkler for Kids, Splash Pad, and Wading Pool for Learning – Children's S… $27.99
Available from Amazon
BGR may receive a commission Buy Now
Jump and splash at the same time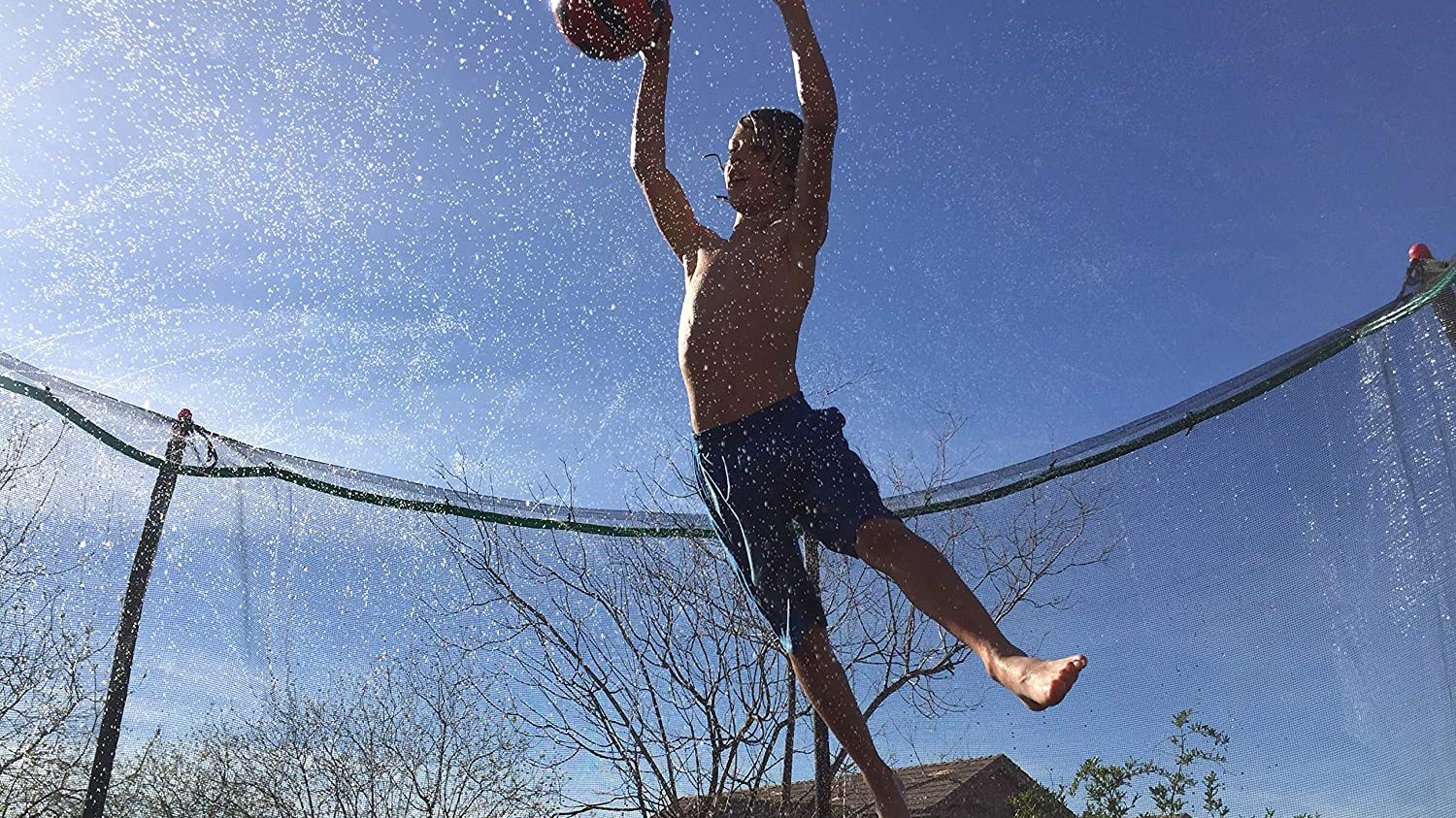 Start going to new heights on your trampoline with the Trampoline Waterpark from ThrillZoo. This lowers the temperature of the trampoline by 25 degrees, making for a cooler experience every time you jump on it. It's extremely easy to install and is adjustable to fit any trampoline enclosure net size because it attaches directly to the net. It is made from highly UV-protected material which guarantees this will last for years. Attaching it to the net keeps children away from grabbing the hose.
Key Features:
Attaches to the net of the trampoline
Adjustable and easy to install
Lowers the temperature of the trampoline by 25 degrees
Trampoline Waterpark Heavy Duty Sprinkler Hose- Fun Summer Outdoor Water Game Toys Accessories…
Sale price withheld at the manufacturer's request. Visit Amazon for pricing.
BGR may receive a commission Buy Now
Keep the fun high and the price low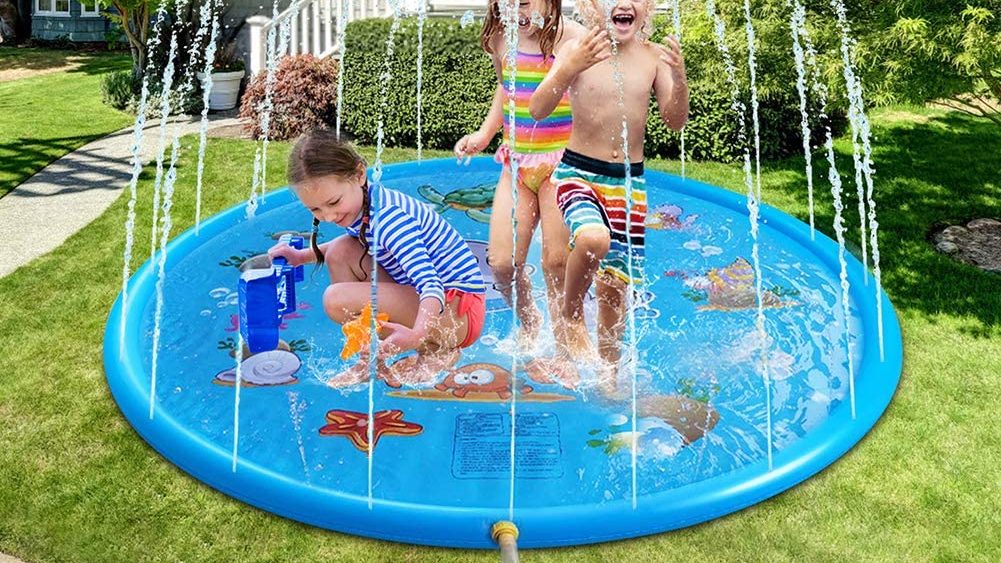 Ideal for those on a budget, the Tobeape Upgraded Sprinkler Splash Pad for Kids will keep your kids cool. This is 68″ in diameter and is made from durable quality. It is constructed from heavy-duty and environmental PVC material. The sprinkler mat is made for kids ages 1-12 and you can also use it for your dog to play in. Great for parties or celebrations, it will give your kids something to play in for hours. You can simply adjust the water pressure from high to low to manage the spray height.
Key Features:
68″ in diameter
Sprinkler mat is made for kids ages 1-12
Adjust the water pressure to manage height
Tobeape Sprinkler for Kids, Sprinkle & Splash Pad Play Mat, Upgraded 68" Inflatable Outdoor Wat… $19.98
Available from Amazon
BGR may receive a commission Buy Now
Slide your way into chill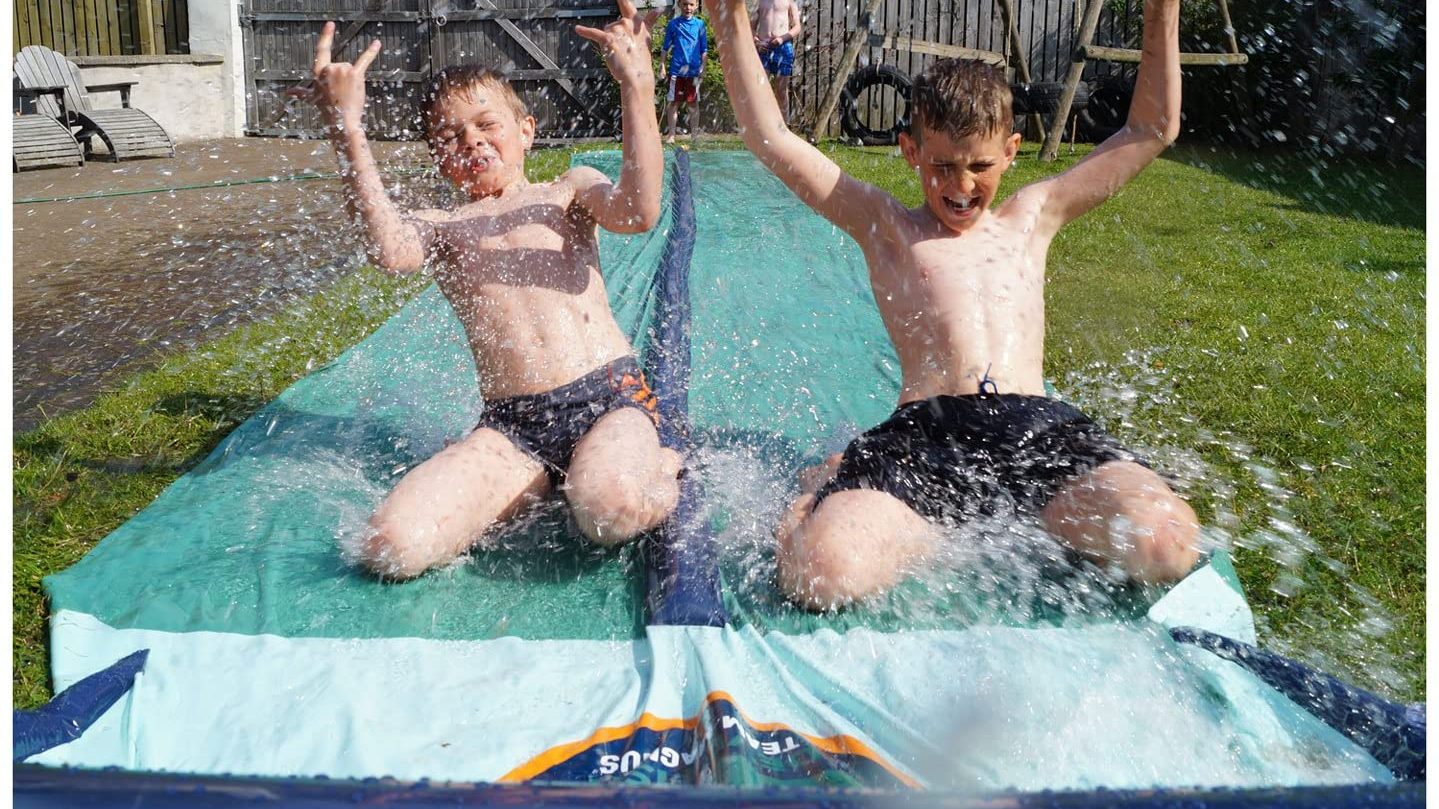 Boasting 31 feet of racing capabilities, the TEAM MAGNUS Slip and Slide XL is a great option. It is entirely made of heavy duty 0.22mm PVC and it comes with a sturdy pegging system with stakes. It is five feet wide and has a tough inflatable crash pad for when you're done racing. It takes minutes to set up and connects with both the male and female ends of your garden hose. The crash pad can be inflated by an air pump or manually.
Key Features:
31 feet long
Inflatable crash pad
Takes minutes to set up
TEAM MAGNUS Slip and Slide XL - Inflatable Crash pad and Central Spray Channel for Races $82.00
Available from Amazon
BGR may receive a commission Buy Now
A water slide can change the game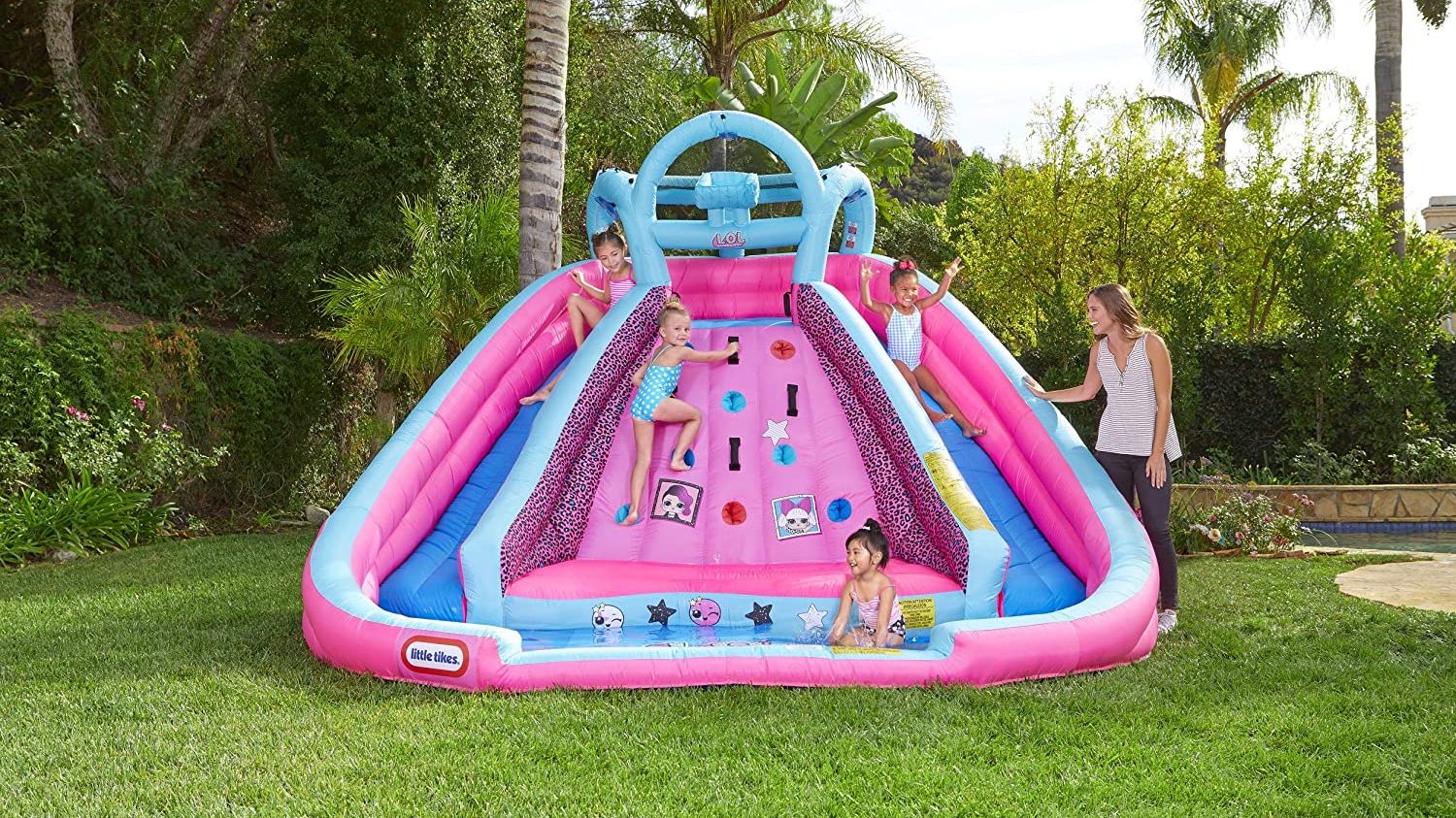 The L.O.L. Surprise Inflatable River Race Water Slide with Blower by Little Tikes will have all the kids talking. Two slides allow four kids or children with combined weights of up to 350 pounds to play. The center climbing wall lets them race to the top and then slide down on either slide. The surprise dump bucket pours water on kids as they play. There is a central pool where kids will end their slide and they can just hang out in. It measures 161″ x 169″ x 103″ and comes with a carrying bag. It includes seven water park stakes, a blower with a GFCI plug, four blower stakes, a hose assembly kit, and four repair patches.
Key Features:
Four kids can play at once
Two slides and a central pool where kids will hang
Surprise dump bucket to pour water
L.O.L. Surprise Inflatable River Race Water Slide with Blower
Sale price withheld at the manufacturer's request. Visit Amazon for pricing.
BGR may receive a commission Buy Now