Remember the Nubia X that we've shown you a couple of times already? It's a phone that features not one, but two distinct displays, including the main screen that takes up the entire surface of the front area, and a secondary one on the back that's smaller, with the express purpose of letting you take selfies.
This is another way of creating all-screen phones without compromising on notches like the iPhone X, camera holes like the Galaxy S10, or sliding mechanisms like other Android devices out of China. And the Vivo Nex 2 in the image above suggests such designs are here to stay. Vivo, by the way, also made phones with slide-out cameras, like the Nex S that preceded the Nex 2.
The render above is based on recent leaks that have already shown the phone out in the wild. Here's what those two screens look while being used, thanks to a leak from Chinese social media platform Weibo: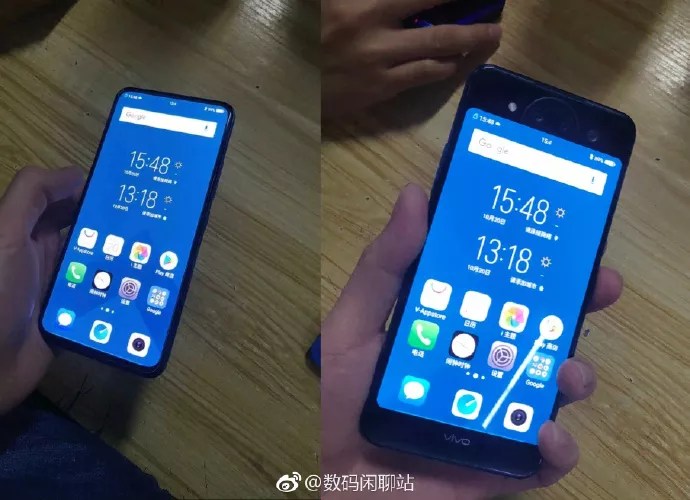 As you can see, the primary display extends from corner to corner, and is flanked on three sides by a minimal, symmetrical bezel, with a thicker one found at the bottom. There's no selfie cam on the front, so there's no notch or slide-out mechanism. And Vivo is yet to leak smartphones with Infinity-O-like designs. Also, the front screen packs an in-display fingerprint sensor.
The rear screen is significantly smaller, and that's because there's a triple-lens camera placed horizontally at the top. This is the screen you'll use to take selfies, as the phone only has a rear-facing camera module. That's also the screen you'll need when engaging in video calls.
Per The Verge, the Vivo Nex 2 also features a time-of-flight camera that should let you take 3D pictures. The dual camera is surrounded by an RGB LED Lunar Ring that has a ring that only glows for notifications. Other specs aren't available at this time for the Vivo Nex 2, but we should learn more details about it soon. The phone is expected to launch at some point in December, but it'll probably be available only in China initially.