Razer on Wednesday will unveil a brand new product, a type of device it never made before, and a new leak seems to further confirm it. That's right, the first Razer Phone is coming, a phone that already appears to be stuck in the past, though it will feature amazing specs that help carry it into the future.
Nobody would blame you if you expect this Razer Phone leak to originate from the regular leakers out there who always get access to such information well ahead of a phone's launch date. That's not the case this time around, as the Razer Phone leaked via a carrier.
Spotted by Android Police, a listing for the Razer Phone the on 3 UK site reveals plenty of details about the phone.
The first noticeable thing is that the Razer Phone has enormous top and bottom bezels. This isn't going to be the all-screen phone you're hoping for. Instead of going for a compact body and curvy lines, Razer seems to have adopted the out-of-date design ideas of Nextbit, the smartphone startup it purchased.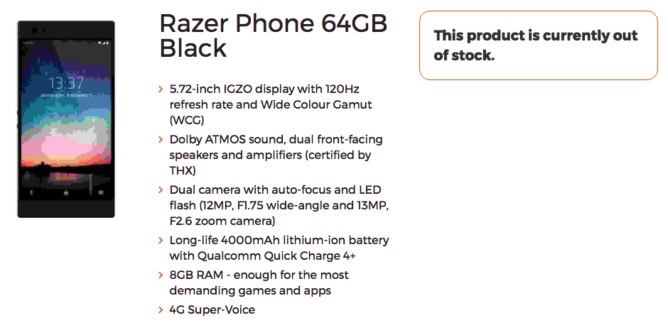 But the phone will have a large display nonetheless, measuring 5.72 inches. That means the entire thing will be pretty massive. On top of that, the IGZO display has a 120Hz refresh rate and Wide Color Gamut support. Other features include 8GB of RAM, 64GB of storage, and a 4,000 mAh battery with Qualcomm Quick Charge 4 support.
The phone is supposed to be loud, sporting dual front-facing speakers and amplifiers certified by THX, as well as Dolby Atmos sound.
It may not have an all-screen design like many 2017 phones, but the Razer Phone will have a dual lens camera on the back. The camera system has a 12-megapixel F/1.75 wide-angle sensor and a 13-megapixel F/2.6 zoom sensor.
Not all the specs are listed in the leaked image above, but we already expect the phone to pack a Snapdragon 835 processor and Android 7.1.1 Nougat. The handset should also feature a 7-megapixel selfie camera, and the display should have 1440p resolution. That's what a recent GFXBench leak told us.
What 3 UK didn't leak are actual prices or a release date. We'll just have to wait for November 3rd to find out.