Proton launched the Proton Pass password manager in late June, and I've been testing a premium version of it ever since. I do think this password manager can replace my 1Password account one day, although Proton's solution isn't quite a complete 1Password replacement at this point. Still, Proton Pass can help you save secure, unique login credentials, and notes. It can also email aliases so you'll never have to give out your real email to online services or apps.
All of that is available with a free Proton Pass account, although you have a few limitations with the free version. You don't get to save credit cards, and you only get 10 hide-my-email aliases.
Thankfully, you can, and should, get Proton Pass Plus premium for just $1/month on a 12- or 24-month subscription. The best part is the price will not change at the end of your subscription. It's a lifetime deal as long as you keep renewing it. And now, this deal has been extended for another month.
I am a big fan of password managers because they take the hassle out of remembering login data. Each of my credentials has unique, long passwords, and I have hundreds of them. That means I never recycle passwords. Nor do I remember any of them. 1Password, also a premium password manager, and Proton Pass help out with that.
I could not recommend password managers enough to anyone looking to improve their online security. That's why I also recommend the premium versions that offer more features. It's a price worth paying for the peace of mind of knowing you did everything you could to prevent hackers from breaching your accounts.
Hacks can still happen, and it's up to each of the websites and online services you have an account with to ensure the security of your account. But if a breach happens, and hackers do steal your email/password combo, they won't be able to use the same combination anywhere else. Again, you should never recycle credentials.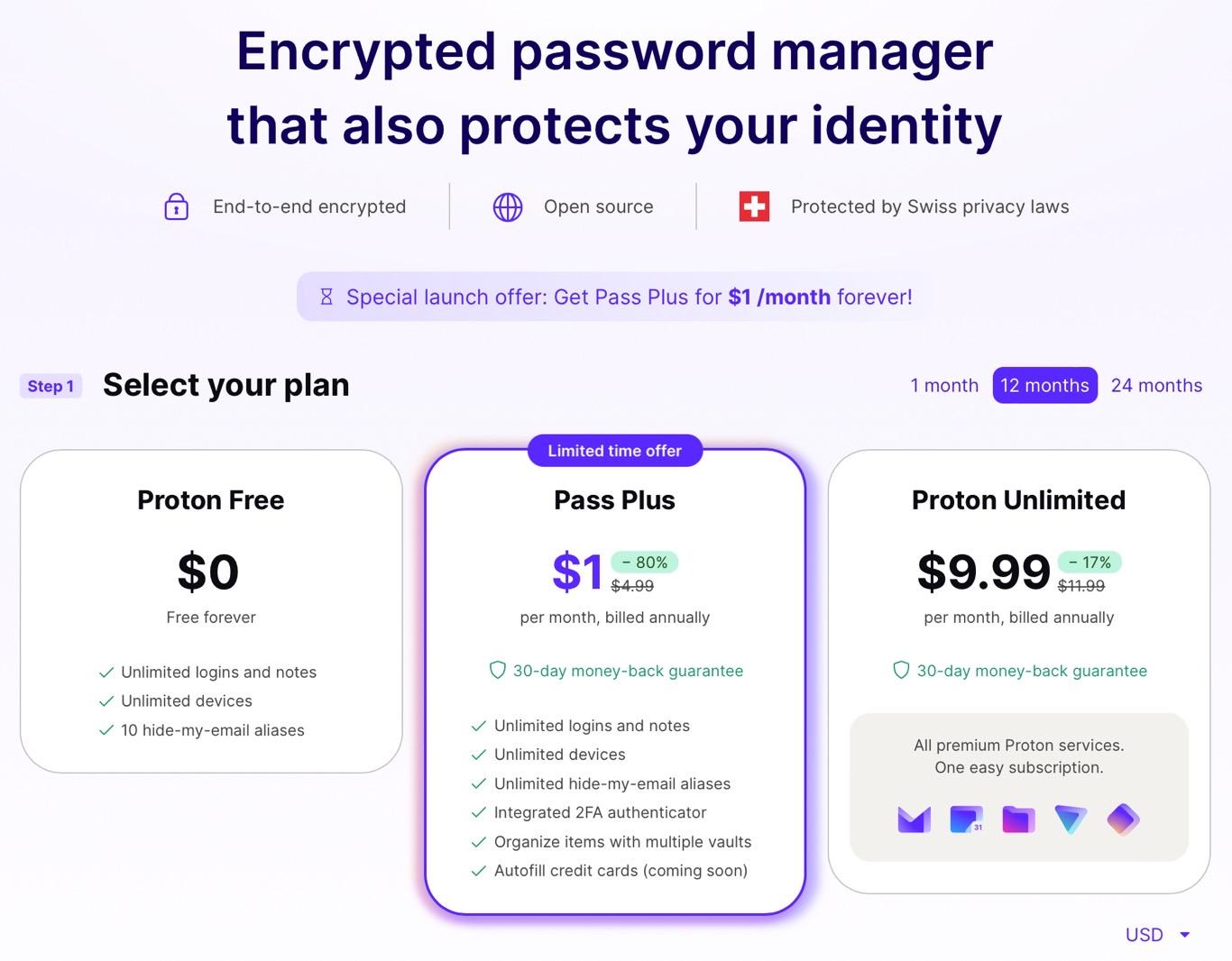 As for the password vaults themselves, services like 1Password and Proton Pass encrypt all your data, so hackers can't access it. That's one reason to try and trust such services in the first place.
Proton said that it received an enthusiastic response to the Proton Pass launch, and that's why it decided to extend its $1/month promo until the end of August. That means you have the opportunity to save 80% for another month. Proton Pass Plus will then revert to $4.99/month.
The best part about this deal is that, unlike other launch deals for other products, your price won't revert to $4.99/month after your 12- or 24-month subscription expires. As long as you renew, you'll get the same $1/month deal. That means you'll get all the new Proton Pass features without having to pay more. Proton Pass just added support for credit cards a few days ago, with autofill support in the works.
If you've missed the initial launch deal window, which closed last week, you can take advantage of the extended offer right now. You'll find the Proton Pass Plus offer at this link.
There is one limitation: you can't add the $1 Proton Pass Plus on top of the Proton Mail Plus subscription you might already have. If that case, you'll have to go for the pricier Unlimited subscription upgrade instead.