People can't stop buzzing about the new Arc web browser for Mac. I saw recently that it was finally out of beta, and I wanted to finally use it. I figured that if I really liked it, I could switch from the browser I currently use on my Mac to Arc.
I thought I'd finally install Arc this past weekend, give it a whirl, and possibly make the switch. But guess what? They tried to force me to register an account with Arc before even letting me use the browser. So I immediately closed the window, possibly forever.
Don't ask me to sign in
I didn't try Arc during its invite-only beta period, as I figured I have experienced enough issues with a browser in beta. That's Safari, which has been such a mess during the Ventura beta that I switched over to Microsoft Edge.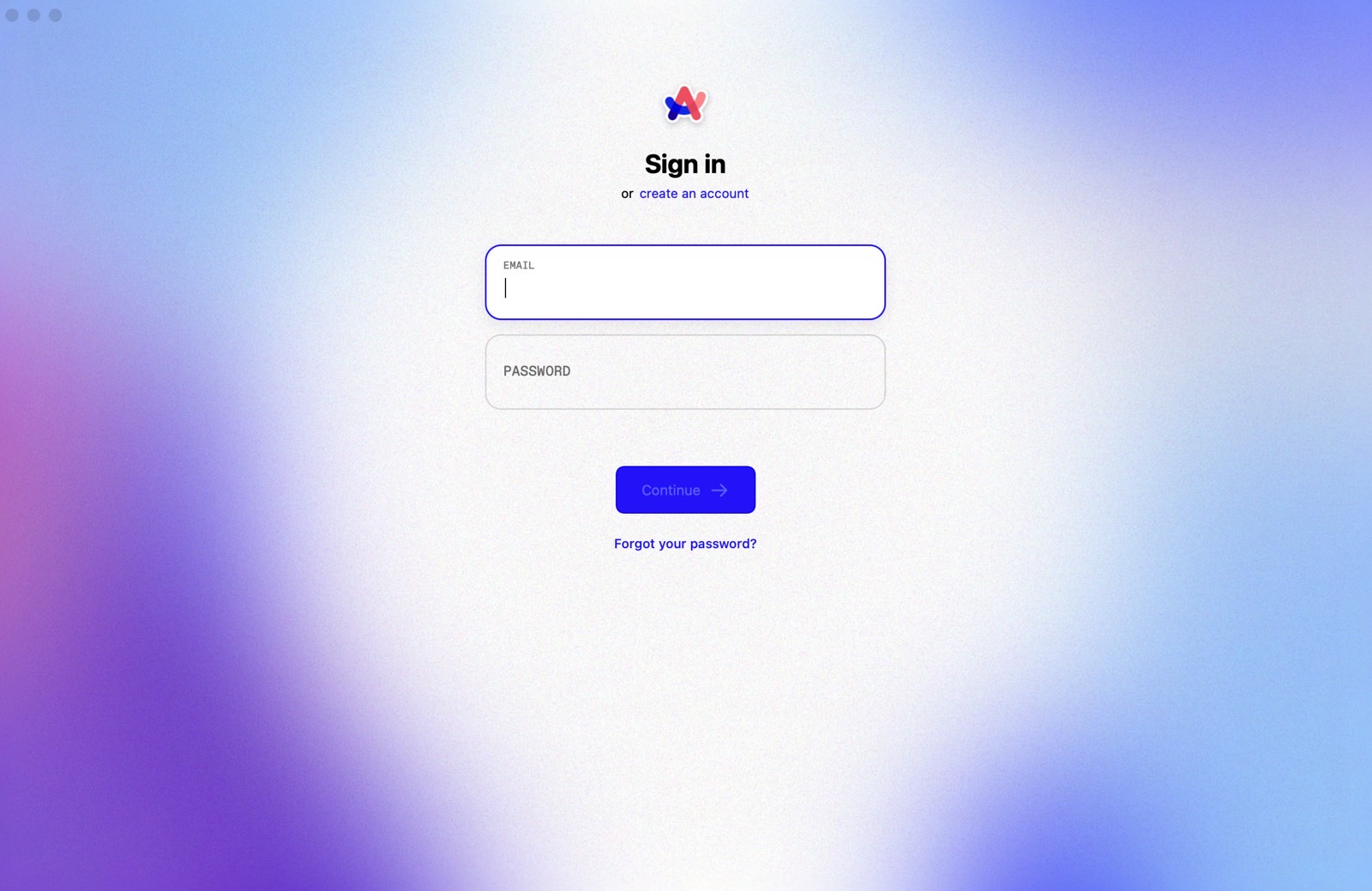 That's right, Edge is one of the best things to have happened to my Mac experience. You know, once you tweak the 14,000 settings to limit Microsoft data collection and customize the experience. And no, I'm not using Edge with my Microsoft account. Nor do I sign into Chrome using a Google account.
Had I gone for an Arc trial, I might have needed an account. But now that the product is available for free to anyone, I figured an account wouldn't be needed.
As long as Arc comes free of charge (more on that later), I don't see the need or benefit of an account. I don't have to pay for anything, so why ask for one to begin with? You don't need my data, and I don't need you to contact me. I also don't want to give you my email if I don't have to, nor do I want to worry about data breaches or trust that this company uses adequate security on its servers.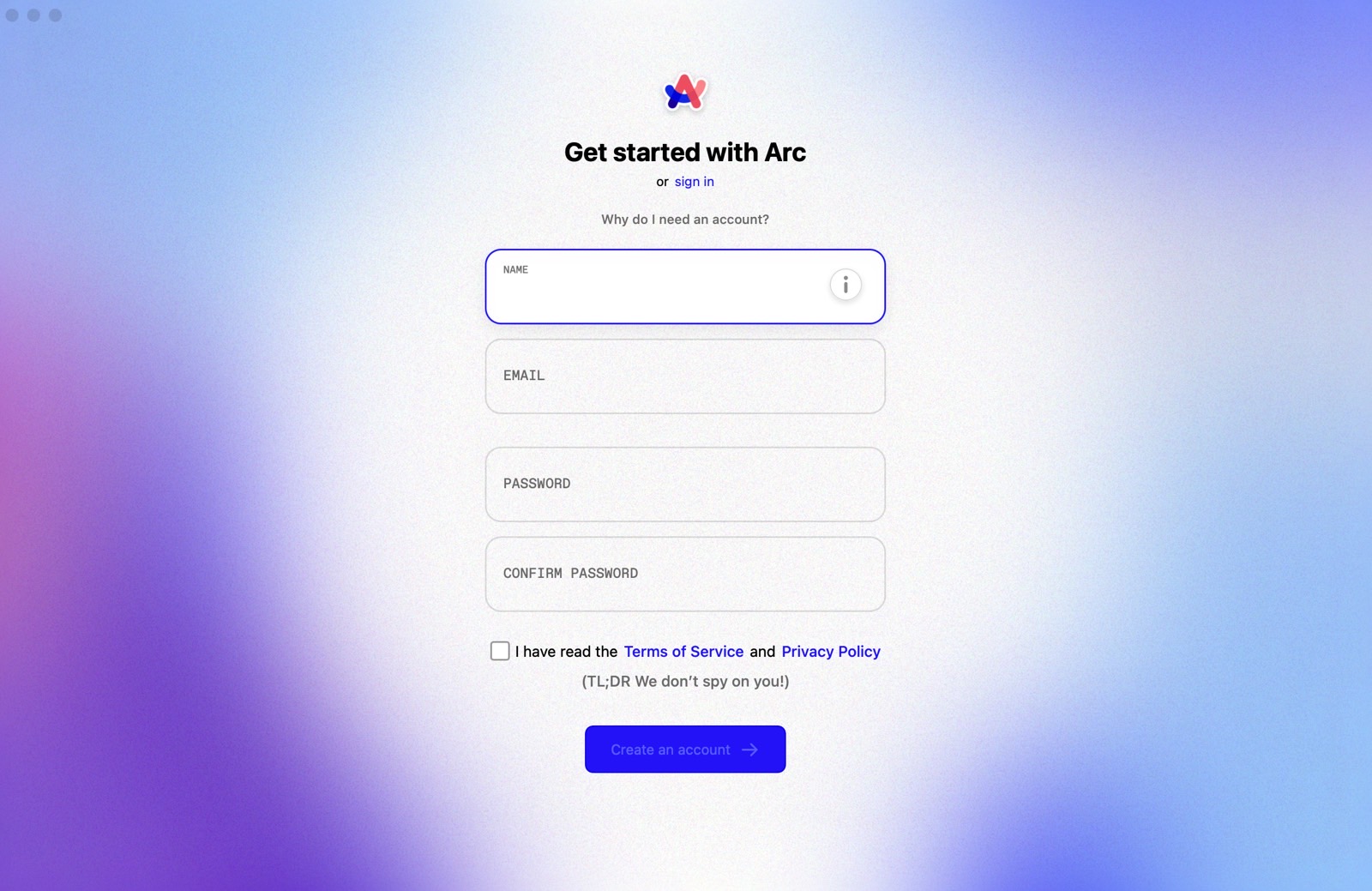 I will point out that I could have easily used Proton Pass to create an alias email used just for Arc logins. And I could always give out a fake name because who is going to check it?
But it's the principle of the matter. Arc is forcing you to create an account before you get to experience the browser at all. Google and Microsoft are dying for you to use their browsers while logged in. But they won't force you to register and account if you don't want to.
Microsoft even lets you use Bing Chat without an account, which is a surprising decision.
Regardless of how you use Chrome or Edge, they'll still collect data from you. That's the price to pay online for free software. And I totally get it. Since Arc is free, I do expect to have to pay for it somehow. But creating an account for no reason isn't the way to go.
I say no reason loosely. Yes, there is a benefit to creating an Arc account. You get to sync data across devices. But that's optional. As much as I dislike Safari on Mac, it's my browser of choice on iPhone. I'll never Arc on iPhone, no matter how amazing the browser might be.
As for filing bug reports, how buggy do the creators of Arc think their browser is if I need an account to file reports and keep track of them?
Arc's great privacy policy
Arc says that it's not collecting any user data to sell it to third parties, which could then show relevant ads. The Browser Company explains which data it collects on its privacy page.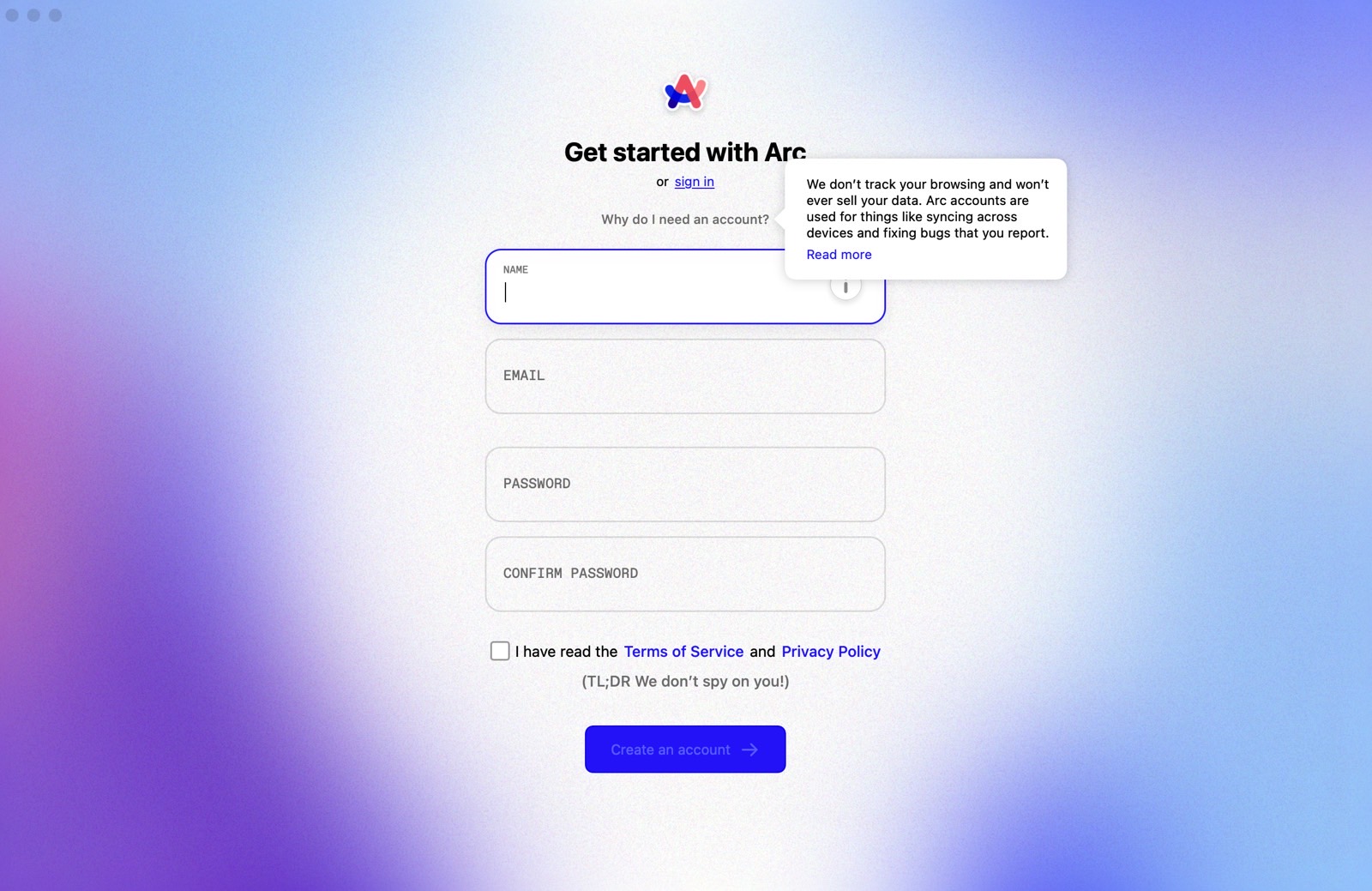 That's where I found out that Arc doesn't know what websites I visit, what I type into the browser, and that it won't sell my data. That's great, in theory. It's much better than I expected. But the same page notes that Arc will collect personal data, including login data.
Arc will get my name, email, and account password "directly from you, when you choose to give it to us (such as when you sign up for an account)." But you never get to choose. You have to sign up for an account to use the browser.
The reason Arc needs this data is so you can log into your account and so that it can contact you. I don't want either. And I might want to use Arc incognito all the time. Does that work while being signed in? I have no idea since I haven't gotten that far with my Arc experience.
The same privacy policy notes that Arc's behavior might change if it gets acquired by a third party with different goals. That is, you'll want to make sure you keep an eye out for Arc updates in the future. But you don't need to have an account to find out that, for example, a big tech company bought Arc and is about to make big changes to it.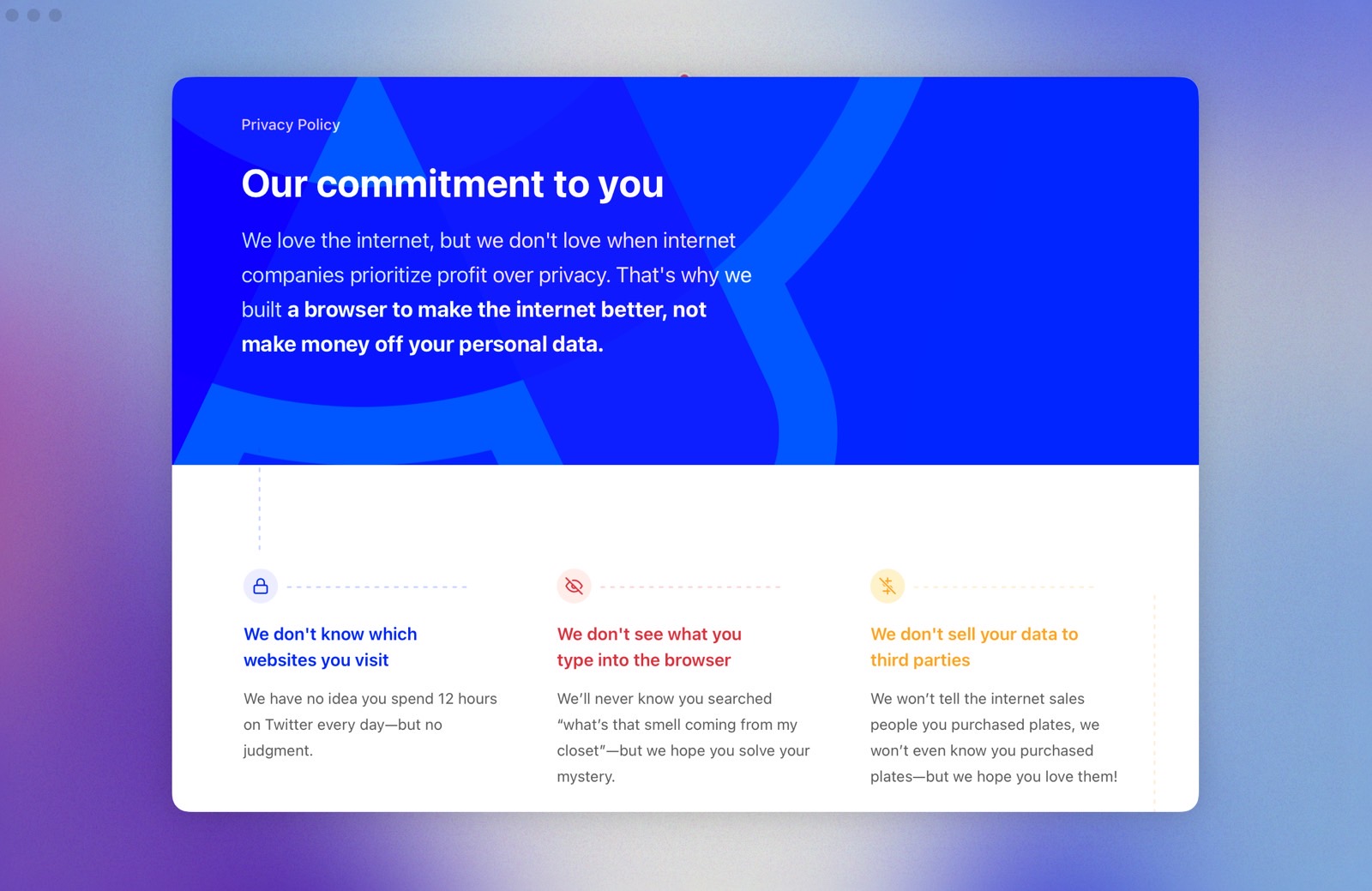 Speaking of money…
How does Arc make money? I'm tired of telling people that the internet is free, so Arc can't be free. Nor do I want it to be. I want great software developers to be happy individuals. I want them to be paid for their work, so they can come up with awesome new features. Even if that means that I have to see ads in my experience of a free product.
The Browser Company won't charge you a fixed fee for Arc, nor will it push a subscription. But they could always show ads. These could be non-personalized ads, and that would be a big advantage over Google, which is currently trying to move from cookies to a tracking method that's more private. The most private experience would be serving ads with no tracking. Google doesn't want to do that. Arc could.
In a video from its creators, Arc says it hopes to make money from two revenue streams: enterprise adoption and "Boosts." The Browser Company might sell Arc for Teams, which is one instance where you would need an account. But even then, you should be able to use the browser while signing out or incognito.
As for Boosts, that's the ability to customize website experiences. And you could create and share Boosts for others. That's another instance of needing an Arc account, especially if you buy and sell Boosts.
Still, as a regular Arc user, I'd want to use it without an account and decide for myself whether I need to create one. Apparently, I'm not the only one. Redditors wondered months ago why Arc requires an account, speculating it might deter people from using the browser. They were right.
I'm not just ranting against Arc, and I know that I have peculiar internet use choices. That's Signe-Out-Edge for Mac and Safari on iPhone. But I don't appreciate creating accounts for anything just for the sake of it.
This automatically leads to worries about data collection and security issues. In my view, there's no Arc feature that needs a user account. Even if it did, I should be the one to decide when and if to make/use one. And data syncing doesn't apply to me.
I won't mind seeing ads within Arc if that's what's paying The Browser Company's bills. And I wouldn't mind if they tried to collect data for more personal commercials. After all, I might not be signed into Microsoft on Edge or Google on Chrome, yet they still collect data for ad purposes. It's all part of the free internet experience.
But I will stay away from Arc as long as it forces me to create an account to use it.