Swiss software developer Proton released another end-to-end encrypted product this week, and it's the kind of app you should have installed on all your computers. Proton Pass is similar to 1Password and other password manager apps that can keep all your login information safe while helping you come up with unique, hard-to-guess passwords for all your services.
What's interesting about Proton Pass is that it's free right now and doesn't even require a Proton account. The latter would give you access to Mail, Calendar, Drive, and VPN, Proton's other software solutions. The base Proton Mail account is also free, but the premium options have additional features.
This brings me to Proton Pass Plus, which I believe to be a better password manager solution than the free one.
A quick comparison on Proton's website tells you the big differences between Proton Pass Free and Proton Pass Plus.
The free option will let you save unlimited logins and notes on an unlimited number of devices. But you get only 10 hide-my-email aliases, which is a key Proton Pass advantage over other password managers.
With hide-my-email, you'll never have to provide your email address to apps and services. This will cut down on your spam, which we all hate dealing with.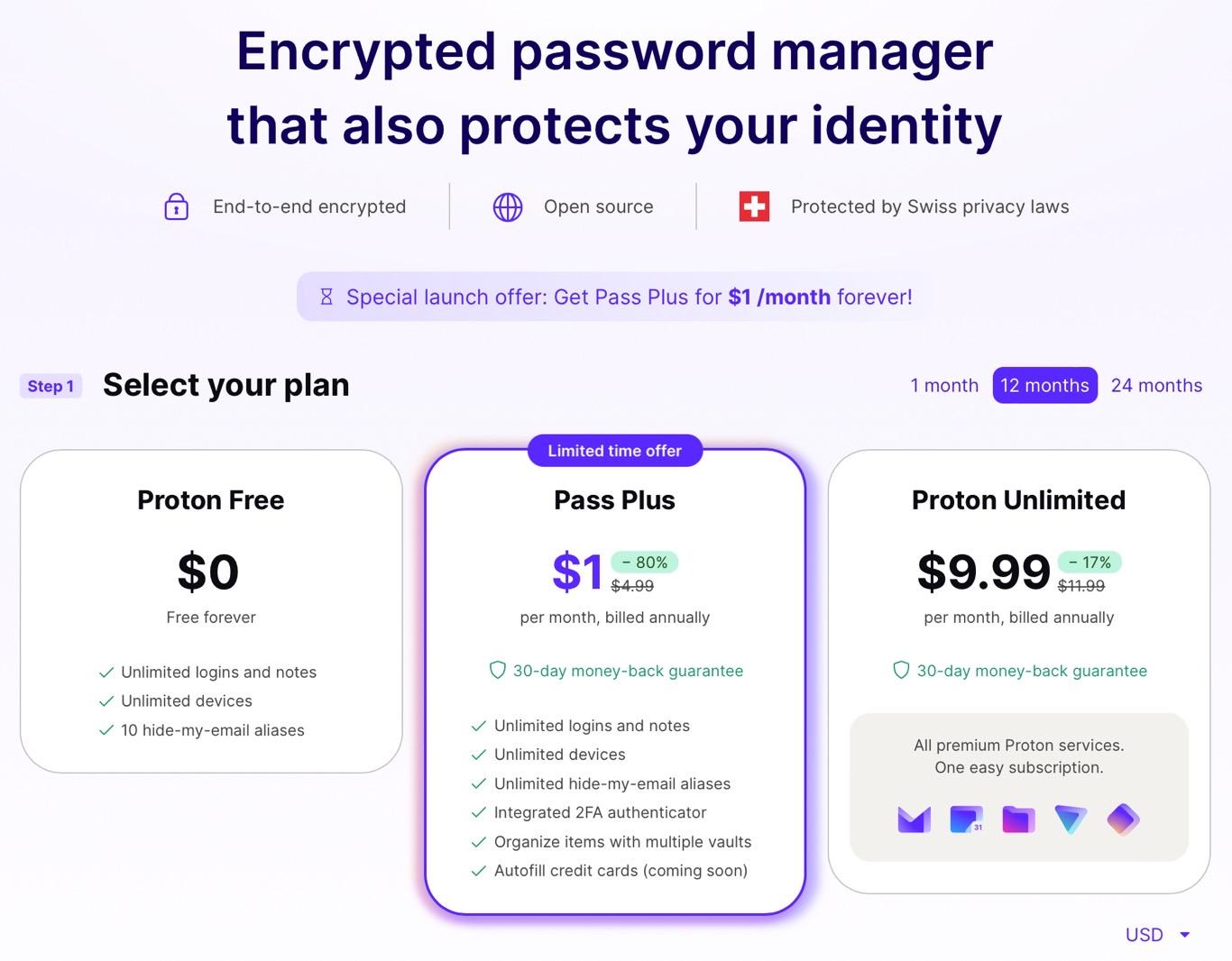 But 10 hide-my-email aliases won't suffice. For example, I have hundreds of logins saved in 1Password, and the list is growing. Eventually, I'd want to switch all my logins to aliases, even if going through that email update chore will be terribly annoying.
The Proton Pass Plus option comes with unlimited hide-my-email addresses. Also important is 2FA authentication, which the Free option doesn't cover. Support for multiple vaults and autofill credit cards are two reasons to upgrade the Plus. The latter is a must-have service from password managers in my book. Sadly, Proton Pass doesn't have it yet, but it'll be available via a future update.
That's not all. Another look at Proton's various software bundle plans would tell you that Proton Plass Plus will get additional premium features soon. That's vault and item sharing and data breach monitoring. The latter is another big reason to want the premium Proton Plas rather than the Free. Proton Pass will keep track of hacks, and warn you if your accounts are in danger.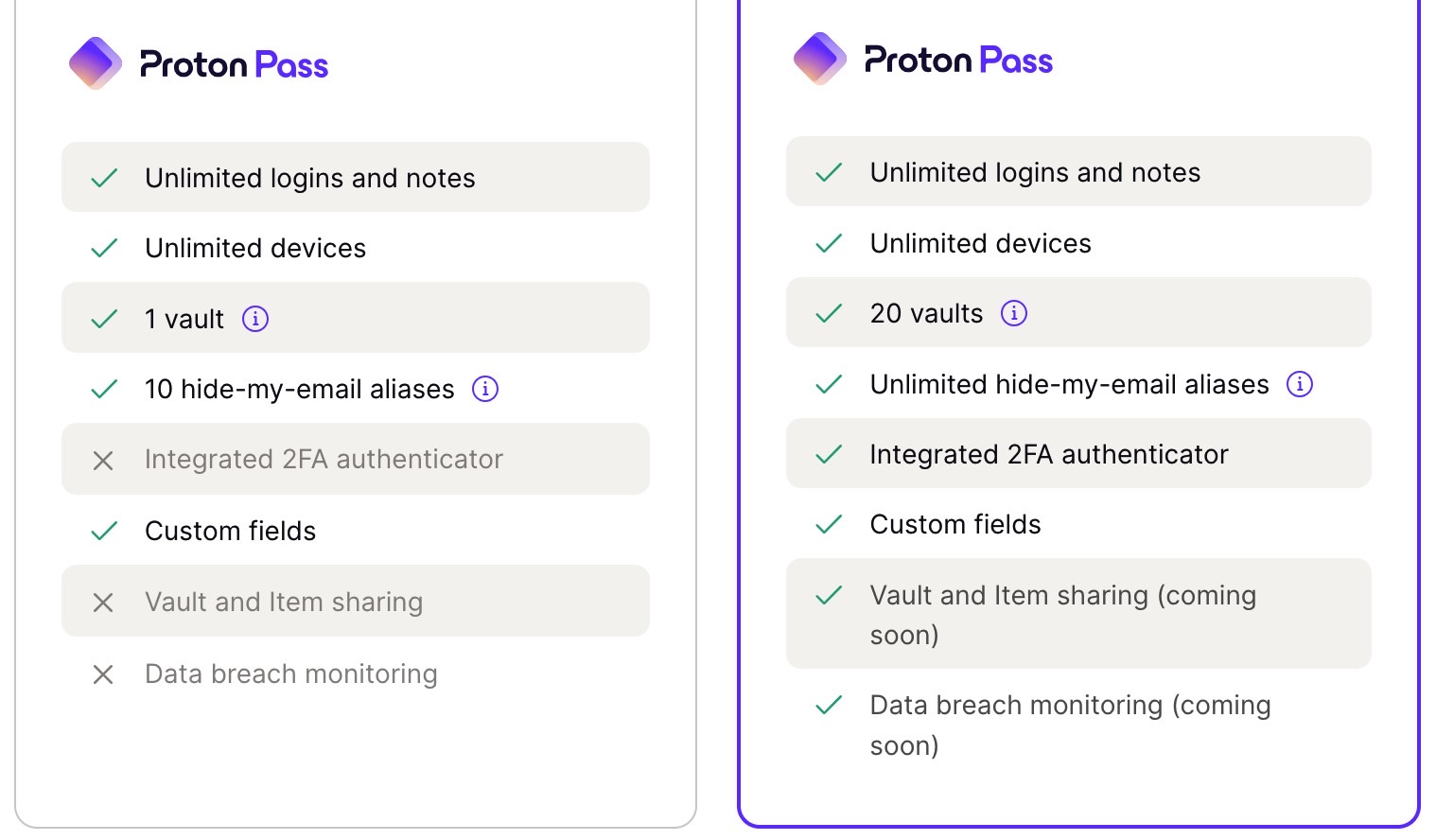 If you're already a subscriber of premium Proton services, like the Proton Unlimited or Proton Family plans, you'll get the Proton Pass Plus automatically.
Proton Pass Plus is the way to go if you don't need the other four Proton apps and only want a dependable password manager. You can test the free option for about a month without losing out on the excellent launch deal that Proton offers.
You can lock in Proton Pass for $1/month when subscribing to 1-year or 2-year Plus plans. That price will stay in place when it's time to extend the subscription. You'll practically get Proton Pass Plus for $1/month for life, assuming Proton never changes the pricing structure.
Fail to act by July 28th, and you'll have to pay between $2.99 and $4.99 monthly for Proton Plus's premium subscription, depending on your chosen plan.