Google just announced two new Pixel phones at I/O 2019. The Pixel 3a and Pixel 3a XL both leaked extensively ahead of their unveiling last week, so nothing Google showed off during its keynote presentation came as a surprise. Of course, that doesn't make the Pixel 3a and Pixel 3a XL any less appealing. These new smartphones essentially usher in the return of Google's Nexus program, which sought to give consumers a more affordable way to get their hands on a pure Android experience. Nexus phones were never huge sellers, but they were sorely missed when the program ended back in 2016 with the release of Google's first Pixel phone.
As welcome as affordable pure Android phones may be, the Pixel 3a and Pixel 3a XL aren't the new Pixel phones that fans are most excited to see in 2019. No, that honor goes to the upcoming Pixel 4 and Pixel 4 XL that are expected to be released later this year in October. Details are still a bit scarce since the launch is so far away, but now a new leak seems to firm up the notion that the Pixel 4 and Pixel 4 XL will have the most exciting designs we've ever seen on any Google smartphones.
Thanks to a leak last month, we know fairly conclusively that the Pixel 4 and Pixel 4 XL will be powered by the latest Qualcomm Snapdragon 855 chipset. An even earlier leak suggested the phones will have at least 6GB of RAM. Beyond those details, however, not much is known about the phones' specs. We have seen a few leaks regarding Google's updated designs for the Pixel 4 and Pixel 4 XL though, and we really like what we've seen. In fact, it's looking like the Pixel 4 and Pixel 4 XL could be the first Google phones ever to feature a more modern design than Apple's iPhones.
Google's Pixel phone line has always been known for a few things. These phones are sleek, they're powerful, they get updates faster than any other Android phones, and they feature horrible designs that are way behind the times. That statement is as true for the current-generation Pixel phones as it was for the first-gen models back in 2016. This year, however, it appears as though Google is turning over a new leaf and using an exciting and modern design that people have been loving so far. That's right, we're talking about the hole-punch design we saw on Samsung's all-screen Galaxy S10 smartphone lineup.
The render above and at the top of this post show the hole-punch camera on the wrong side of the phone, but apart from that, it's likely that these renders give us a good idea of what to expect from the Pixel 4 and Pixel 4 XL when they debut later this year. It's even more likely now because a user on Slashleaks found a drawing in a Google patent that shows a new smartphone design just like the leaks we've seen so far. Here's the image in question, which appears to show the Pixel 4 XL design since there are two lenses in the front-facing camera setup: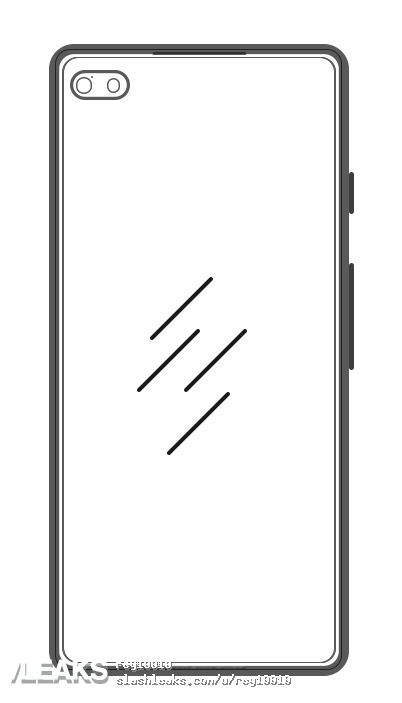 No additional details are available, but smartphone makers have been caught in the past using designs from unreleased handsets in patent applications. With that in mind, it's even more likely now that the Pixel 4 and Pixel 4 XL will be released later this year with the exciting new hole-punch camera design that Android fans seem to love so much.