We're now exactly one week away from the release of one of the hottest new smartphones of the year, Samsung's Galaxy Note 9. The Note 9 isn't just one of the hottest phones of the year, actually, it's one of the best smartphones that has ever been made. It has a fantastic design and a stunning Super AMOLED display that tops everything else on the market, and it packs plenty of power as well as the best battery life we've ever seen from an Android phone. It really is the total package — and yet…
As we covered in our Galaxy Note 9 review earlier this week, it's difficult to get excited about the Note 9 because it suffers from the same problem as the Galaxy S9 from earlier this year. It's a great phone, but it's a spitting image of last year's model and it doesn't pack any compelling new features that might draw interest. That's why the Galaxy S9 is shaping up to be the worst-selling Galaxy S phone since 2012. Samsung's Galaxy Note 9 isn't quite as bad as the S9 since it has a nifty new S Pen and a much bigger battery than the Note 8, but are a wireless selfie shutter button and a few extra hours of battery life enough to make it a top-seller? It probably doesn't bode well that Google search traffic in the US for "Galaxy Note 9" didn't even climb as high as Apple's year-old iPhone X in the days surrounding Samsung's big event.
The Note 9 simply isn't fresh and new. It's uninspired. The good news is Samsung is rumored to be working on several exciting new flagship phones that will launch next year. And the better news for Android fans is that they won't even have to wait that long for an Android flagship that really is fresh and new. Why? Because Google's Pixel 3 XL is a complete overhaul of Google's Pixel phone lineup, and the latest leak suggests that we're getting very close to seeing the phone launch.
Google's Pixel phones aren't best-sellers by any stretch of the imagination, but they sure do manage to get hardcore Android fans excited each year. Of course, it's easy to understand why since they encompass the best of everything Android has to offer. Pixel phones deliver "pure" Android without any extra bells and whistles from vendors like Samsung and LG, and they get new versions of Android as soon as they're released. Finally, they deliver that great Android experience on top-quality hardware. Google's Pixelbook is the best piece of hardware the company has ever made, but its phones aren't far behind.
If there has been one problem with Google's Pixel phone series so far, it's that their designs have been a bit dated. 2016's Pixel and Pixel XL were carbon copies of Apple's iPhone 6 from 2014. Then the Pixel 2 and Pixel 2 XL still had enormous bezels around the display last year while every other major smartphone maker was moving toward "all-screen" designs.
In 2018, Google will come as close as it ever has to releasing a phone with a modern design. The Pixel 3 XL will feature a notch at the top of the display just like all the other iPhone X copycats out there. Well, almost just like them… Google's notch is actually much, much bigger. The "chin" bezel underneath the phone's screen is also much, much bigger. But hey, at least they're trying!
We've seen the Pixel 3 XL leak a few different times now, so we know exactly what to expect when the phone finally launches. And speaking of launching, the first photo of a Pixel 3 XL being used by someone who is out in public testing the phone was just posted in a tweet by the smartphone blog MobileSyrup. Here's the tweet:
A @MobileSyrup reader spotted this possible Pixel 3 XL photo in the wild on the streetcar in Toronto, Ontario today. Our team thinks the photo is legitimate, especially given the big notch and substantial chin. Do you think this is a photo of the Pixel 3 XL? pic.twitter.com/nPTGHmIVUO

— MobileSyrup (@MobileSyrup) August 16, 2018
Here's a closer look at the photo (click to enlarge):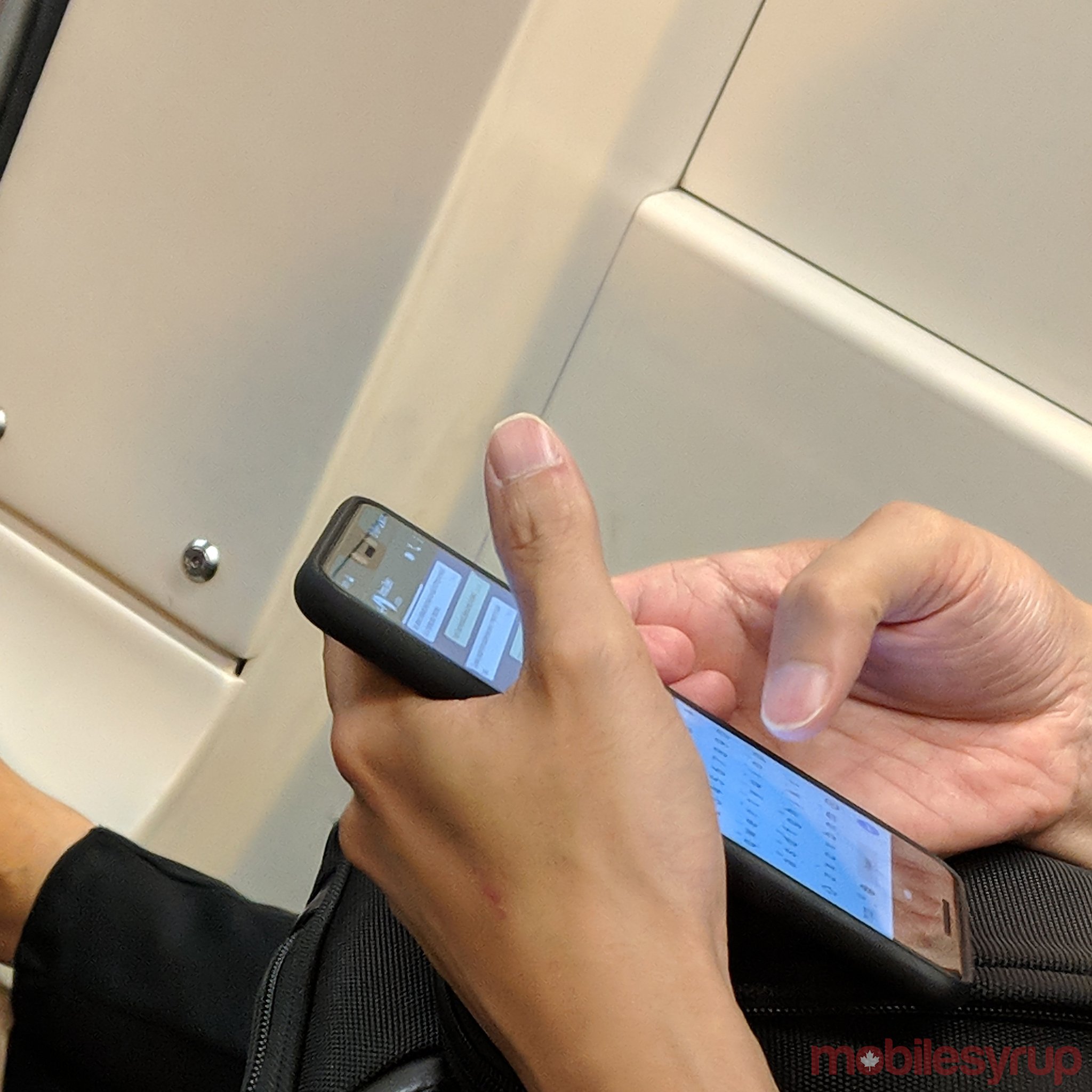 A quick glance at the top of this mystery phone reveals a massive notch that leaves space for a speaker and two oversized camera lenses. Yup, that's the Pixel 3 XL, alright. Note that the chin bezel at the bottom of the phone looks particularly massive in this photo, but it's not really that big. A little more than half of that space is actually screen, as you can see in this photo from an earlier leak.
Google is expected to release the Pixel 3 and Pixel 3 XL sometime in early to mid-October.