OnePlus, the Chinese smartphone startup that surprised the world with its ambitious "Never Settle" devices is at it again. After a garden variety of leaks and rumors indicate that a OnePlue 5 device is going to be launched this year, the company's CEO teased a "big surprise" on Weibo.
OnePlus will skip a beat this year, reports indicated, as the number four is associated with bad luck in China, and therefore can't be used in a product name. Therefore, a OnePlus 5 handset is expected to hit stores at some point in the coming months and compete directly against the Galaxy S8 and the iPhone 8.
The handset is supposed to feature high-end specs wrapped in a budget-friendly premium design just like its predecessors.
OnePlus CEO Pete Lau retweeted — well, he re-Weibo-ed — a message that OnePlus posted on China's Weibo social network.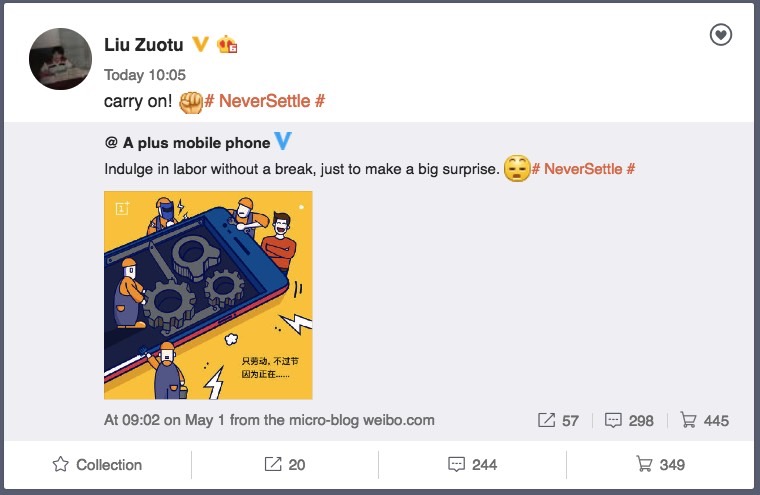 OnePlus's message, shared on Monday, said the company is working without a break, "just to make a big surprise." Lau reposted the image on his Weibo account with a "carry on" encouragement — and both messages had the expected #NeverSettle hashtags.
"Never Settle" is a motto that OnePlus used since launching its first handset, even though the company was often criticized for some of the settling it had to do to launch a flagship phone that carried a mid-range price tag. That can only mean the "surprise" is the next OnePlus installment, which can only be the OnePlus 5.
That said, it's unclear at this time when the OnePlus 5 will be unveiled, as the Chinese smartphone maker is yet to make any announcements.