When we talked about the Mediatek Dimensity 9200 chip a few months ago, gaming was one of the main highlights. The processor is meant to compete against the Qualcomm Snapdragon 8 Gen 1 System-on-Chip (SoC) in the Android market. Fast-forward to mid-February, and Mediatek's Dimensity 7200 mid-range SoC also puts gaming at the forefront.
The difference this time around is that the Dimensity 7200 will power mid-range Android handsets. The chip should also deliver better AI features and camera improvements for budget-friendly phones that users can keep for longer periods of time before upgrading.
Like the 9200, the Dimensity 7200 is built on the same TSMC 4nm second-generation process. The chipmaker says the new SoC is "ideal" for ultra-slim designs in a variety of form factors. No brands were mentioned by name, so it's currently unclear which phone models will be powered by the new chipset.
But MediaTek stressed the importance of smartphones lasting longer between upgrades, as consumers tend to keep their devices for several years. As such, the MediaTek 7200 should be able to power mid-range handsets for years to come. It'll be up to smartphone vendors to also keep them updated when it comes to software.
By focusing on AI, gaming, and photography for the new chip, MediaTek implies the Dimensity 7200 should pull its weight quite nicely when it comes to regular everyday smartphone tasks. If it can support high-end gaming, then it should run plenty of standard apps without issue.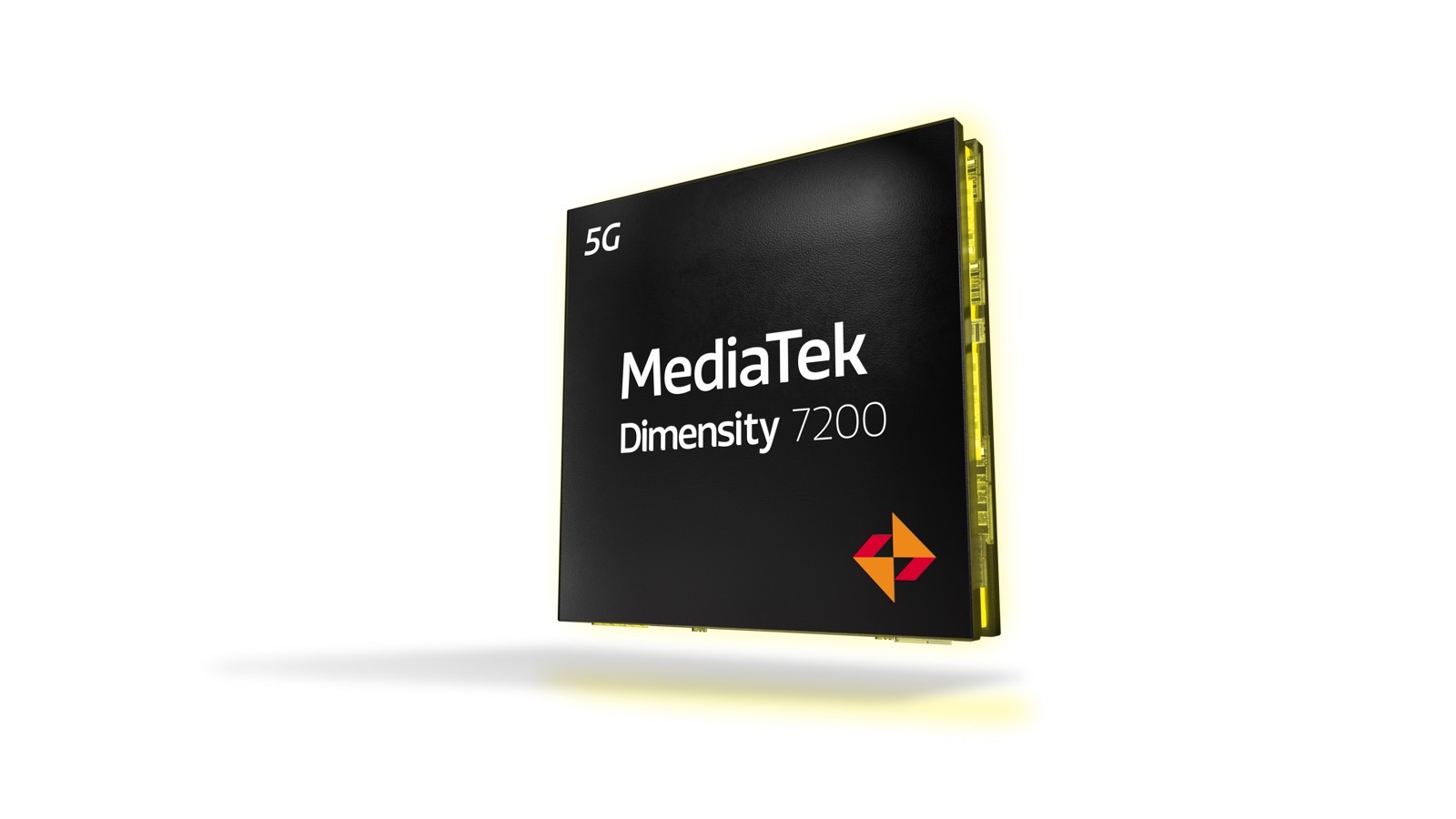 The Dimensity 7200 rocks two 2.8GHz Arm Cortex-A715 cores and six Cortex-A510 cores. These are the same cores as the ones in the 9200 SoC. But the flagship SoC also rocks a larger Cortex-X3 core running at 3.05GHz.
Additionally, the mid-range chip incorporates a built-in AI Processing Unit (APU) and an Arm Mali G610 MC4 GPU. Other specs include support for UFS 3.1 storage and RAM running at up to 6,400Mbps (LPDDR5).
Among other things, the chip's AI will also optimize power and performance by improving the efficiency of AI tasks and AI-fusion processing.
Connectivity-wise, we're looking at an R16 Sub-6GHz 5G modem with up to 4.7Gbps download speeds. It also includes support for Wi-Fi 6E and Bluetooth 5.3. MediaTek's 5G UltraSave 2.0 technology should improve battery life.
When it comes to gaming features, the MediaTek Dimensity 7200 chipset will pack MediaTek's HyperEngine 5.0 technology. That's "Al-based Variable Rate Shading (VRS) for power savings, CPU and GPU smart resource optimization for better battery life, and other upgrades for smooth gameplay."
Finally, the Mali G610 GPU should support fast response times and high frame rates.
Since the smartphone display is also a key factor for gaming and content consumption, the MediaTek Dimensity 7200 can support high-end screens. We're looking at up to Full HD+ displays and 144Hz refresh rates. The chip also supports the latest display standards, HDR10+, CUVA HDR, and Dolby HDR.
On the camera front, MediaTek says the new chip will feature its Imagiq 765 and a 14-bit HDR-ISP. As a result, the Dimensity 7200 will support 200-megapixel cameras, assuming vendors use such sensors in mid-range devices. The new chip will support 4K HDR video recording and simultaneous Full HD video from two cameras.
For night and low-light photography, MediaTek's new chip features a built-in motion-compensated noise reduction engine. Artificial intelligence will help with software features, such as real-time portrait beautification.
All in all, the MediaTek Dimensity 7200 proposes solid features for mid-range devices. We just have to wait and see which Android vendors will make use of the new chipset.