Unlike previous macOS versions, macOS Sonoma doesn't add much to users. But one update I was desperately hoping for was a new Apple Music app. Ever since Apple killed iTunes with macOS Catalina in 2019 and started offering new Music, Podcasts, and TV apps, I have waited for improvements to the Apple Music app, which never came.
Over these past four years, Apple revamped the Apple Music app for iPhone, iPad, and even Apple TV users, but it almost seems the company has forgotten about the Mac. Despite the ability to see the songs' play counts – which is also broken – I don't know why Apple continues offering an iTunes rip-off version and calls it Music.
Even connecting AirPods to the Mac doesn't work as "magically" as Apple advertises. I don't have any problem switching the earbuds from the iPhone to the iPad, but doing the same task on Mac is always painful. Although I can't say how Apple could fix this AirPods issue, I know how the company could improve the Mac Music app: copying the iPad version.
First and foremost, Apple should increase the font of the sidebar and make the different sections pop. In addition, the Songs section should be displayed similarly to how songs are shown on playlists: a mini cover of the album, the song's name, artist, album, time, etc.
In addition, macOS Sonoma still doesn't display lyrics in real-time like on the iPhone or iPad, which was a nice addition made last year. Apple should also revamp the Now Playing section, whether by giving it a better spotlight or changing how icons are displayed, as there is so much to see at once that I feel like users forget about volume, AirPlay, lyrics, and queue options available in the upper part of Music app.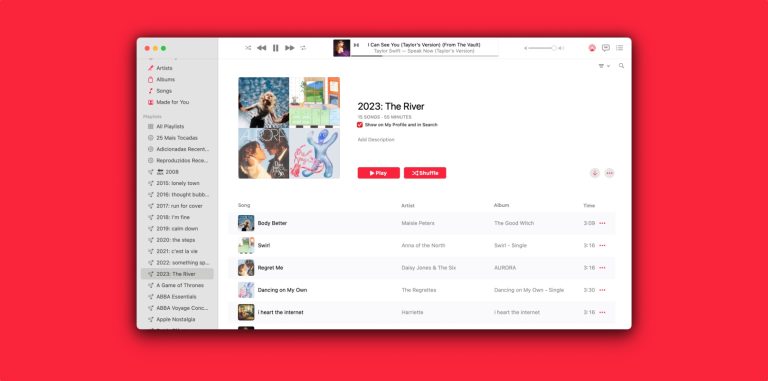 Although I understand that the sidebar works the same for all Mac apps, which means Apple would have to revamp it for all software, I don't understand how the TV app and App Store, for example, are so clickable and nice to engage with, while the Apple Music experience feel so clumsy.
Although I'm only talking about the general experience, I still think Apple should learn a thing or two from Spotify. The ability to create a collaborative playlist is one of them, and hopefully, by the end of the year, Apple Music users will finally have this feature. I'm also looking forward to more social features, and Apple revamps both Now Playing and Profile experiences.