The MacBook charger is an iconic design that is, by all accounts, a good piece of work. It's a little more elegant and refined than the ugly black bricks most laptops ship with, and a reason why people are willing to repeatedly spend $80 to replace it every time the cable craps out.
But as it turns out, the advent of USB-C is causing a shift. For the first time in forever, it's feasible to make a third-party laptop charger, because more and more new laptops charge off the USB-C standard, rather than some random proprietary plug.
Enter the FinSix Dart C, which claims the title of the world's smallest laptop charger. It will charge any laptop that draws 65W or less, and it's about the same size as most phone chargers. Needless to say, I'm in love.
There's not much to review here, which is a great thing. Necessary items like chargers are best when you don't notice them: a charger needs to be robustly built, provide electricity in a consistent fashion, and have a long enough cable. Beyond that, all I really want from a charger is to be small and light and in my bag when I need it.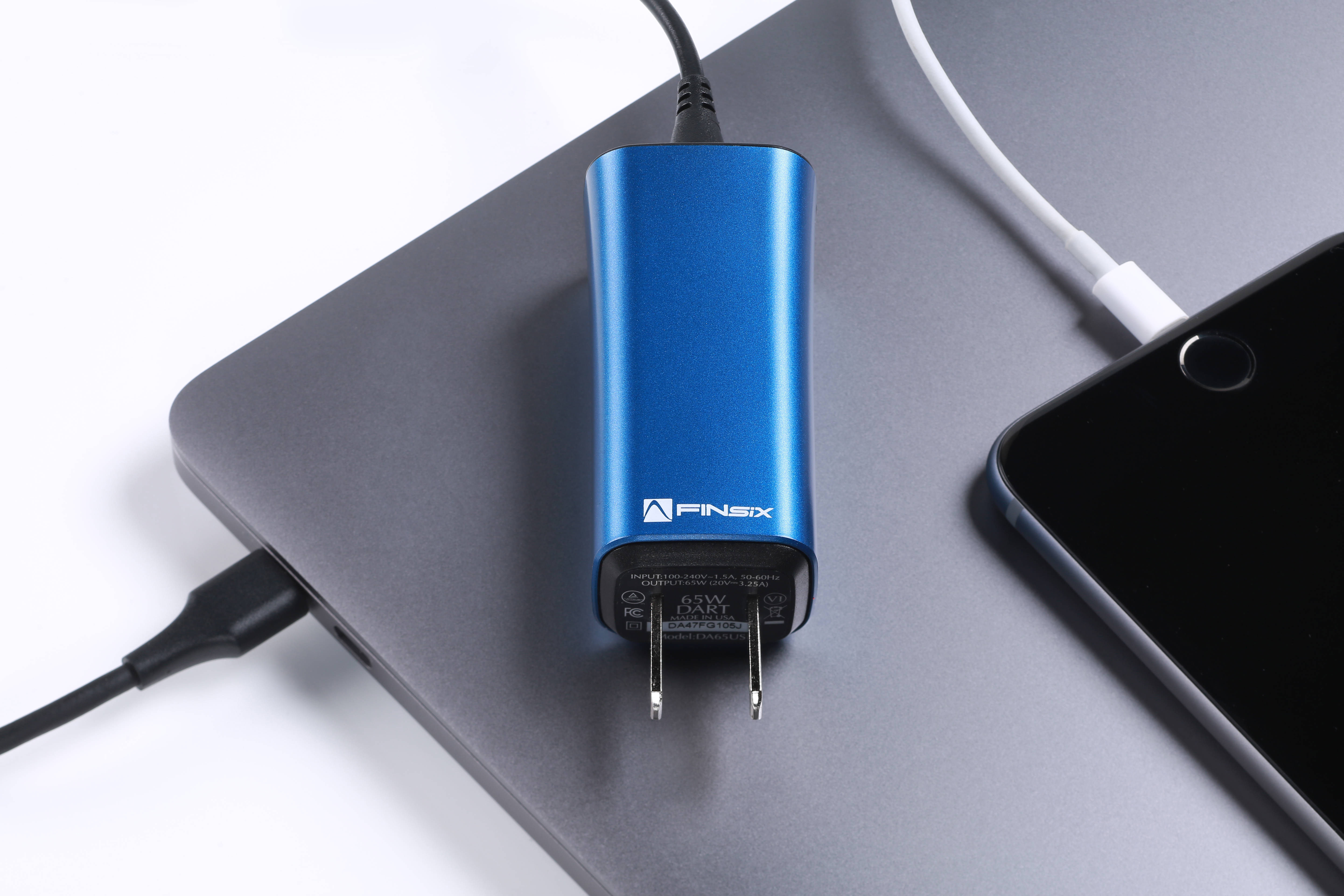 On all of these arbitrary categories that I just invented, the FinSix scores really well. It is absolutely tiny, taking up less room in my bag than just the power cable for a regular MacBook charger. 65W is enough for the Retina MacBook, every new Chromebook on the market, and most of the smaller Windows ultrabooks. Most importantly, it's just enough to charge the new MacBook Pro.
Other small details: there's a USB port just before the USB-C charging tip, which lets you charge a phone at the same time. It's not a huge deal, since I'd normally just charge the phone off the laptop anyway, but when you're using a one-port wonder like the Retina MacBook, it does mean one less charger to carry.
There are some small niggles. Making the charging prongs retractable would be good, even if it added a few grams to the overall weight, as I live in fear of the prongs getting bent in the bag. Making the cable with a braided fabric cover would also be handy, and while we're on the topic, it would have been good to make the cable USB-C on both ends; as it stands, the connector into the wall wart is proprietary, which isn't ideal. Still, having a replaceable cable does mean that if (when) you break the connector end, you can replace it for $35, rather than the full $100.
The charger is on back-order currently, but new orders should ship in March.