A new IDC report shows Apple took the biggest hit in Q1 2023 as Mac shipments fell 40% compared to the same quarter of 2022. The main reason is the end of the pandemic boom in the PC market, followed by excess inventory and the worsening macroeconomic climate.
The preliminary results from the International Data Corporation show that global shipments of PCs numbered 56.9 million, a 29.0% shrink compared to the same quarter in 2022.
"Though channel inventory has depleted in the last few months, it's still well above the healthy four to the six-week range," said Jitesh Ubrani, research manager for IDC's Mobility and Consumer Device Trackers. "Even with heavy discounting, channels, and PC makers can expect elevated inventory to persist into the middle of the year and potentially into the third quarter."
Apple had a poor quarter as it was the fourth company that sold the most PCs. In 1Q23, the Cupertino firm shipped 4.1 million Macs, with a 7.2% market share. Apple shipped 6.9 million Macs, a 40% depreciation YoY compared to last year.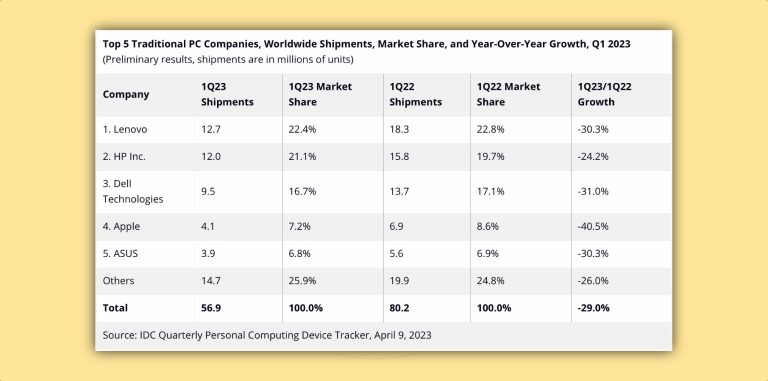 Lenovo, HP, Dell, ASUS, and all the other companies also had a poor quarter with lower shipments compared to the previous year.
Interestingly enough, while there was a pandemic boost for Mac shipments, this growth coincided with the company's redesign of M1 Macs with the high-end MacBook Pro models. With the M2 machines, on the other hand, customers hadn't felt the urge to buy new Mac products again.
The new generation of Macs brought a small advantage compared to the previous iteration. That said, the only product that could see growth in sales is the M2 Mac mini. But with a recent report saying Apple halted the M2 chips production for a couple of months at the beginning of the year, it's most likely that the company was expecting improved sales, which didn't happen.
IDC expects the PC market to grow by 2024 if the economy trends upward. Apple is also readying its next batch of M3 Macs and some OLED options. The company could see better quarter shipments if they arrive with enough features and an improved processor.