Forget last week's iOS 17 End call button redesign controversy, something more terrible is afoot in the Apple ecosystem. The web exploded over the weekend with worries about the iPhone 14 Pro's battery life and battery health.
I've said time and time again that the battery life on my iPhone 14 Pro has been amazing. I'd buy the device just for the big bump in battery life compared to older models. Clearly, other owners would not agree. Especially those who say that their battery health has already dropped by as much as 10%.
I wonder how bad your battery life is on iPhone 14 Pro, and whether you're doing anything wrong. Yes, it might be Apple's fault here, but I'd be very wary of calling this an iPhone 14 Batterygate.
What's normal battery health for iPhones?
After the real "Batterygate" from a few years ago, when iPhones were throttling performance to preserve battery life without warning the user, Apple knows better. It has an entire support document to explain the battery, battery health, iPhone performance, and answer any questions you might have.
The document also explains the iPhone battery's maximum capacity. That's what iPhone 14 Pro owners are complaining about on social media. Here's how Apple explains it:
Maximum battery capacity measures the device's battery capacity relative to when it was new. A battery will have lower capacity as the battery chemically ages which may result in fewer hours of usage between charges. Depending upon the length of time between when the iPhone was made and when it is activated, your battery capacity may show as slightly less than 100%.

A normal battery is designed to retain up to 80% of its original capacity at 500 complete charge cycles when operating under normal conditions. The one-year warranty includes service coverage for a defective battery. If it is out of warranty, Apple offers battery service for a charge. Learn more about charge cycles.
As for charge cycles, which I'll mention again later, Apple explains on a page on its website that a charge cycle refers to a complete discharge of 100% battery energy. You don't have to go from 100% to 0%, as you can see in the following image: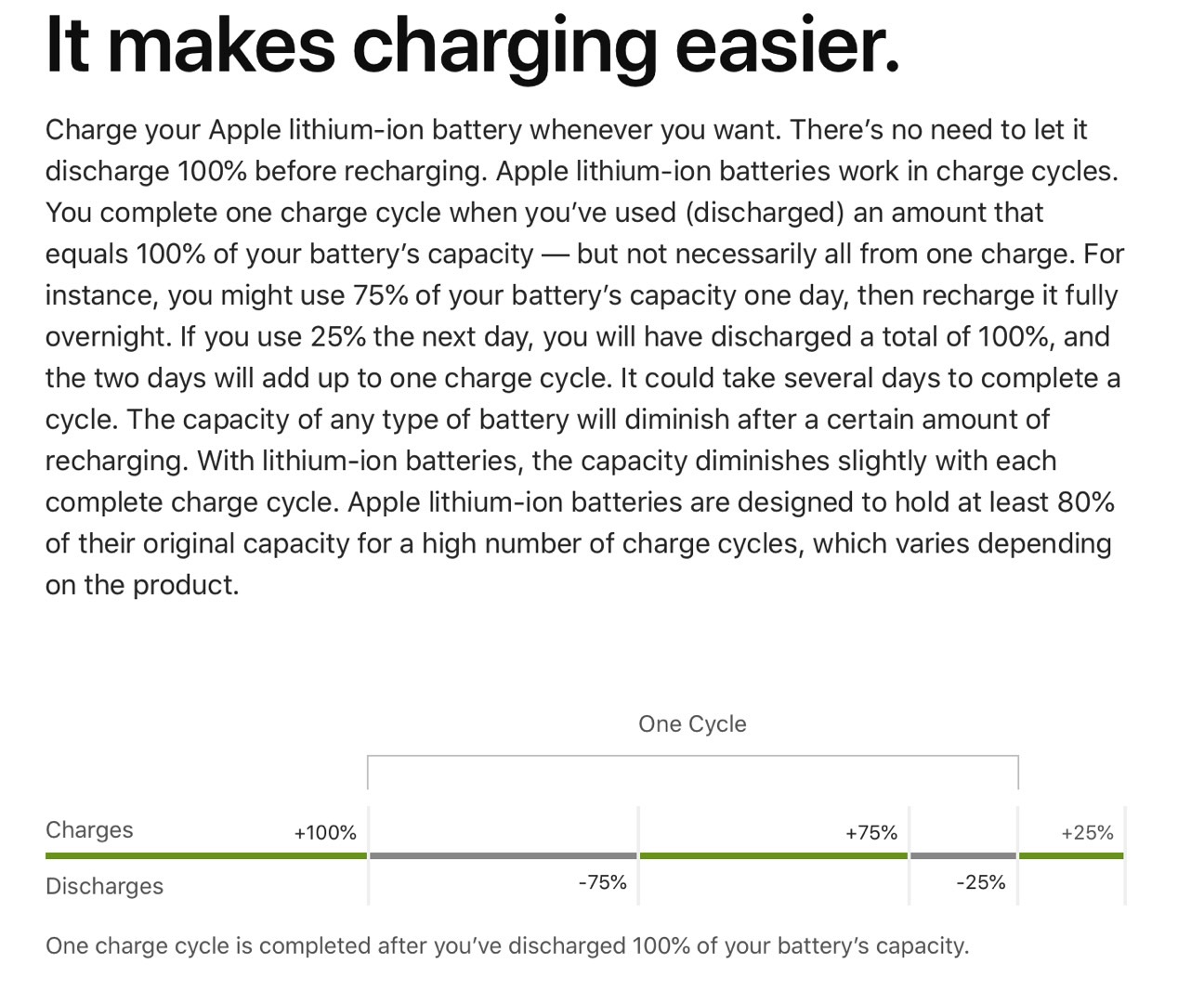 What are iPhone 14 Pro owners complaining about?
AppleTrack's Sam Kohl said on Twitter in July that his iPhone 14 Pro battery dropped from 100% to 90%. This was much faster than previous iPhones, he said. Others replied with similar experiences.
Kohl followed up with a TikTok over the weekend, where he discussed the matter again. He echoed the feelings of other iPhone 14 Pro owners that battery health degradation happens much faster for the handset.
The Wall Street Journal's Joanna Stern said her iPhone 14 Pro is down to 88% in less than a year. The device has gone through 450 charge cycles already (wow!). She wondered whether there was something up with the battery or whether it was heat from fast-charging the handset.
Stern just ran an iPhone battery experiment where she showed what heat does to smartphones, whether it's the environment or charging the handset.
I have no issues with my iPhone 14 Pro battery health
I've said time and time again that the iPhone 14 Pro battery has been so amazing for me. After 11 months, battery health dropped from 100% to 99%. It happened in the past few days. This, combined with the wave of iPhone 14 Pro battery complaints, prompted me to check my iPhone's charge cycles.
It turns out my iPhone 14 Pro went through 209 charge cycles in 330 days since purchase. That means I need an average of almost 38 hours to consume 100% energy (a cycle). For Stern, the average is down to about 17.5 hours.
I do use the iPhone a lot, more than I'd want to. And I'm looking to find ways to cut down my screen time even more.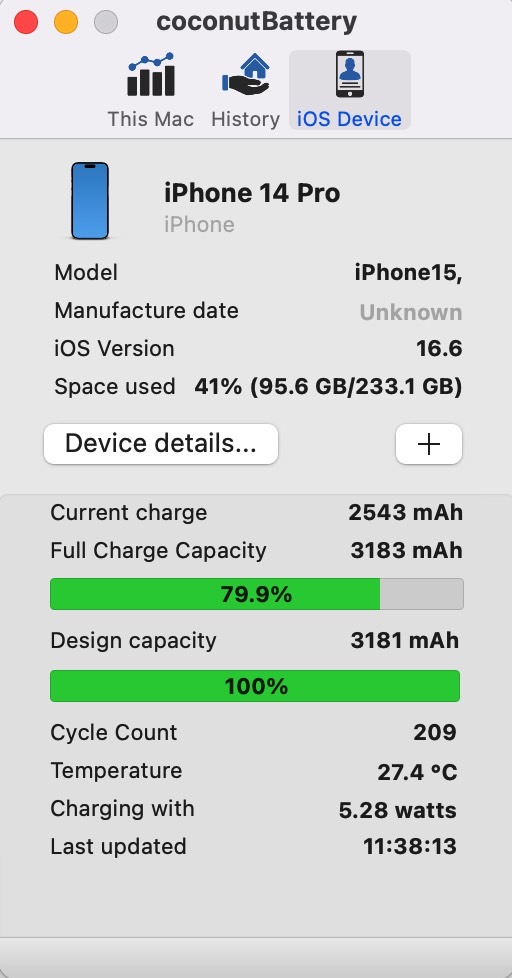 Also, I do use fast charging to replenish the battery, but not all the time. I use a 100W charger that probably recharges the handsets at speeds of up to 30W, some 10W than the advertised 20W. But I also use a MagSafe wireless charger, which doesn't exceed 15W.
As I explained before, I do a few things to take care of my iPhone 14 Pro's battery.
First of all, the Always-on display is turned off. This is a big energy consumer. It might be why the iPhone 14 Pro's battery degrades faster. The handset consumes energy when you're not using it, and for what. Just so you can glance at information that you'd be able to get to immediately after Face ID-ing into the handset?
Secondly, I don't charge the iPhone overnight anymore. That's a luxury people who work from home can take advantage of. If the iPhone 14 Pro battery is decent at the end of the day, wait until tomorrow to recharge it. You don't need a full charge in the morning unless you're going on a longer trip immediately and want the peace of mind.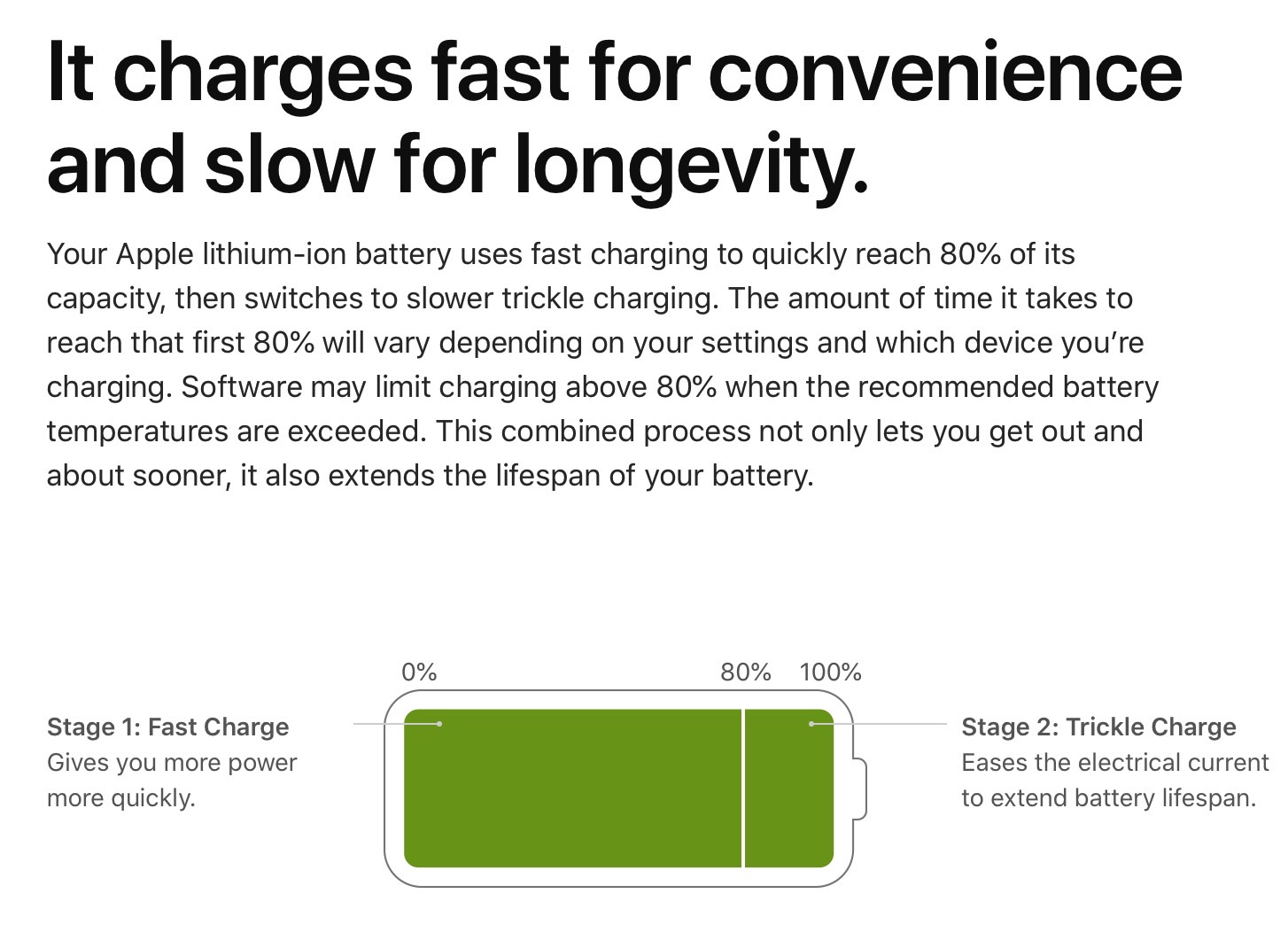 You can recharge the iPhone in your car, on your commute, or at work. There are ways to prevent overcharging.
If you do recharge the iPhone overnight, you'd better have that Optimized Battery Charging option turned on. Also, I don't always recharge it to 100%. And rarely do I leave the handset drop under 20%.
Finally, I have Low Power Mode automatically turn on for my iPhone 14 Pro when the battery drops below 30%. But I only set up this nifty iPhone automation a few days ago.
When to panic
I understand your frustration with the iPhone 14 Pro's battery degrading faster than expected. The good news is that you can do something about it. You can turn off the Always-on display and change how you're recharging the battery to maintain its health. You can set Low Power Mode earlier during the day if you don't need the phone's full performance for most tasks.
Also, you can use the iPhone less than you are. That's something you can consider regardless of the handset or battery health.
Or you can do nothing other than do you. You don't need to panic as long as the battery health is at 80% or higher. Your iPhone 14 Pro will run at peak performance until then.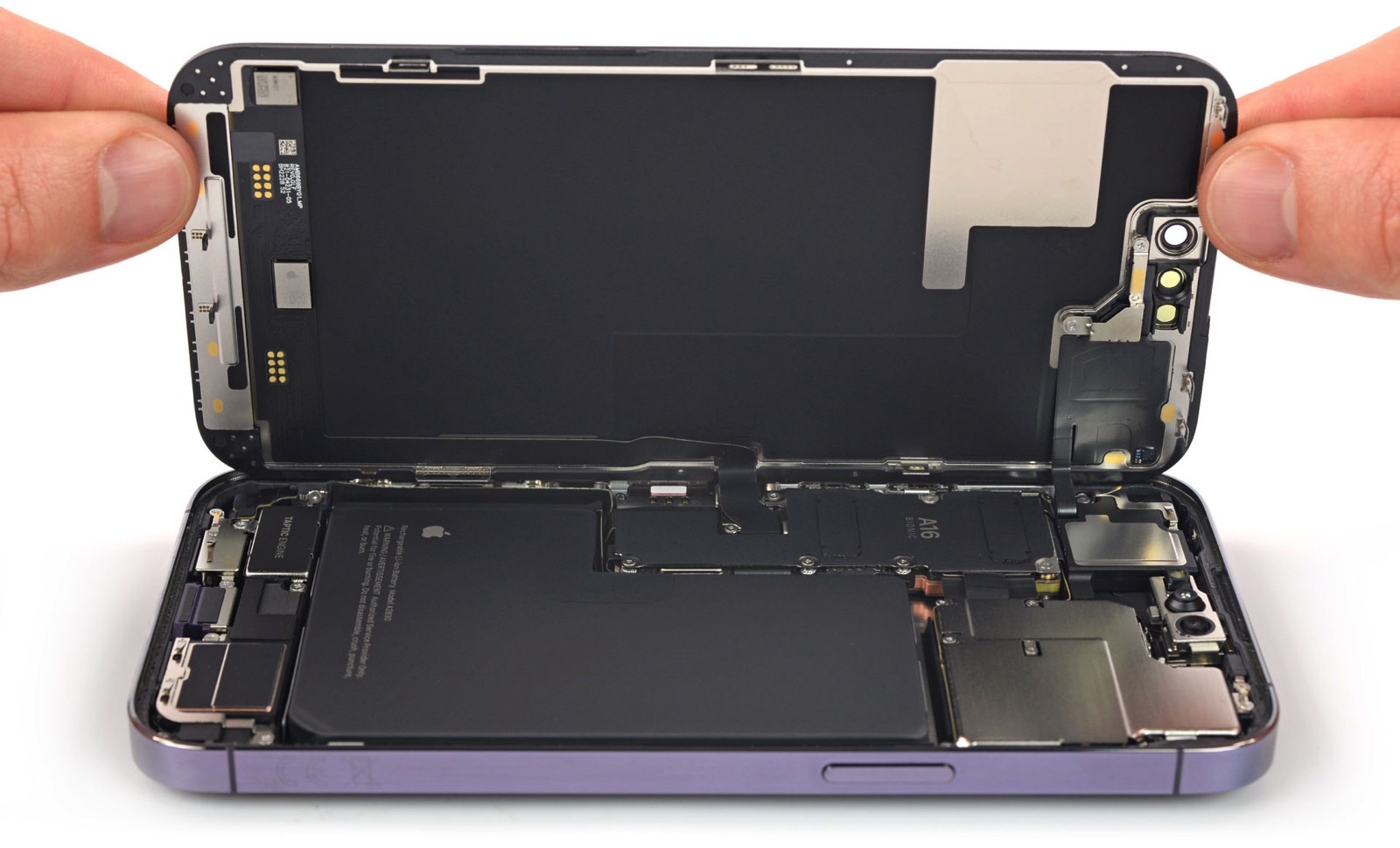 Once it drops under 80%, you might see a warning to service the battery. That's when you replace it in an Apple retail store or do it yourself at home. I recommend the former, even if that means paying $99 to have it done.
Considering the social media uproar about the iPhone 14 Pro battery, I expect some owners to get to 80% earlier than two years. My iPhone X lasted nearly five years before dropping to 82% (1,694 cycles).
Another option will be replacing the iPhone 14 Pro with an iPhone 16 next year rather than the battery. That is, if you skip the iPhone 15 series entirely. If you pass the handset to family or friends, you should still replace an aging battery. Alternatively, you can trade the handset in and let the new owner worry about battery health.
Whatever your iPhone 14 Pro battery health state, there's no reason to think that it's Apple's fault. Battery aging is a thing, especially in a world addicted to smartphone use. We'll have to wait a while and see what happens in the coming months. And whether Apple will take any stance on the matter.