The iPhone X successor is just as expensive as the original, contrary to what many buyers may have hoped. The iPhone XS starts at $999 and goes all the way up to $1,349, while the Max is $100 more on all storage tiers — so it starts at $1,099 and goes up to $1,449. But with the right plan, you might save more than $1,400 on your iPhone purchase, if the stars align just right.
As you may expect, certain conditions have to be met to take advantage of the deal. For starters, you'd have to stick with your next iPhone purchase for two years to get the savings. Also, you'd have to hop on a family plan to go for the full $1,403.
The data comes from WalletHub's recent research which compared the best iPhone prices and plans from various carriers, including the Big Four, but also smaller operators such as Walmart and Boost Mobile. According to them, if you get an iPhone on a single-line plan for two years, you get to save $740: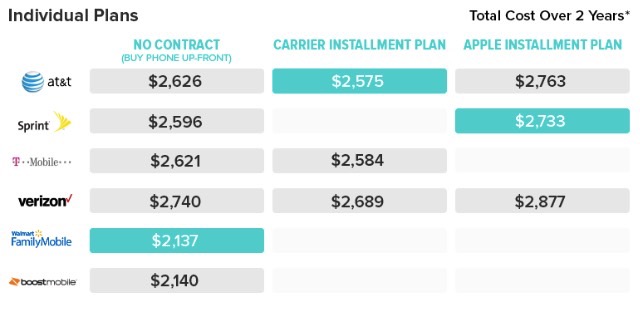 A four-line family plan meanwhile nets you $1,403 in savings:
In each of these comparisons, Walmart plans seem to be the cheapest, but that might not be what you're looking for. If you want an individual line from a major carrier, then your best bet is AT&T. Sprint is better if you go the Apple iPhone Upgrade Program route. T-Mobile, meanwhile, offers the cheapest Family Plan of the Big Four. And it's AT&T again if you upgrade your phone via Apple's program.
The same savings probably apply to the iPhone XR, which doesn't launch for another month. The iPhone XR starts at $749 and goes up to $899. WalletHub also has a cell phone savings calculator that you can use to compare different iPhone buying options.