Today, Apple's iPhone X is the best iPhone model you can buy. Beginning this coming September, however, the phone's successor may end up being the worst iPhone you can buy.
I recently penned a piece about Apple's rumored iPhone plans for 2018, suggesting that this year could be the first year since the original iPhone was released that I don't buy a new flagship iPhone. I have no doubt that the next-generation iPhone X and the upcoming "iPhone X Plus" are going to be wonderful devices, but it's the third new iPhone set to debut in September that has caught my attention. According to rumors, this model will fill an entirely new space in Apple's iPhone lineup, potentially offering the same power and performance as Apple's two new OLED iPhones, but with an LCD display and a few other key changes to help drive down the price. It would seem that sky-high iPhone prices finally caught up with Apple in 2017 and 2018, because far fewer people are willing to upgrade to a phone that starts at $1,000.
A new note yesterday evening from the world's most accurate Apple insider claimed to offer additional details surrounding Apple's upcoming third new iPhone model. If these new details are to be believed, it's looking more and more like Apple's LCD iPhone will be the best iPhone model to buy in 2018.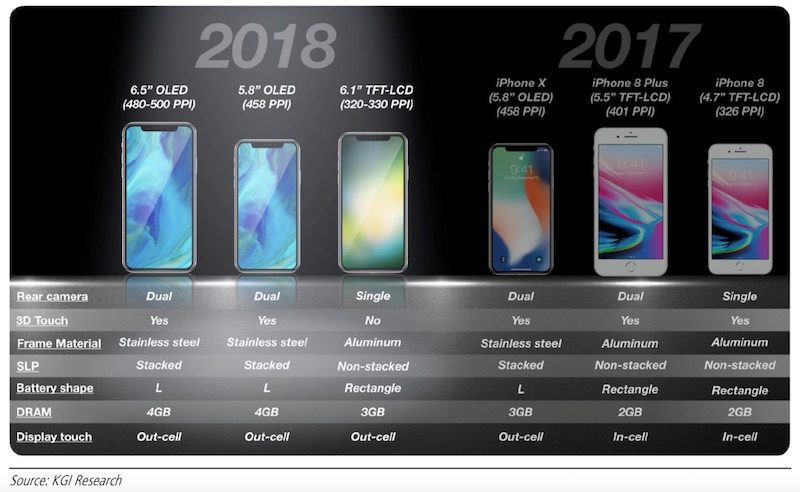 First, a quick recap of what we believe to be Apple's plans for its 2018 iPhone lineup. First, there will be an updated version of the current iPhone X that will feature a 5.8-inch OLED display and a new A series chipset. Then, a supersized "iPhone X Plus" will launch alongside it with a 6.5-inch OLED screen. Finally, a medium-sized, upper mid-range model will launch with a 6.1-inch LCD display.
Apple's next-gen iPhone X is expected to start at $899 when it's released this year, which would be $100 less than the first-generation model. The "iPhone X Plus" would then occupy the $999 price point, with the 256GB version likely to cost $1,149. Meanwhile, according to KGI Securities analyst Ming-Chi Kuo, the new LCD iPhone model might start at just $550.
How is it possible that this iPhone could be so much less expensive than Apple's OLED models while still featuring the same design and comparable specs? Apple will reportedly trim it down in a few key areas. First, LCD displays are far less expensive than OLED displays. Second, the phone's frame will supposedly be made out of aluminum instead of stainless steel. Third, the handset will include 3GB of RAM instead of four, according to Kuo. And finally, Apple will reportedly ditch 3D Touch and all of the pricey sensors needed to make it work.
So that begs the question, why pay $900 for a phone when you can get almost the same experience in a device that will likely be the perfect size for just $550? But wait, it gets even better.
Kuo's note to clients from Thursday evening also says that Apple plans to use new Cover Glass Sensor (CGS) technology in the 6.1-inch iPhone's LCD display. CGS is a different way to sense touches and swipes on a touchscreen, and it results in a thinner overall display assembly. According to Kuo, the phone will also feature stronger display glass, and the LCD iPhone will be lighter overall. Lighter weight and stronger glass means the phone's screen will be less likely to shatter when dropped.
It's really beginning to sound like buying any iPhone other than the LCD model this year will be a mistake. Everything adds up. If we'll be able to get almost identical performance out of a phone that's perfectly sized, lighter weight, and more impact resistant than either of Apple's OLED iPhones, who would choose to spend hundreds more?
Of course, there's a very good chance Apple will throw us a curveball when its new iPhone lineup is finally unveiled this coming September. Remember, Apple is masterful when it comes to encouraging customers to choose more expensive products over cheaper models, so we can almost certainly expect to see some OLED-exclusive features appear that no one knows about right now.