Remember when brand new iPhones used to bend? What about stainless steel Apple Watches or Jet Black iPhone 7 scratching? And don't even get me started on MacBook aluminum scratches. Well, Apple may fix all of that in the not so distant future, as it's currently studying ways of creating abrasion-resistant surface finishes on metal enclosures.
No, seriously, that's the actual name of a new Apple patent application that USPTO published earlier this week.
Apple apparently wants to make the iPhone (and other products) indestructible. During the iPhone event, the company insisted on the iPhone XS series' IP68 rating, noting that the new handsets are going to deal a lot better with water and other liquids. It also insisted on the iPhone XS's new glass — from the press release:
The front and back glass design features the most durable glass ever in a smartphone with improved scratch resistance, while the glass back enables faster wireless charging. iPhone Xs and iPhone Xs Max reach a new level of splash and water resistance of IP68 for up to 2 meters for 30 minutes and protect against everyday spills including coffee, tea and soda.
But Apple also wants to prevent scratches that can "ruin" an iPhone, iPad, MacBook, or Apple Watch (emphasis ours):
Portable computing devices, such as mobile telephones, tablet computers, and laptop computers, come into contact with a wide range of hard and abrasive materials during normal use. Furthermore, the computing devices may be dropped and subject to impacts or abrasive wear from hard counter-materials. If the enclosures of the computing devices are not adequately protected, the enclosures can develop scratches, gouges and other defects that detract from the cosmetic appeal of the enclosures. If the enclosures include anodized metal portions, the scratches, gouges and defects may break through the protective anodic film and allow contaminants to corrode of the underlying metal. What are needed therefore are improved coatings for metallic surfaces.
It's unclear when these technologies will be used, or whether they're already in use on new Apple devices. The documentation was filed in March 2017 with the USPTO. But from Apple's patent, it's obvious that Apple is paying attention to feedback from customers. Check out the following image: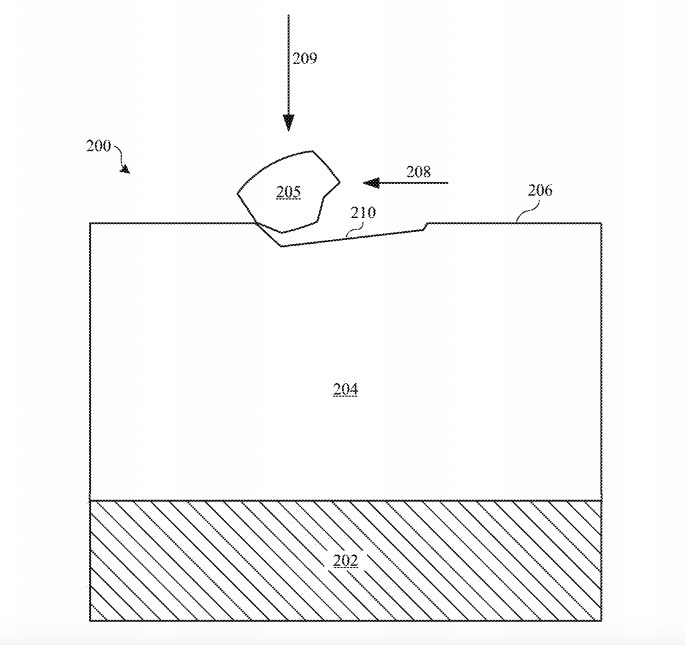 And here's the text that goes along with it (emphasis ours):
Oxide coating 204 is generally harder than underlying substrate 202. For example, a Type II oxide coating 204 can have a Vickers hardness ranging between about 300 and 500 HV.sub.0.05. Thus, oxide coating 204 can offer significant resistance to impact loads that might otherwise plastically deform a relatively softer underlying aluminum alloy substrate 202. However, oxide coating 204 can still be susceptible to scratching. For example, hard particle 205, which can be composed of metal, sand, stone, concrete, grit, glass or other hard material that part 200 may encounter during normal use, can contact and slide across outer surface 206 (as represented by arrow 208) and abrade away some of oxide coating 204. Even at relatively light applied pressure 209, outer surface 206 can develop a visible scratch 210, which can detract from the cosmetics of part 200. Moreover, if oxide coating 204 is colorized a dark color (e.g., black) and has outer surface 206 that is lapped to a high gloss, it can lack the optical depth to hide such scratch 210, thereby making scratch 210 especially conspicuous. That is, a high gloss outer surface 206 on a polished dark-colored oxide coating 204 can highlight even a very small surface scratch 210 or other defects, which can appear as white or silver colored spots.
If you thought about the Jet Black iPhone 7 when you read the paragraph above, well, you're probably not the only one. In the future, however, that might not happen.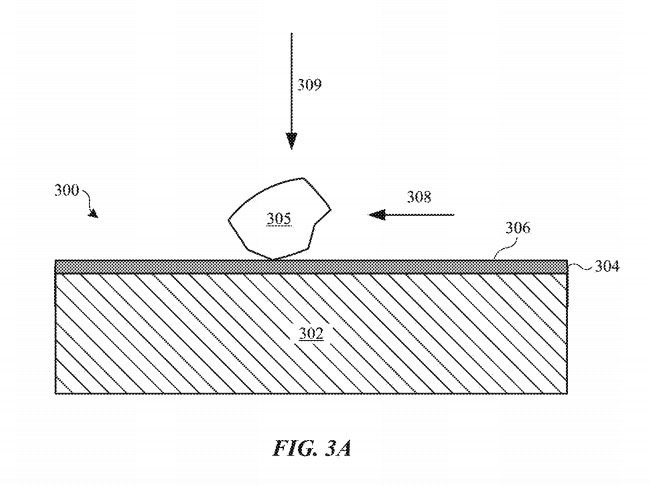 Also, the patent describes a coating that would be so powerful as to prevent deformations of the metal. That's because external forces may be strong enough to dent the metal, especially if it's aluminum, which could ruin the aspect of the phone.
The patent explains that the abrasive-resistant coating will be applied on top of the paint layer, suggesting that Apple could offer additional color options for its products, without worrying about wear and tear.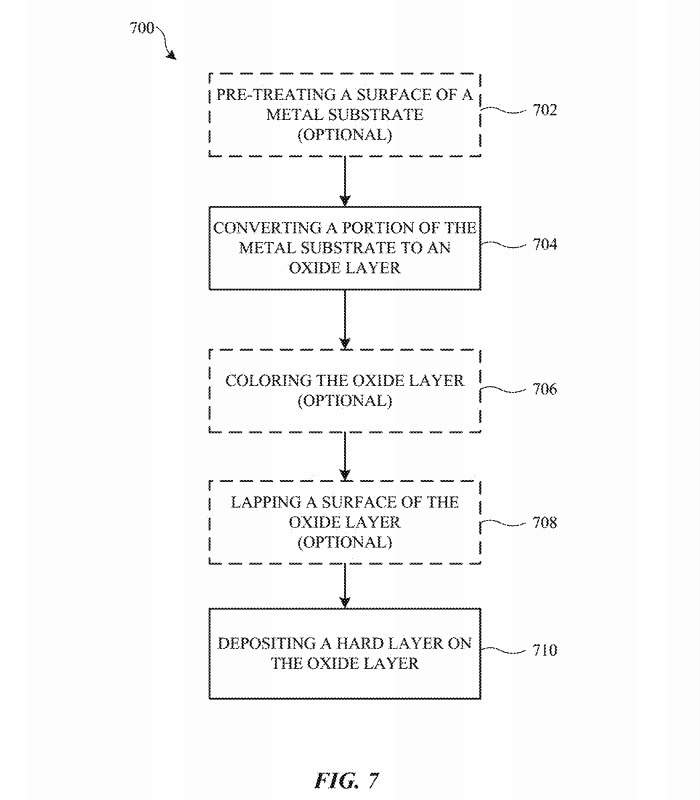 For the time being, however, I'd advise using cases and screen protectors with your new iPhones, as I tend to be a little paranoid about that.