I was able to get my hands on an iPhone X a lot sooner than I expected after I faced the harsh reality of not being able to preorder one for launch-day delivery. Plus no retail stores that sold the iPhone X had stock for walk-in customers last week in my area, with reports saying the measure was meant to prevent people from lining up in front of retail locations in a country that's still on high alert when it comes to terrorism threat.
In the days that followed, I quickly discovered that you could buy an iPhone with in-store pick up in France as long as you did it early in the morning. And that's how, just a few days after the iPhone X launched in first-round markets around the world, I got mine.
But I only needed a minute to ruin my iPhone X, and I think you probably did it too.
I already told you what I thought about the iPhone X after my brief interaction with it on launch day, and my feelings have not changed since. In fact, I'll have plenty of things to add to that over time, starting with the fact that Face ID is fantastic, which is something I wasn't able to test in Apple's store.
I'm already acutely aware of how quickly the iPhone X experience can be ruined. One accidental drop may be enough to crack the display, and if you're unlucky, you may end up with screen cracks so terrible that they'll mess with the phone's functionality. The TrueDepth camera and sensor array that powers Face ID is placed under the protective glass panel, meaning that cracks may render it useless.
The back panel of the phone is also made of glass so that you can recharge the phone wirelessly, and I guess you've already figured out how I ruined the phone by now. It all started with this beautiful glass-sandwich design that's a pleasure to hold:
But then, I added this Apple-made silicon case to protect the rear panel:
The case protects the stainless steel frame as well, although I'm not bothered by the idea of scratching it. But it also adds extra thickness to the phone, which is unavoidable if you want drop protection.
Then I realized that while the case will absorb some shocks, I also needed to guard the display against cracks, so I applied a glass screen protector on top of the phone's display. I got the cheapest one I could find to have some temporary protection while I look for a good long-term solution. Here it is:
Oh, you can't see it? I promise you it's there. Let's zoom in: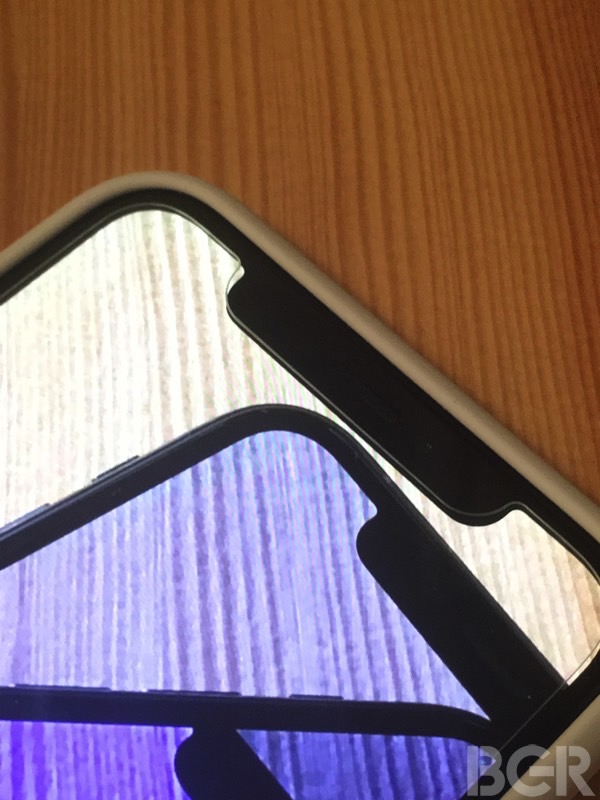 Yuck! Yes, this screen protector is not even cut right, and I misaligned by a few millimeters. At this point, realigning it isn't even worth the trouble as I'll replace with something better soon.
But the overall end result is an iPhone X that feels a lot bulkier than it's supposed to be. It also occupies more space in my pocket, and that can be uncomfortable. It doesn't feel as good to hold, and the case makes the iPhone X feels like a giant compared to the iPhone 6s it replaced.
As much as I'd like to use the iPhone X without cases or screen protectors, I'm definitely not going to risk smashing the phone with one short drop. Like me, many other people use protective gear that sadly ruins the overall appearance of the phone.
I'm definitely looking for slimmer cases (the one BGR's own Maren Estrada recommended last week looks fantastic) and screen protectors, but I'll never get to really enjoy the iPhone X's gorgeous design and materials the way they should be enjoyed.