The global smartphone market suffered its fifth consecutive quarterly decline, falling by 12% YoY in Q1 2023, according to a Canalys survey. That said, iPhone sales have grown year over year from 18% to 21% due to the solid demand for the iPhone 14 Pro series after supply constraints made the company sell fewer models during the last holiday quarter.
Another interesting piece of information regards Samsung, which was the only leading vendor to achieve a quarter-on-quarter recovery and struggled back to number one with a 22% market share. That said, the South Korean company still sold fewer phones than last year when it had 24% of the market share.
"The smartphone market's decline in the first quarter of 2023 was within expectations throughout the industry," said Canalys Analyst Sanyam Chaurasia. "The local macroeconomic conditions continued to hinder vendors' investments and operations in several markets. Despite price cuts and heavy promotions from vendors, consumer demand remained sluggish, particularly in the low-end segment due to high inflation affecting consumer confidence and spending."
While Canalys predicts the inventory of the smartphone industry can reach a relatively healthy level by the end of the second quarter of 2023, it's still too early to predict the recovery of overall consumer demand.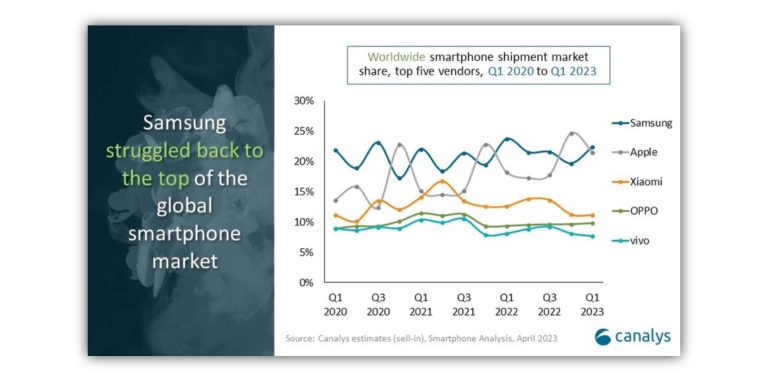 Of all the top vendors, only Apple and OPPO had a YoY increase with their flagship phones during the first trimester. Samsung and Xiaomi had a decrease in market share, and Vivo retained its 8% from last year.
"The sell-in volume of the global smartphone market is expected to improve due to the reduction in inventories in the next few quarters. In addition, vendors have focused more on innovations and raising production and channel efficiencies after a round of fluctuations, shifting from growing for volumes and shares to growing for quality. 5G popularization and foldable phones are also becoming the new driving forces in the industry," said Chaurasia.
For Apple, the company could be preparing for new highs with the iPhone 15 series. Without the fear of supply constraints for another quarter, the company is still selling iPhone 14 models while preparing a solid lineup of four new iPhone versions.
With a new design, better cameras, and processors, the Cupertino firm could see a new high during the holiday quarter later this year, which could also positively impact the first quarter of next year.