Old sayings from grizzly, bearded photographers aside, there is a lot of truth in the fact that the best camera is the one you have at hand. It's also the most important camera. Chances are that unless you're a professional photographer, your phone camera is the only thing within arm's reach when something amazing(ly cute) happens.
This isn't just my imagination: data from Flickr shows that in 2016, the most common cameras on its platform weren't Nikons or Canons or some Sony mirrorless system; 8 of the top 10 were iPhones.
DON'T MISS: Forget the NES Classic, this $49 console can play all the retro games you want
As part of Flickr's year-end report, the company traditionally shares some information about the most popular cameras used to upload photos to the platform. This year, the top three were the iPhone 6, 5s, and 6s; overall, 8 of the top 10 devices were iPhones.
That number is crazy. Yes, there are some things to explain the dominance, like the fact that there's lots of different Nikon and Canon and Android devices you can buy, but just one iPhone each year. But it still doesn't take away from this graph: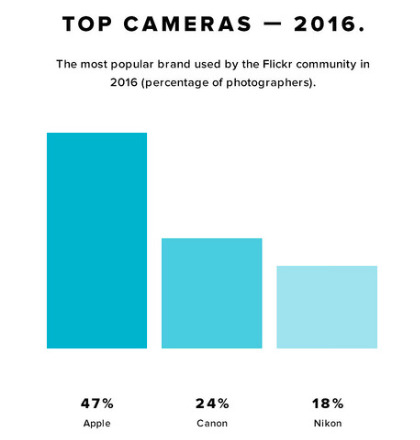 Basically half of all devices used by Flickr shooters were Apples of some kind. There's barely anything left over afterwards for Android phones,or other camera brands for that matter.
Yes, Apple is the most dominant smartphone brand. But this data hints at other things. People who care about photos seem to trend towards Apple much more than the general population, which makes sense given the iPhone is generally in the top three for smartphone camera quality any year.
Either that, or the Flickr Android app really sucks.