It may not happen with this year's iPhone 8, but Apple dreams of charging its future products with the help of conventional Wi-Fi routers or even other Apple products. The technology would not only offer a way for various devices to potentially be used as wireless chargers but would also fix the most annoying thing about wireless charging nowadays: You still have to place a device in the proximity of a charging mat or device.
Early iPhone 8 rumors suggested the iPhone will feature wireless charging powers unlike anything currently seen on mobile devices. That's long-range wireless charging support that would allow an iPhone owner to keep using a device while the battery would recharge wirelessly. Multiple reports have shot down that rumor, and more recent leaks do not mention anything about long-range support, although the iPhone 8 is still expected to feature wireless charging.
The US Patent & Trademark Office, meanwhile, published on Thursday an Apple patent application titled Wireless Charging and Communications Systems With Dual-Frequency Patch Antennas that describes antenna technology that would support simultaneous wireless charging and Wi-Fi support on a device.
First discovered by Apple Insider, the patent doesn't specifically mention the iPhone, iPad, or MacBook. And the drawings do not show anything resembling any of these devices. But the patent's wording indicates that the wireless charging technology described herein can apply to a variety of Apple gadgets, not just the iPhone.
Apple's choice of words practically covers any device currently made by Apple, but also future gadgets that are yet to be unveiled:
Device 10A and/or device 10B may be a computing device such as a laptop computer, a computer monitor containing an embedded computer, a tablet computer, a cellular telephone, a media player, or other handheld or portable electronic device, a smaller device such as a wrist-watch device, a pendant device, a headphone or earpiece device, a device embedded in eyeglasses or other equipment worn on a user's head, or other wearable or miniature device, a television, a computer display that does not contain an embedded computer, a gaming device, a navigation device, an embedded system such as a system in which electronic equipment with a display is mounted in a kiosk or automobile, equipment that implements the functionality of two or more of these devices, or other electronic equipment.
What's interesting about this type of ambiguous language is that it also seem to indicate that Apple may be thinking about peer-to-peer wireless charging. For example, a MacBook connected to a power source might recharge an iPhone in the future. The technology might even allow iPhone owners to share battery power in the future.
The patent explains that the devices may communicate wirelessly over Wi-Fi or cellular connection and that the same frequencies used for getting online or connecting to a carrier's network might also be used for wirelessly charging a battery or providing energy to a device.
The patent describes dual-frequency dual-polarization patch antennas that "may be used in beam steering arrays" and which may be used for "wireless power transfer at microwave frequencies or other frequencies and may be used to support millimeter wave communications."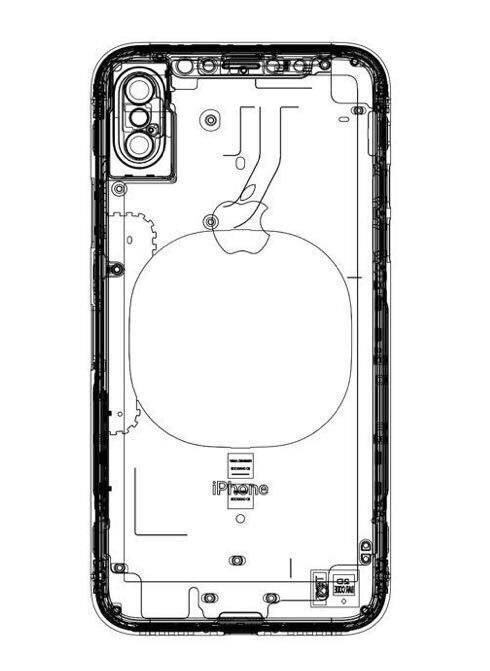 What's interesting about these patch antennas is that they would be flat components placed over a flat metal surface inside a device. Earlier this week, a leaked iPhone 8 schematic showed what seemed to be the location of the phone's future wireless charging coil — see that big patch under the Apple logo in the image above?
Again, there's nothing to suggest the iPhone 8 will sport such wireless charging tech. Even if the iPhone 8 would support it, you'd still need a second device to sport the same time of hardware so that long-range wireless charging would actually work.