The iPhone 8's launch weekend is now behind us, but don't expect Apple to share any sales numbers. It hasn't done that for a few years now. Other companies still try to accurately track new iPhone sales though, and a new report says the iPhone 8 and iPhone 8 Plus haven't been selling as well as you might have expected.
According to data from Localytics, an analytics company that provided similar estimates in previous years, the iPhone 8 and iPhone 8 Plus have sold fewer units than the iPhone 7 and iPhone 7 Plus last year, and even fewer than the iPhone 5s in 2013:
Comparing first weekend adoption of the iPhone 8 models to previous models shows a notable, albeit not dramatic, difference. Last year, we reported that the iPhone 7 model garnered 1% adoption during the first weekend of sales, which was lower than 2015's iPhone 6 launch, which grabbed 2% in its first weekend. The iPhone 8 Plus on the other hand had a slightly stronger first weekend compared to previous 'Plus' models, as the 7 Plus secured 0.2% in 2016 and the 6 Plus grabbed 0.3% in 2015.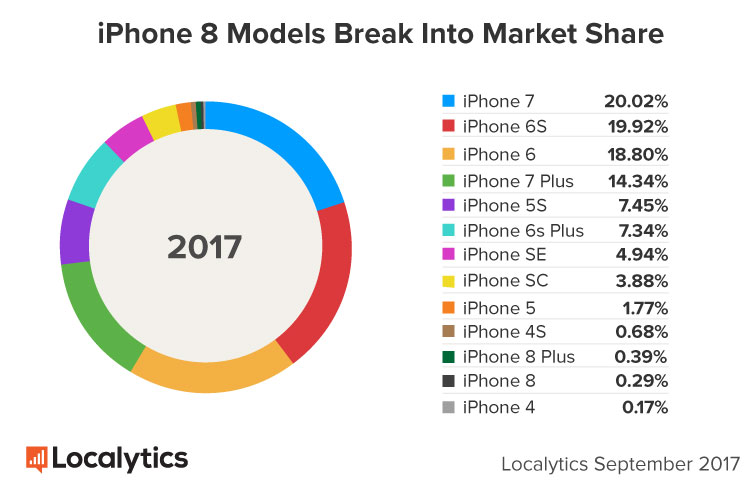 These graphics show new iPhone launch weekend sales, as measured by Localytics, and include all iPhone launches since 2013:
The iPhone 8's slow adoption is seen as a good sign nonetheless, as it signals a strong interest in the iPhone X that's going to launch in early November, the report notes. It might also be good news for Apple, since the company stands to benefit if people opt for its pricier tenth-anniversary iPhone over the 8 and 8 Plus.
Localytics also said that iOS 11 adoption is slightly slower than it was with iOS 10. 22% of the devices it tracks upgraded to iOS 11 in the first six days, compared to 26% for iOS 10 last year.