Apple this year isn't going to tell us how many new iPhones it sold during the launch weekend. The iPhone 7 and iPhone 7 Plus have sold out faster than what some people may have expected, and some models were not even available for in-store purchases on launch day. But does that mean the iPhone 7 is worthy of a new record?
DON'T MISS: Android user switches to iPhone 7 from pure Android and has some surprising opinions
Apple will not tell us, but third-party companies that are constantly monitoring the market have drawn their conclusions already. Localytics, which looked at iPhone 6s sales last year and compared them with the iPhone 6's release weekend, has numbers for the iPhone 7. Well, it has percentages.
According to its findings, during the first weekend, the iPhone 7 grabbed 1% of the device market share, while the iPhone 7 accounted for 0.2% — that's a total of 1.2%.
Last year, the iPhone 6s and iPhone 6s Plus accounted for 1% and 0.3% of the device's market share, respectively, or around 1.3% in total.
Comparatively, the iPhone 6 and iPhone 6 Plus are still in the lead, with 2% and 0.3%, respectively, of the iPhone's market share during their launch weekend in September 2014.
Of course, these percentages do not tell the entire story. Localytics only measures data from users who have received their phones and started using apps. That means the number the company released on Sunday may have been bigger.
We're also going to point out that the iPhone's market share can fluctuate from one year to the next, so percentages alone are never enough.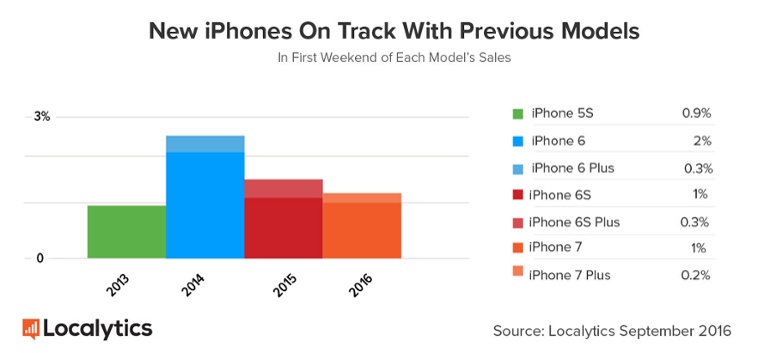 One other interesting thing to keep in mind is that the iPhone 7 launched in 29 countries which is almost three times the number of markets that got the iPhone 6s on launch weekend.
Finally, there's one more thing to consider. Last year Apple said it sold more than 13 million iPhone 6s units, but it needed two weeks between preorder kickoff and actual launch to reach that number and beat iPhone 6 sales. This year, Apple returned to its regular schedule of releasing the iPhone a week after preorders start. Apple sold more than 10 million iPhone 6 units during the launch weekend, which included one week of preorders.
In other words, if the iPhone 7 matches the iPhone 6s in iPhone market share after launch, does this mean Apple sold around 13 million iPhone 7 units last week? That's a question we can't really answer without help from Apple.