We already know the iPhone 8's A11 Bionic processor will deliver tremendous performance. Benchmark scores showed that the new chip is miles ahead of the competition when it comes to scores, and it's even able to outperform some of Apple's most recent MacBook Pros. But how does the chip fare in real-life tests?
We already saw an iPhone 8 vs. iPhone 7 speed test, since Apple's 2016 handsets still does a lot better in these tests against top Android contenders. Tom's Guide took things a step further and compared the iPhone 8 to its biggest rivals, the Galaxy Note 8 and Galaxy S8.
The conclusion? The A11 Bionic is miles ahead of what Android devices can do. It's not even a contest anymore, and it looks like Qualcomm, Samsung, and Google are going to have a tough time matching the iPhone 8 and iPhone X speed.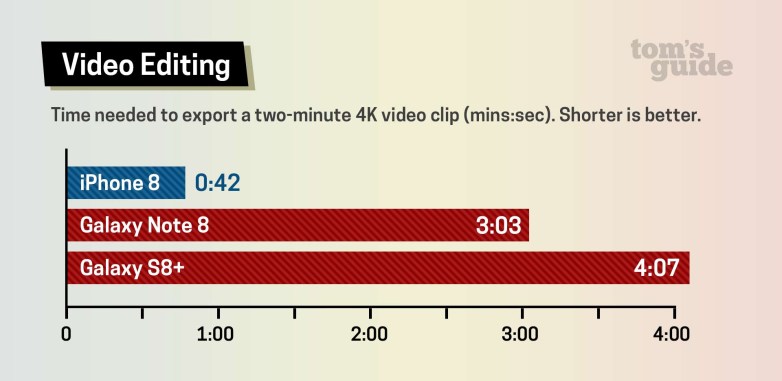 In addition to running the same Geekbench benchmark tests that we already saw, Tom's Guide also tested the graphics power of the iPhone 8 models. Apple makes its own GPU, the company revealed on stage last week, which scores up to 64412 (iPhone 8 Plus) in 3DMark tests. The Galaxy Note 8 tops out at under 40000, while the Galaxy S8 does around 36500 in the same tests.
But again, these are benchmark tests that don't tell the whole story. It's the real-life performance that really matters. And Tom's Guide decided to put the phones through the same test we've seen in the past: "we put the same 2-minute video, shot in 4K by a drone, on the iPhone 8, Galaxy Note 8 and Galaxy S8+, and then added the same transitions and effects before exporting and saving the video."
The iPhone 8 did the job in 42 seconds. The Galaxy Note 8 came in second with a 3:03 time, while the Galaxy S8+ needed more than a minute longer, at 4:07. Similarly, the iPhone 8 is faster at opening resources-heavy apps than its rivals.
The iPhone 8 also opened more demanding apps faster than its predecessor and the top Android phone right now, although those differences were less dramatic. It took the iPhone 8 11 seconds to fully load the Injustice 2 game, compared to 14.53 seconds for the iPhone 7 Plus and 19 seconds for the Note 8.
The iPhone 8 "obliterates every Android phone we tested" the site noted, and it's "easily the fastest phone ever."