The iPhone might get a display like no other smartphone out there, and it's all starting with the iPhone 8. The device is rumored to have an all-screen front-side featuring minimal bezels and no home button. The fingerprint sensor should be embedded in the screen, and there's indirect evidence that Apple might also include other front-facing sensors in the display. That's something that nobody has pulled off so far, not even the upcoming Galaxy S8. Due in mid-April, the Galaxy S8's top bezel is supposed to house various sensors, including the front camera and iris scanner.
Even if Apple doesn't ditch iPhone bezels completely this year, the iPhone will still have amazing display technology in the not too distant future. The company is looking at ways that would allow it to integrate sensors, fingerprint scanner included, without increasing the display's size or energy consumption.
First seen by Apple Insider, USPTO patent no. 9,570,002 was awarded to Apple on Tuesday. Titled Interactive display panel with IR diodes, the document describes technology that would let Apple ship a screen that could scan a person's fingerprints without requiring a Touch ID sensor to be placed within or under the screen itself.
The technology "use a micro light emitting diode (LED) in an active matrix display to emit light and a sensing IR diode to sense light." That means the screen would display information, but it'll also react to a person's fingerprints. In addition to that, the tech could be used to replace other front-facing sensors, including ambient light sensors and proximity sensors.
That would let Apple dispense of other sensors that occupy the front side of the phone, and take up internal space, in favor of a screen that would pack all these features.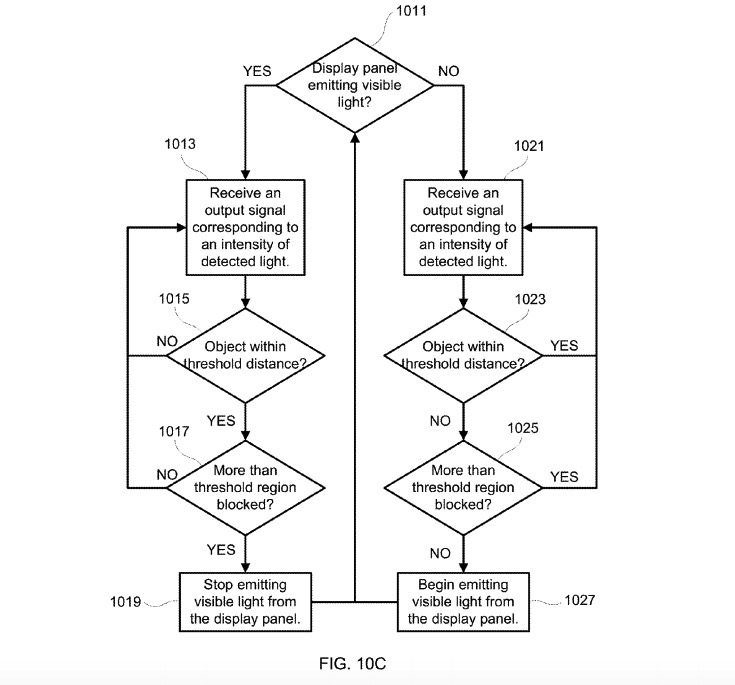 Apple's new micro LED touchscreens could incorporate a different pixel arrangement than what you'd used to seeing in a phone. An interactive pixels subpixel arrangement would consist of red, green, blue, IR emitting, and IR sensing LEDs, or RGBIRSIR. The result would be a high-resolution display capable of performing tasks that do not require showing images.
The patent describing the technology also suggests that features like scanning a fingerprint might take place even when the screen is off, which would make the iPhone even more energy-efficient.
As exciting as it may sound, the patent wasn't filed by Apple initially. Instead, it's LuxVue the company that studied this particular micro-LED type of displays. Apple bought the company back in 2014, and it looks like its technology will be put to good use.
If you think micro-LED sounds familiar, but you can't quite put your finger on it, that's because we've heard about Apple's interest in such screen tech before. In late 2015, reports indicated that Apple is working on micro-LED technology at a secret laboratory in Taiwan. Those reports noted that Apple is looking to create thinner and more energy-efficient products that would feature better, higher-resolution displays.
Furthermore, a secondary report suggested that Apple might use these micro-LED displays to create 3D holographic iPhone screens in the future. Apple has patents detailing such screen technology as well.