Apple's next-generation iPhone 8 — or "iPhone Edition," as it might be called — is still many months away from becoming a reality. Of course, since it's the most hotly anticipated smartphone of the year by a huge margin, there are already plenty of leaks and rumors for Apple fans to mull over until the company's hot new iPhone is finally unveiled in September. The iPhone 8 will be the first iPhone to feature a big redesign since 2014 when Apple launched the iPhone 6 and iPhone 6 Plus. Since then, the iPhone 6s duo and the iPhone 7 duo have both featured what is essentially the same design. In fact, reports suggest Apple will reuse the iPhone 6 design a third time for the iPhone 7s and iPhone 7s Plus that will be unveiled alongside the iPhone 8 later this year.
At this point, we've read enough from reliable sources that graphic designers can begin to whip up some concept renders, and there have been a few notable creations published over the past few months. Now, however, a new iPhone 8 mockup could end up being the closest anyone has come thus far to drawing up a device that might actually resemble the real iPhone 8.
Graphic designer AlHasan Husni put his skills to work recently on the iPhone 8, and he created a few mockups of a device that fits the various descriptions we've read so far. According to several trusted sources, Apple's tenth-anniversary iPhone will feature a bold new design that ditches the home button and features an AMOLED display that should take up almost all of the handset's face. The Touch ID fingerprint scanner will reportedly be embedded in the phone's display, and the edges of the display are expected to be curved.
A number of designers have taken those reports and dreamt up iPhones with curved sides similar to what we've seen on Samsung's recent smartphones. As I mentioned in an earlier post, however, an iPhone 8 that steals Samsung's design seems quite unlikely. Instead, we can probably expect to see a new iPhone design where the edges of the display slope subtly and follow a slight curve that is similar to the shape we have now on Apple's iPhones. Husni seems to agree with my prediction, and he mocked up an iPhone 8 that fits the bill.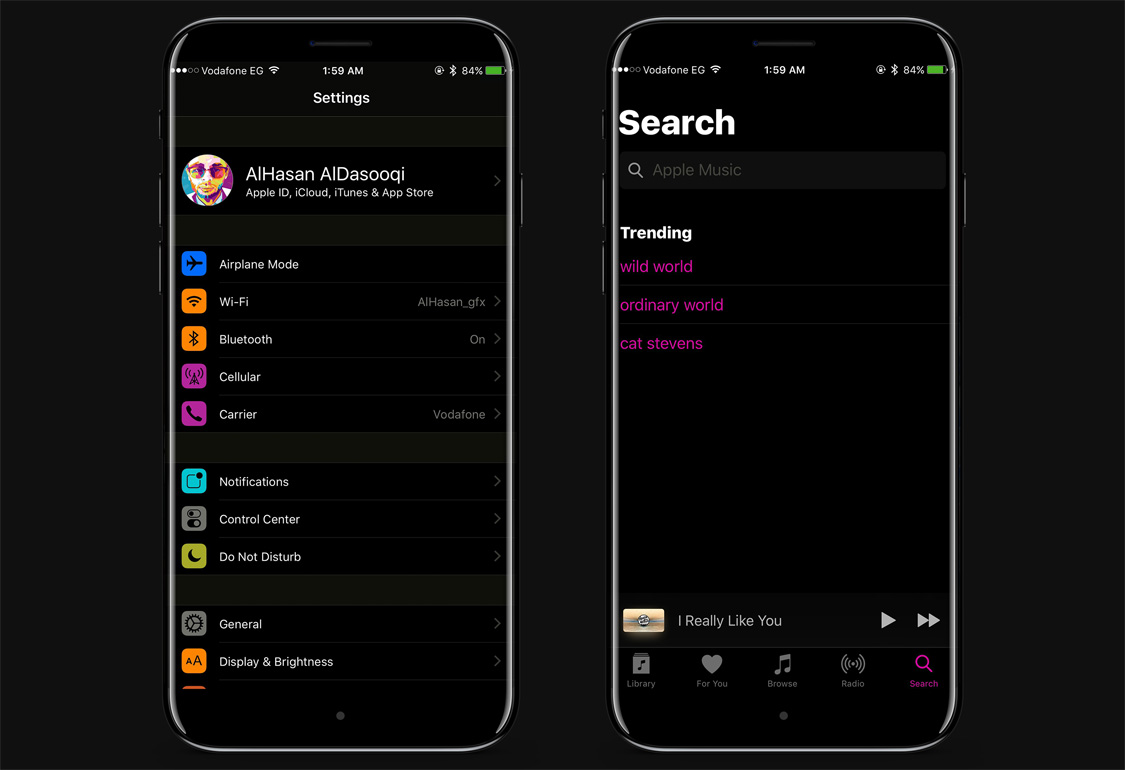 It's certainly not exact, but the gorgeous shape the designer has created may indeed align with the real iPhone 8 that Apple unveils this coming summer. Also imagined here is a "dark mode" feature in iOS 11, which Apple fans around the world have been anxiously awaiting for years.
Apple's new iPhone 8 (or iPhone Edition, or iPhone X) is expected to be unveiled alongside the new iPhone 7s and iPhone 7s Plus this coming September, though a pair of new reports on Wednesday suggest that it might not be released until November.