Newly released iPhone 8 renders from iDropNews provide us with a somewhat better idea of how Apple may implement its rumored "function area" on the highly anticipated iPhone 8. With the iPhone 8 said to feature an edge to edge OLED display, reputed analyst Ming-Chi Kuo a few months ago said that the bottom portion of the device will consist of a "function area" that will dynamically provide users with pertinent controls based on a given app environment, similar perhaps to what Apple implemented with the Touch Bar on the MacBook Pro.
Now we'll be honest, the latest renders aren't the sleekest we've seen, but they provide us with an idea of what using the iPhone 8 might look like when the device finally hits store shelves. As illustrated below, the function area includes the space where the embedded Touch ID sensor will hopefully be. As for the call controls on the photo on the bottom-right, that's decidedly less user-friendly than the current UI on the iPhone, but rest assured that there are a few better examples that follow.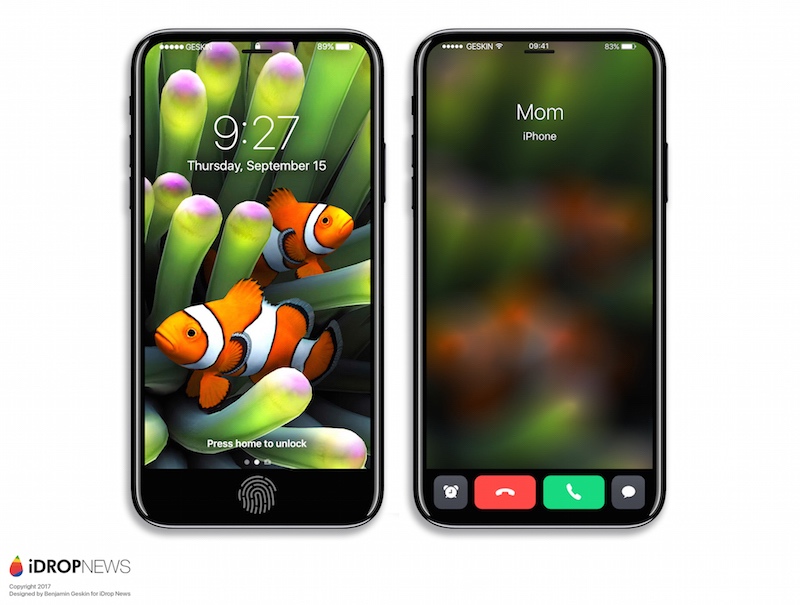 With the iPhone 8 display essentially consisting of one giant piece of glass, the available screen real estate is going to be substantial. In fact, quite a number of leaks have indicated that the iPhone 8 display will be about the same size as the iPhone 7 Plus display, albeit in the form factor of an iPhone 7. All that said, the renders below illustrate how iPhone 8 users might be able to quickly access an application's music controls without having to call up the Control Center or switching over to the app itself.
In a similar vein, the larger iPhone 8 display might enable web browsers to see pertinent controls at all times when using mobile Safari. What's more, the added screen real estate might even make editing photos a more seamless process.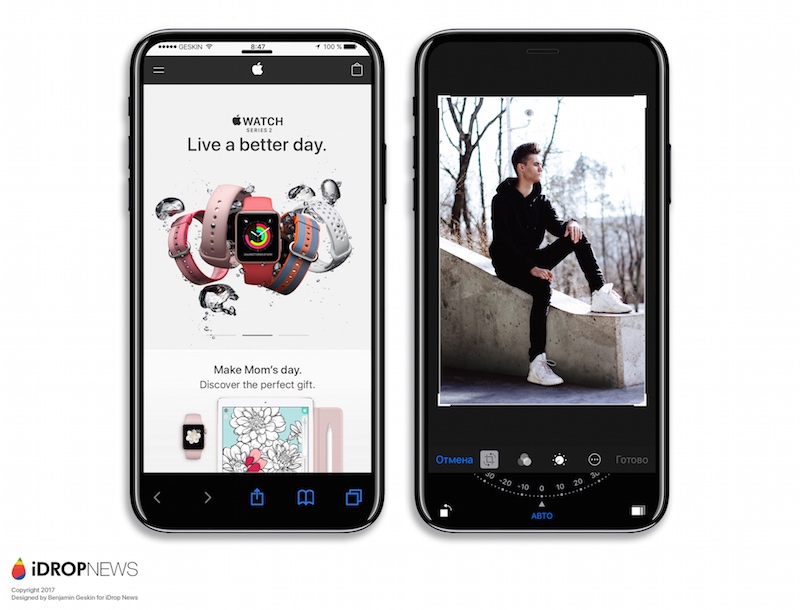 Given what we know about the iPhone 8, there's a good chance it will help usher in the biggest refresh cycle we've ever seen. In fact, the hype and excitement surrounding the impending iPhone 8 release is so great that Tim Cook earlier this week even blamed iPhone 8 rumors for creating a "pause" in iPhone 7 sales this past quarter. While some were quick to look at Cook's explanation as nothing more than an excuse, the rumored iPhone 8 feature-set is such a leap forward from the iPhone 7 that it actually rings true. Aside from an edgeless OLED display, other rumored features include augmented reality support, improved battery life, facial recognition, more RAM, and a whole lot more.
That said, if the iPhone 8 renders above pique your interest, you might want to check out this iPhone 8 concept video which does an equally solid job of depicting how the iPhone 8 function area might look and feel.