Apple's iPhone 8 event is just a week away now, but that doesn't mean we're done with all the iPhone leaks. A new image obtained from China lists various iPhone 8 and iPhone 7s details, including their purported launch names, storage options, and pricing.
Posted on SlashLeaks, the following image originates from Weibo, just like most other iPhone 8 leaks. Throughout the year, we've called Apple's flagship 2017 smartphone the iPhone 8, while iPhone 7s and iPhone 7s Plus were the names everyone used for the other two new iPhones expected this year. That's something to keep in mind before looking at the following image.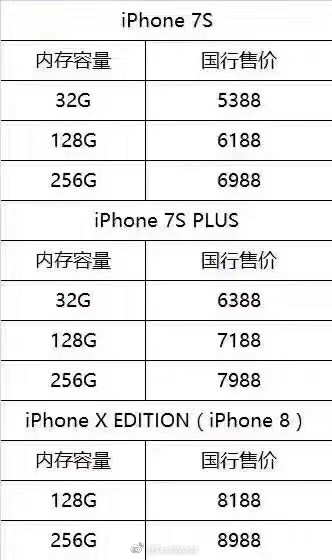 The same three phones are listed in this spreadsheet, though the iPhone 8 is called "iPhone X Edition."
A few days ago, a rumor said the iPhone 7s/7s Plus will be called iPhone 8/ 8 Plus, while the iPhone 8 will actually be sold as iPhone Edition. A subsequent report said the iPhone 8 will be called iPhone X. This new leak combines both the "X" and the "Edition" monikers into one of the iPhone 8's purported commercial name: iPhone X Edition.
Yeah, we're not buying it either. There's no way Apple is calling its new flagship iPhone "X Edition."
Other details in the leak seem plausible, however. The listing seems to confirm an earlier leak that said the iPhone 7s series will be available in 32GB, 128GB, and 256GB options. The pricing structure is also in line with the previous leak, and they match Apple's pricing structure for the iPhone 7.
Meanwhile, the phone we've all been calling iPhone 8 will be available in 128GB and 256GB flavors, priced at 8,188 Yuan ($1,253), and 8,988 Yuan ($1,376). Mind you, these are prices for China, so the conversion rate doesn't reflect the iPhone's price for America, assuming the leak is even accurate.