How much storage will the iPhone 8 have to offer? More importantly, how big a dent will it make in our pockets? There's a new leak to answer both those questions.
A Weibo user posted a picture of a computer screen that supposedly shows the storage configurations for the iPhone 7s, iPhone 7s Plus, and iPhone 8, as well as their prices for China.
It's unclear where the listing originates from, but it refers to the phones as iPhone 7s, iPhone 7s Plus, and iPhone X Edition. The image says Apple will stick with the current iPhone storage tier for both iPhone 7s flavors — that's 32GB, 128GB, and 256GB.
The iPhone 8, meanwhile, will come in two versions, including 128GB and 256GB, which is reminiscent of the way Apple handles storage options for the Jet Black and Red iPhone 7 versions. A leak a few days ago said the iPhone's storage may go up to 512GB this year.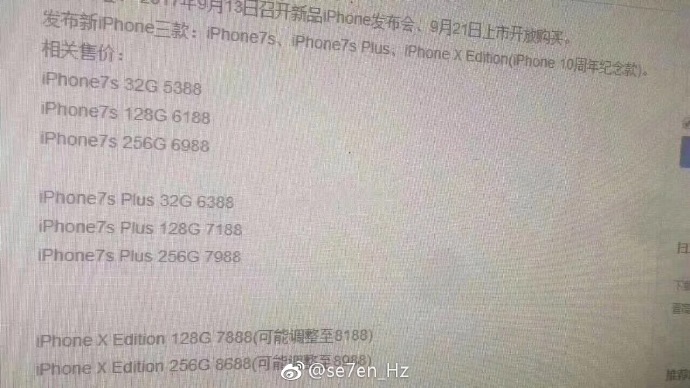 When it comes to prices, the leak indicates that Apple will keep the current iPhone 7 pricing structure in place for the iPhone 7s. The prices for China are identical to the ones found on Apple's China website. Assuming the information is legitimate, then the iPhone 7s will start at $649 (32GB iPhone 7s) in the US, and go all the way up to $969 (256GB iPhone 7s Plus).
Moving on to the iPhone 8, the image says the 128GB may cost almost as much as the 256GB iPhone 7s Plus. But it also mentions in brackets that the price might go up by as much as 300 Yuan, or more than $45.
The 256GB iPhone 8 is priced at 8688 Yuan ($1,316), but that price might also be adjusted upwards by 300 Yuan.
If there's one thing that doesn't make sense in this image, that's the September 21st release date mention near the top. That's a Thursday, which makes it an unlikely launch date for the phone. However, Apple is rumored to release the 2017 iPhones on September 22nd. There's also a September 13th mention right at the top of the image. Apple is rumored to unveil the handsets on September 12th.