Apple already revealed many things about iOS 11 at its developers event in June, but it likely kept secret a few of them — those which will only be available to iPhone 8 buyers. After all, just like with any previous iPhone, it's the software that makes it shine.
However, Apple did demo one feature that'll surely work better on the iPhone 8 than on any iOS device, and a new discovery suggests it could be used to completely transform FaceTime experiences.
Apple's betting big on augmented reality, and developers are already toying with ARKit, which was first demoed at WWDC 2017 last month.
Discovered by VCDaily, a patent awarded to Apple details technology that could be used to bring AR features to FaceTime.
Called Light field capture, the document describes ways of using the various sensors of a device like the iPhone to offer users a richer FaceTime experience.
The documentation makes no mention of FaceTime, but does mention "immersive augmented reality" a few times, in connection with a video chat application.
With the help of both front-facing and rear cameras and sensors, FaceTime users could see more of the surroundings of the people they talk to. Furthermore, the iPhone will also take into account the point of view of the user looking at the screen to adapt the video accordingly.
The patent seems to imply that features like dual cameras on the back, and 3D depth sensors on the front and back will be integrated in FaceTime to offer an AR experience.
Because not all iPhones, iPads, and Macs will have the same type of sensors, yet all support FaceTime, it's likely that only iPhone 8 users will benefit from this particular feature at first:
In such a traditional setup, a viewer could only see a fixed perspective of his counterparty and her scene. In particular, the viewer could only see what is captured by the counterparty's webcam. Further, as the viewer moves from one location to another during the conference, his point of view (POV) may change. However, due to limitations of the image capturing at the counterparty's site, the viewer could only see images from the same perspective all the time.
What's also interesting is that Apple uses images that show an iMac, suggesting that some of these AR features for FaceTime may one day hit macOS as well.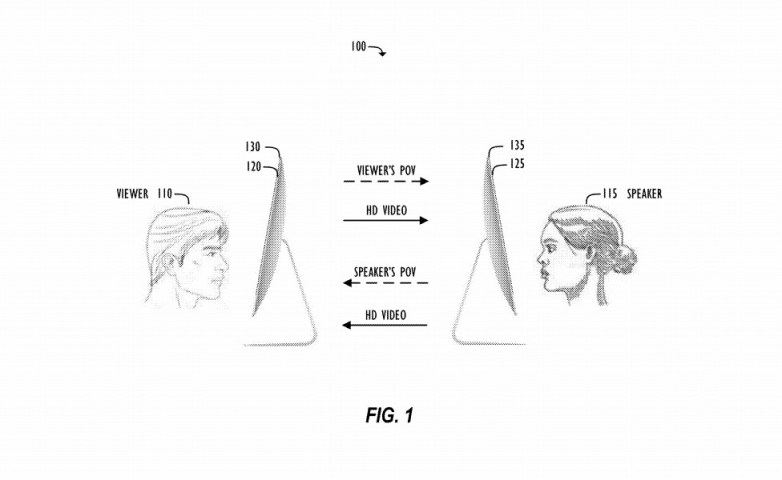 That's, of course, assuming that Apple wants to update FaceTime this year with AR features for supported devices. But the best way for Apple to demo the iPhone 8's signature features, including a sophisticated front-facing camera, facial recognition, AR, and the new dual lens camera on the iPhone, would be to adapt some of the default iPhone apps to make use of this new hardware components. FaceTime is definitely a prime candidate for demoing the AR and camera features of the best iPhone of the year.