There are two kinds of iPhone 8 design leaks out in the wild right now, and they're fairly similar except for one critical feature: the Touch ID fingerprint sensor. A new report indicates that Apple may be forced to go with the safer approach, which unfortunately just so happens to be the one that everybody hates.
Apple wants to integrate the Touch ID sensor within the layers of the new OLED screen, various reports have said, but the nascent technology may not be ready in time for this year's flagship iPhone 8. Hong Kong-based equity research firm CLSA wrote in a note to investors seen by MacRumors that Apple may end up placing the sensor on the back of the handset instead.
"iPhone to ditch fingerprint sensor? We don't think so," CLSA analysts Sebastian Hou and Brian Chen wrote. "Both Samsung and Apple tried to enable in-display fingerprint sensing on full-screen OLED phones in 2017, but their optical tech seems immature and the major iPhone 8 bottleneck."
The note continued, "Some thus speculate the fingerprint sensor will be removed and replaced by 3D sensing. Our latest supply chain checks indicate the iPhone 8 will still have the sensor given security, user-friendliness, and a need for payments infrastructure, but there is a high chance it will be on the back like Samsung's Galaxy S8."
CLSA went ahead and created a diagram of the iPhone 8, as seen above. The company believes Apple will use an all-screen design for the handset, and that it'll feature an advanced 3D face recognition system on the front as well as a vertical dual-lens camera on the back. The schematic above looks similar to some of the recent leaks that hit the web.
Designer Benjamin Geskin created a concept iPhone 8 based on the image above. Here it is — and let's just hope that it's way off base, because the front of the phone is hideous at the top, not to mention the fact that it would introduce several new manufacturing hurdles: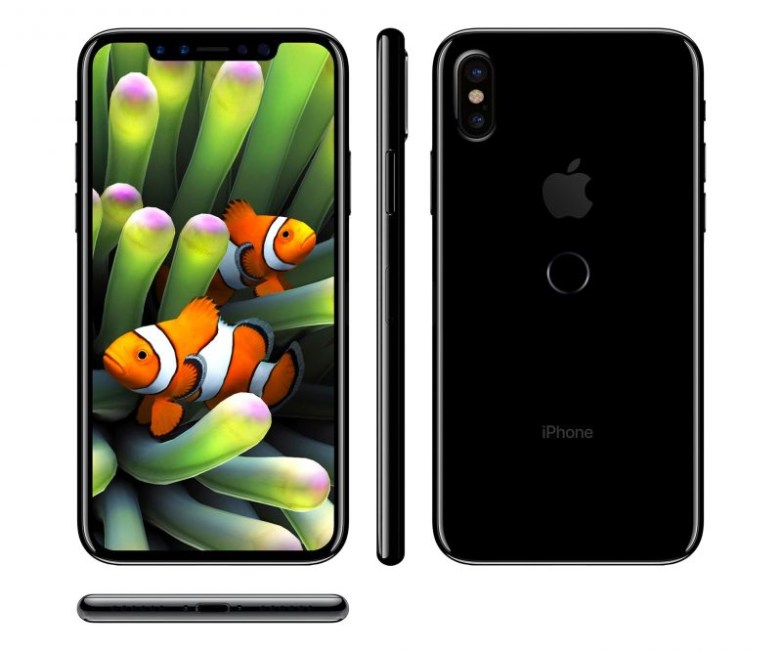 A report on Monday said the iPhone 8 will not be delayed, although it made no mention of the phone's design or the Touch ID sensor's location.