The iPhone 15 models all feature USB-C ports on the bottom. It's the design change that many iPhone users have been waiting for. The port doesn't also bring faster charging speeds than previous iPhone generations. But iPhone 15 battery tests have shown that every model can offer all-day battery life, with the Plus taking the crown.
While many iPhone 15 owners might not worry about battery life, power users could always need extra charge during the day. And that's where some of them might encounter a problem. It turns out the iPhone 15's USB-C port can pose a problem for some power banks. Rather than the external battery pack charging the handset, the iPhone 15 might actually start charging the power bank instead.
Thanks to the USB-C port, any iPhone 15 model can recharge other gadgets at speeds of up to 4.5W. Apple initially advertised the Apple Watch and AirPods as devices that can benefit from the feature. But iPhone 15 models will also recharge Android phones, iPads, and other gadgets. Among them, Reddit users found that some power banks will not recharge the iPhone. Instead, it's the other way around.
A Reddit user said they tried to use a new Anker battery to recharge the iPhone 15, but they found the iPhone began charging the power bank instead. MacRumors says other power banks might be similarly impacted.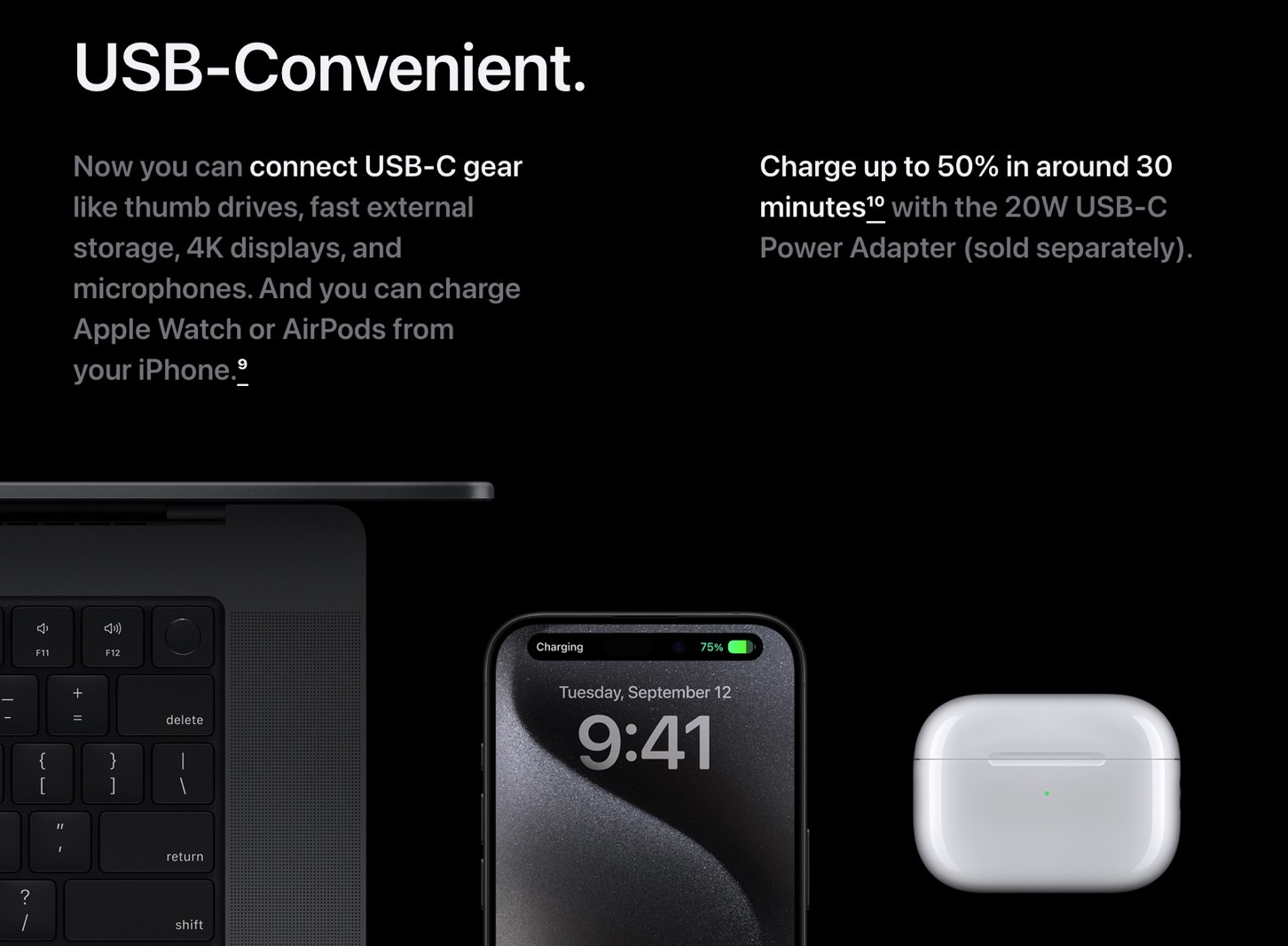 One Anker customer heard from the company on a specific model, the PowerCore Slim 10K PD. Apparently, the only way to recharge the iPhone 15 from the battery is to use a USB-A to USB-C cable.
This isn't great news. We've wanted Apple to switch to USB-C so we can use only USB-C to USB-C cables with all our gadgets. This predicament forces you to carry another cable or a dongle with certain power banks.
This is likely the result of what appears to be an oversight from Apple for the iPhone 15's reverse charging feature, as we saw with real-life experiments. There's no menu in the Settings app to manage the feature. When connecting an iPhone 15 to a Pixel, testers found that either device could recharge the other, and it all seemed random. The same happened with an iPhone 15 to iPad connection.
What Apple could do to fix this unexpected issue is let the user decide when to use the iPhone 15 to recharge other devices. Maybe a notification or prompt on the screen would inform the user that the iPhone 15 can recharge an external device. In such a case, the user could easily block reverse charging and have the iPhone recharged instead.