In the first 17 days of iPhone 15 sales in China, the new iPhone series is underperforming compared to the iPhone 14 at the same period. According to Counterpoint Research, the new phone sales are down 4.5%.
Even though iPhone 15 stock practically vanished during pre-order days in minutes, it seems this wasn't enough to outperform the iPhone 14 sales, comparatively. The reason behind it could be a decline in consumer spending.
"China's headline numbers for the 15 series are in the red, and this is a reflection of the broader decline in consumer spending," says Mengmeng Zhang. "But the shorter pre-holiday shopping period coupled with supply mismatches on the Pro Max (with consumers shying away from blue) could push some of the demand to calendar Q4."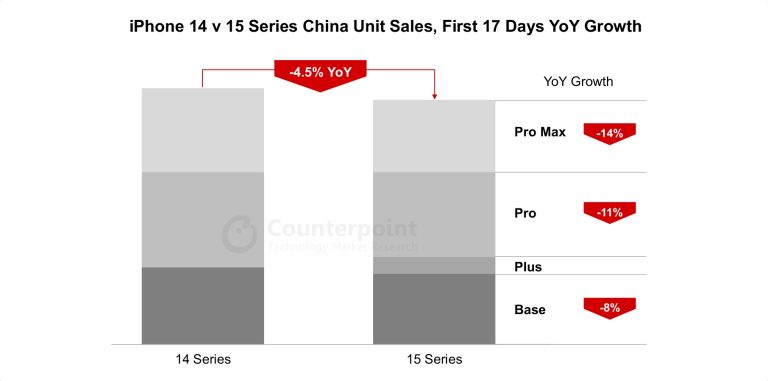 Comparatively, the iPhone 15 Pro Max has sold 14% less than the iPhone 14 Pro Max in China. The iPhone Pro is down 11%, and the base model is down 8%. Since the iPhone 14 Plus started being sold a month later, there are no numbers to compare with the iPhone 15 Plus.
Early US numbers are in stark contrast to China, with the first nine days of iPhone 15 sales showing double-digit increases in overall unit sales and healthy demand across Base, Pro, and especially Pro Max models.
"The US is hot right now with back-to-back stellar weekends for the new iPhone. The overall reception of the 15 series has been very positive, and we're expecting a major upgrade cycle from iPhone 11 and 12 users," says Jeff Fieldhack, Research Director for North America. "Of course, we're talking about the first couple weeks of sales, but it's a positive sign and takes a lot of sting off the China numbers."
That said, it seems the Chinese aren't convinced that the iPhone 15 series is a must-have update, like last year's models – although I'm afraid I have to disagree. In addition, the economic downturn must have made them more cautious about spending.