Apple's upcoming mid-September event will bring us the new iPhone 15 series and this year's Apple Watch refresh. But we don't expect new iPads from this Apple keynote. And should Apple update any of its iPad models, it won't be the iPad Pro flagships.
But Mark Gurman says in a new report that Apple is working on a major iPad Pro refresh, its biggest since 2018. Among the purported changes, Gurman mentions a new OLED screen like the one you'd find on an iPhone and a Magic Keyboard redesign. The latter will make the iPad Pro look more like a MacBook.
But don't get your hopes up about the 2024 iPad Pro actually replacing a laptop. At least not while it's running the current iPadOS 17 operating system.
As Gurman notes in Bloomberg's Power On newsletter, the iPad Pro series received steady refreshes since 2018. Apple routinely upgrades the processors and cameras, and the iPad Pros did get Mini LED displays.
But next year's iPad Pro refresh should be more massive. Gurman lists four model numbers for the 2024 iPad Pros: J717, J718, J720 and J721. These are probably the Wi-Fi and Wi-Fi/Cellular options of the 11-inch and 13-inch iPad Pro models.
The latter is not a typo. Apple is apparently going to increase the display size of its largest tablet, moving from 12.9-inch to 13-inch. That doesn't mean the iPad Pro will get a larger overall footprint. Gurman doesn't mention design details other than the move to OLED panels.
In addition to improving screen performance and boosting color accuracy, OLED panels might let Apple reduce the iPad Pro's bezels. That's one way to increase the screen without increasing the tablet's size.
As a reminder, Samsung has been selling flagship Galaxy tablets with OLED panels for a few years. The newest models have very thin bezels. And rumors have been saying that Samsung will manufacture OLED panels for the iPad Pros.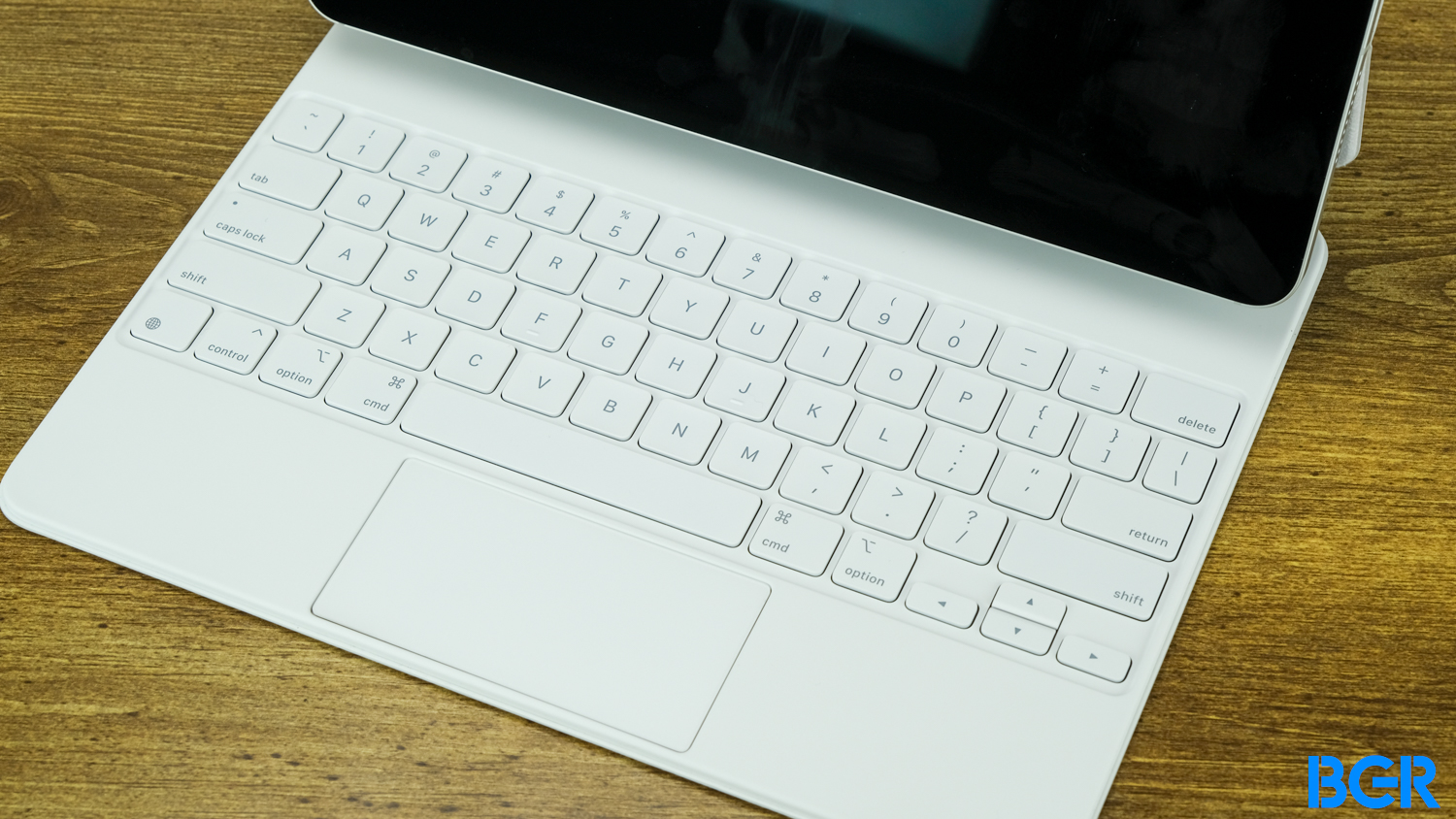 Another upgrade iPad Pro fans will love is the M3 chip, which should be released later this fall.
Finally, Gurman mentions the new Magic Keyboard redesign. "The new accessory makes the iPad Pro look even more like a laptop than the current setup and adds a larger trackpad," Gurman writes. That's another exciting upgrade, at least for those customers who use keyboards with their iPads.
Assuming these claims are accurate, the 2024 iPad Pros will look more like MacBooks than ever before. Assuming that you also get official accessories like the new Magic Keyboard.
After all, Apple has been selling the iPad as a laptop replacement for years. However, Apple intended the iPad to replace the Windows PC rather than the MacBook. The company still plans to keep the two product lines separate despite the obvious convergence in software.
Still, iPadOS is yet to utilize those M-series chips to the fullest. iPadOS 17 brings a revamped Stage Manager multitasking feature, but that might not be good enough.
The iPad Pro of my dreams runs macOS for work purposes and iPadOS for everything else. Put differently, I'd love a MacBook with a detachable screen that supports multitouch.
Maybe next year's iPad Pros might get us even closer to that sort of computing experience. But I don't think Apple is ready to deliver that sort of product yet.
That said, we have plenty of time to learn more secrets about the OLED iPad Pros that Apple should launch this year. Gurman says the new models will not debut until spring or early summer next year.