During the WWDC 2023 keynote, Apple introduced StandBy mode, a new "full-screen" iPhone experience that will arrive as part of iOS 17. While the feature works with every iPhone model that supports this new operating system, StandBy mode looks better on the iPhone 14 Pro and iPhone 14 Pro Max thanks to their Always-On Display tech.
This feature turns your iPhone into a digital clock. Although it's been widely praised, I think this is a really intriguing feature that many people won't actually use.
For StandBy mode to work properly, there are two requirements:
Your iPhone must be charging
Your iPhone needs to be positioned horizontally in a dock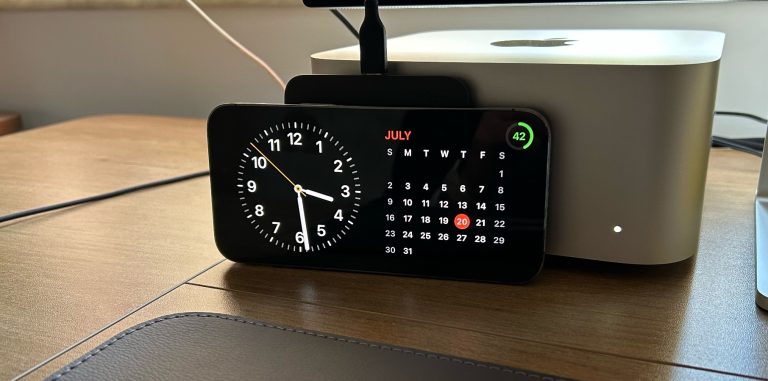 That said, if you don't own a MagSafe charger with a pad that holds your iPhone horizontally, you'll never be able to use this feature properly. In addition, I don't think having my iPhone as a digital clock is better than owning an actual digital watch – or at least, I think this is not the product that should have these features.
For example, with StandBy mode, your iPhone enables these functions:
It gives you glanceable information designed to be viewed from a distance. You can turn the iPhone into a bedside clock or showcase special moments from your photos.
It offers Live Activities in full screen. You can stay on top of things happening in real time, like the score of a game or the progress of your food delivery.
It shares Siri results at a glance, making it easier to check the weather or set a timer hands-free.
While all of that sounds great, maybe Apple should release a smart home display instead. Bloomberg already reported that the Cupertino company was working on such a device, so why release something similar for the iPhone when it should have been its own product?
Another option could be bringing StandBy mode to the iPad, especially now that an OLED iPad Pro is coming in 2024. Not only would it be more useful, but a bigger display could also help with other tasks, such as reading/taking notes, listening to songs, seeing if your security camera detected movement, etc.
At the end of the day, iOS 17 is full of amazing new features, including StandBy mode. You can learn about everything new coming with this operating system below.