One of the apps that got the most redesign love in iOS 10 is Messages. The little chat bubble is now a lot more than a texting app, with its own app store and the ability to send a lot more than just texts.
But with great features comes great confusion, and not all the settings are immediately obvious. Here's all the new stuff you should actually care about.
DON'T MISS: Apple's newest HQ is a perfect super-villain hangout
Individual read receipts
I don't know why this wasn't a thing a long time ago, but iOS 10 finally adds the ability to selectively choose who gets read receipts. This is a good thing, because read receipts are mostly awful, but occasionally useful. I don't want the majority of people knowing that I'm blowing them off and ignoring messages (or, for that matter, getting worried because I'm taking more than 0.0002 seconds to reply). But for a few select people, it's good that they know that I've read a message, so they can stop bugging me.
To enable individual read receipts, just tap on the circular i in the top-right of your message history, and hit the "read receipts" check box.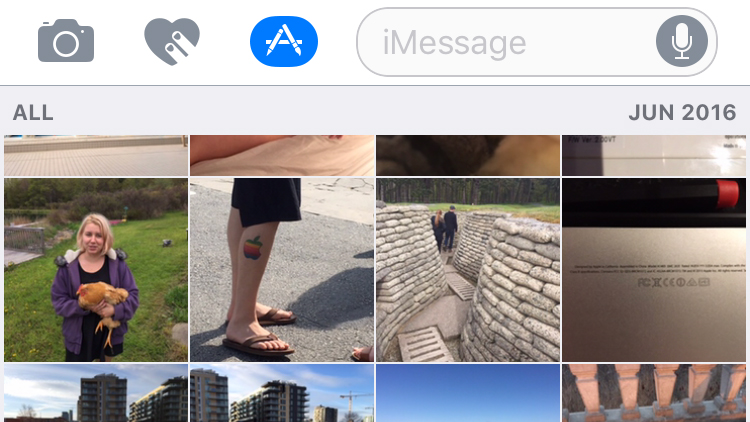 GIF apps
I already wrote about Momento, which is easily the best standalone Message app so far. It takes several similar images (like the three failed group photos you took on your night out) and turns them into one perfect animated GIF that you can spam to people.
The results are occasionally useful, and always hilarious. Yes, it's a good way to relive some great experiences, but mostly it's a reminder that computer vision software still has a long way to come.
Stickers
Apart from the silly GIF apps, Messages also has a lot of silly sticker apps in the store. We already rounded up the most useful Messages apps so far, and no surprises, the Super Mario sticker pack makes it into the top 10.
If you've been using Facebook Messenger's stickers for a while, none of this will really be a surprise. But it's still fun to startle your parents with a Mario sticker from time to time.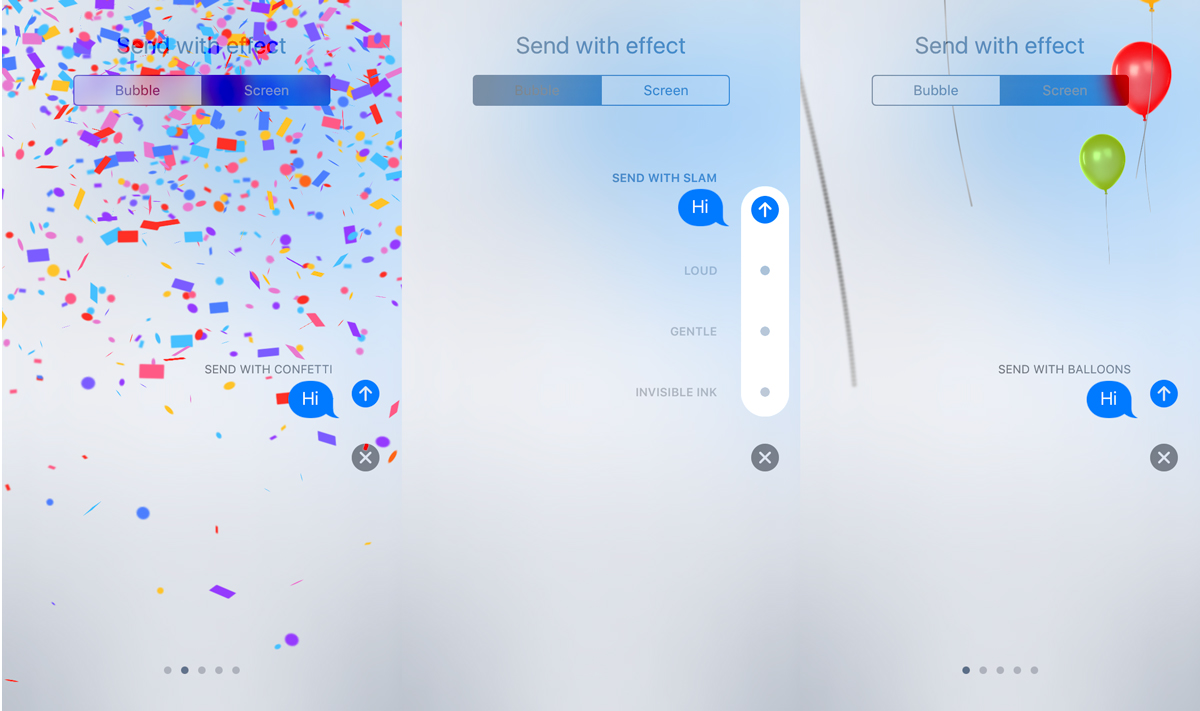 Slam messages
Phil Schiller spent a lot of time on stage in May explaining how Messages in iOS 10 gives you all sorts of ways to make your point. You can send your message big, small, secretly, with confetti, with ballons, or basically however you want.
To access all the options, type your message out, and then press and hold on the blue arrow you'd normally just press to send. Sliding up will get you the different options for the message bubble itself, while if you tap the Screen button at the top of the screen, you'll get options like bubble and confetti.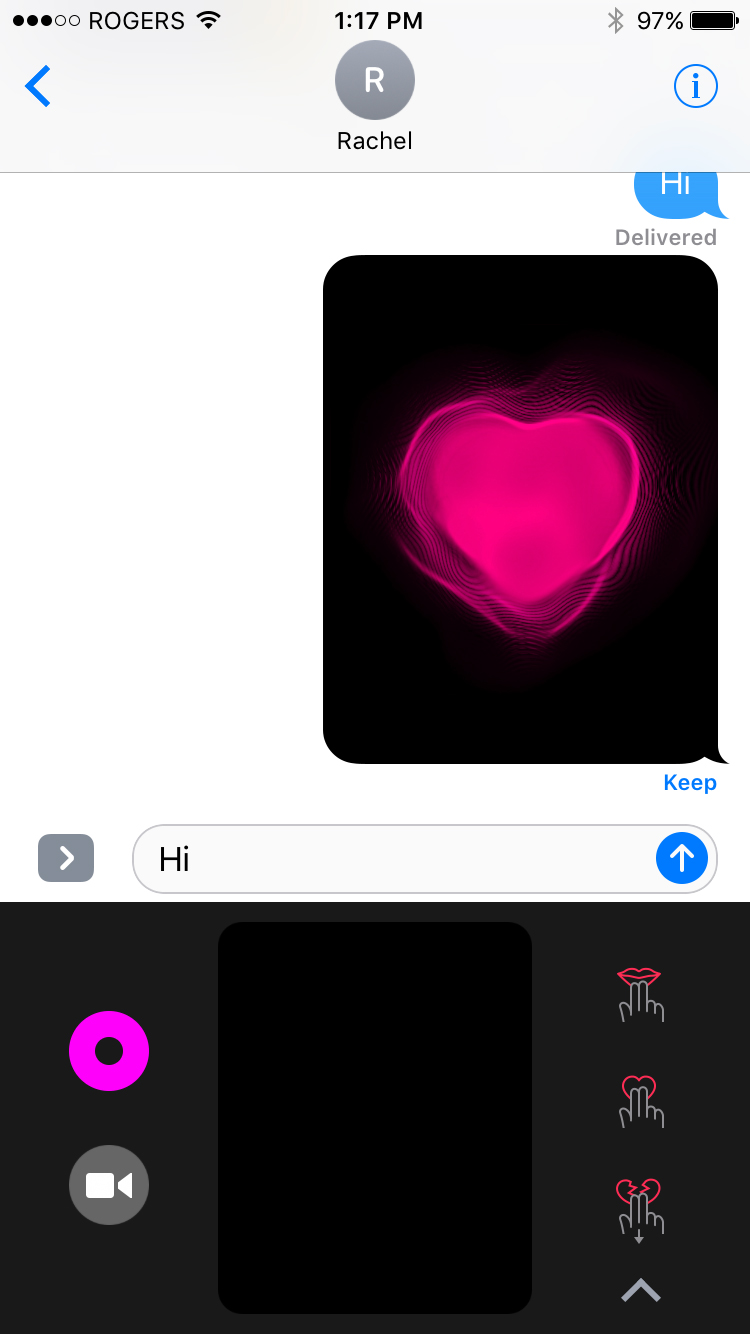 Heartbeat/Digital Touch
In case you didn't have enough ways already to send your message, Apple imported the Digital Touch feature from the Apple Watch. It gives you options to draw your own symbol, or you can press and hold for different options like sending a heart or a kiss.
Location sharing
If a picture is worth a thousand words, a map of your location must be worth an entire novel. It's easy to use the Messaging app to send your location to a contact, either on a constant or one-time basis. Tap the circular i in the top-right of a conversation, and you'll get two options for sending your location.
If you're talking with a plebian Android-wielder, they'll get a hyperlink they can click on to get your location.

Low Quality Images
If you're into sending people lots of pictures but you have a limited data plan, Apple has a special option just for you. Head into the Messages menu in the Settings app, scroll to the bottom, and there's an option to reduce image size. If you're just sending a quick, low-quality picture of something over cellular data, this could be a good idea. It reduces image size down from 1-2MB to around 100KB. That can make a big difference if you're on a low monthly data allowance.
Filter Messages
Just above the option for low quality images is another box, this one to filter messages. It splits your messaging inbox in two: one for people who are in your contact book, and another for random people. You can switch between the two with a toggle at the top of the messages app.