Apple earlier this week released a bunch of updates for its various mobile operating system, including iOS 10.3, the next major upgrade for iPhone and iPad. We already showed you some of the best features of iOS 10.3 and explained why the iPhone will suddenly feel snappier after the update. But it looks like there's one more hidden perk in iOS 10.3 that users will certainly appreciate. The operating system now gobbles up less storage than before, which should make living with a 16GB iPhone or iPad a lot easier than before.
Apple finally killed the 16GB storage tier this year, which is great news for new iPhone and iPad buyers who get to buy an iOS device that has at least 32GB of memory on board. But there are plenty of iOS users out there still rocking 16GB devices who probably feel the pain of not having sufficient storage space.
iOS 10.3 will fix the problem, Apple Insider explains.
While upgrading a 256GB iPhone 7 Plus to iOS 10.3, the site discovered an increase in available storage space of almost 8GB. The device has over 40,000 photos and more than 200 apps installed before and after the update.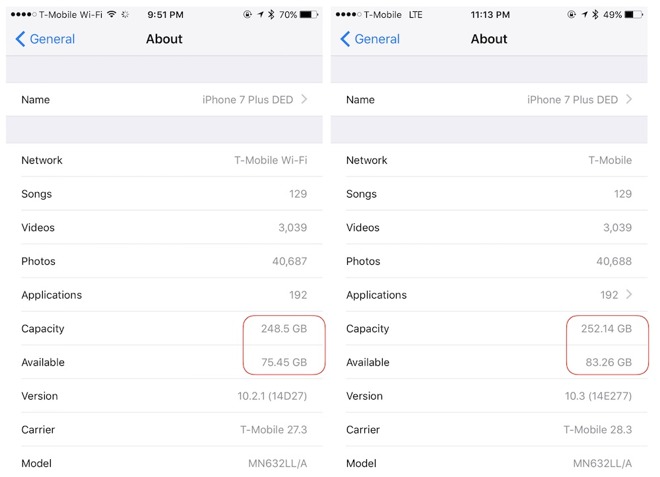 Not only did the overall capacity estimate shot up from 248.5GB to 252.14GB, but the available storage jumped from 75.45GB to 83.26GB for an increase of 7.81GB, as seen in the image above.
That doesn't mean your 16GB iOS device will suddenly get a massive storage boost. The more memory you have, the report explains, the more free space iOS 10.3 will reclaim.
The reason why this happens appears to be one of the major features of iOS 10.3, but one that users will hardly notice. APFS, short for Apple File System, is now the new file system running on Apple's devices. That's why the iOS 10.3 update took so long because Apple moved from the dated HFS+ system to its brand new innovation.
AFPS manages how files are stored on the iPhone. It's optimized for flash storage, and it's apparently more efficient at optimizing how storage is consumed by the system and apps.
It's likely Apple will continue to improve storage management in the future to squeeze out as much free memory as possible for the user. In the meantime, if you still haven't updated your device to iOS 10.3, this might be a great reason to do it.