COVID-19 lockdown and supply chain issues during November-December on the production of the iPhone 14 series in China were responsible for the largest-ever decline in smartphone shipments during the holiday quarter, according to IDC.
While Apple's double-digit drop was a first, all other top vendors also had double-digit drops comparing 4Q22 with 4Q21. This largest-ever decline in a single quarter contributed to a steep 11.3% decline for the year as 2022 ended with shipments of 1.21 billion units, representing the lowest annual shipment total since 2013 due to significantly dampened consumer demand, inflation, and economic uncertainties.
"We have never seen shipments in the holiday quarter come in lower than the previous quarter. However, weakened demand and high inventory caused vendors to cut back drastically on shipments," said Nabila Popal, research director with IDC's Worldwide Tracker team. "Even Apple, which thus far was seemingly immune, suffered a setback in its supply chain with unforeseen lockdowns at its key factories in China. What this holiday quarter tells us is that rising inflation and growing macro concerns continue to stunt consumer spending even more than expected and push out any possible recovery to the very end of 2023."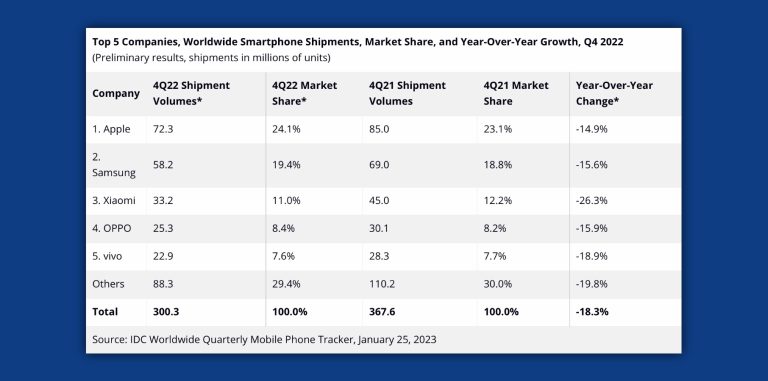 That said, Apple was still the company with more shipments in 4Q22. Thanks to the iPhone 14 series, Apple shipped 72.3 million units. Compared to 4Q21, the company shipped 85 million iPhones, A 14.9% drop in Year-Over-Year comparison.
Samsung, for example, also had a significant drop as it shipped 58.2 million Galaxy phones in 4Q22. Previously, in 4Q21, it shipped 69 million units, a 15.6% drop. In this case, it's important to note Samsung usually releases its flagship phones around February and August, so it makes sense not to have the best holiday quarter while Apple focuses its strategy on these specific months.
While this data is preliminary and is subject to change, IDC was able to show a bad scenario for the mobile industry. Anthony Scarsella, research director with IDC's Worldwide Quarterly Mobile Phone Tracker, says, "with 2022 declining more than 11% for the year, 2023 is set up to be a year of caution as vendors will rethink their portfolio of devices while channels will think twice before taking on excess inventory."