A week ago, Apple finally unveiled the Vision Pro mixed reality headset, which is the equivalent of a powerful MacBook combined with a bleeding-edge MR headset. Apple doesn't describe the device as an AR, VR, or MR headset. Instead, it's Apple's first "spatial computer," which gives you control via eye-tracking, hand-tracking, and voice. Meanwhile, ChatGPT continues to be the most talked-about technology in town, with everyone in the tech world looking to create alternatives, even Apple.
Put differently, last week showed us the future of computing, and you'd better not miss out. It's not just the Vision Pro, and it's not just ChatGPT. Instead, the computer of the post-iPhone era will use both of these emerging technologies, no matter what form they take.
When Apple unveiled the Vision Pro, I said the headset would benefit from generative AI support. Siri, as it is now, isn't good enough. But voice will be one way you interact with the computer of the future.
You'll use your eyes to move the "cursor" and various hand gestures to control digital objects. But voice control will play a key role in spatial computing, especially once generative AI comes to Vision Pro. Voice will perfectly complement eye- and hand-tracking to get things done quickly. The best example that comes to mind is Minority Report computing. That's where we're heading.
ChatGPT will be available on the headset from day one via OpenAI's ChatGPT app for iPhone/iPad. I'm not talking about third-party products that are similar to ChatGPT. But Apple will need its own powerful AI to make the most of the Vision Pro as it transforms computing and moves us toward the post-iPhone era.
Every spatial computer vendor will have to offer their own AI that will feel personal to the user.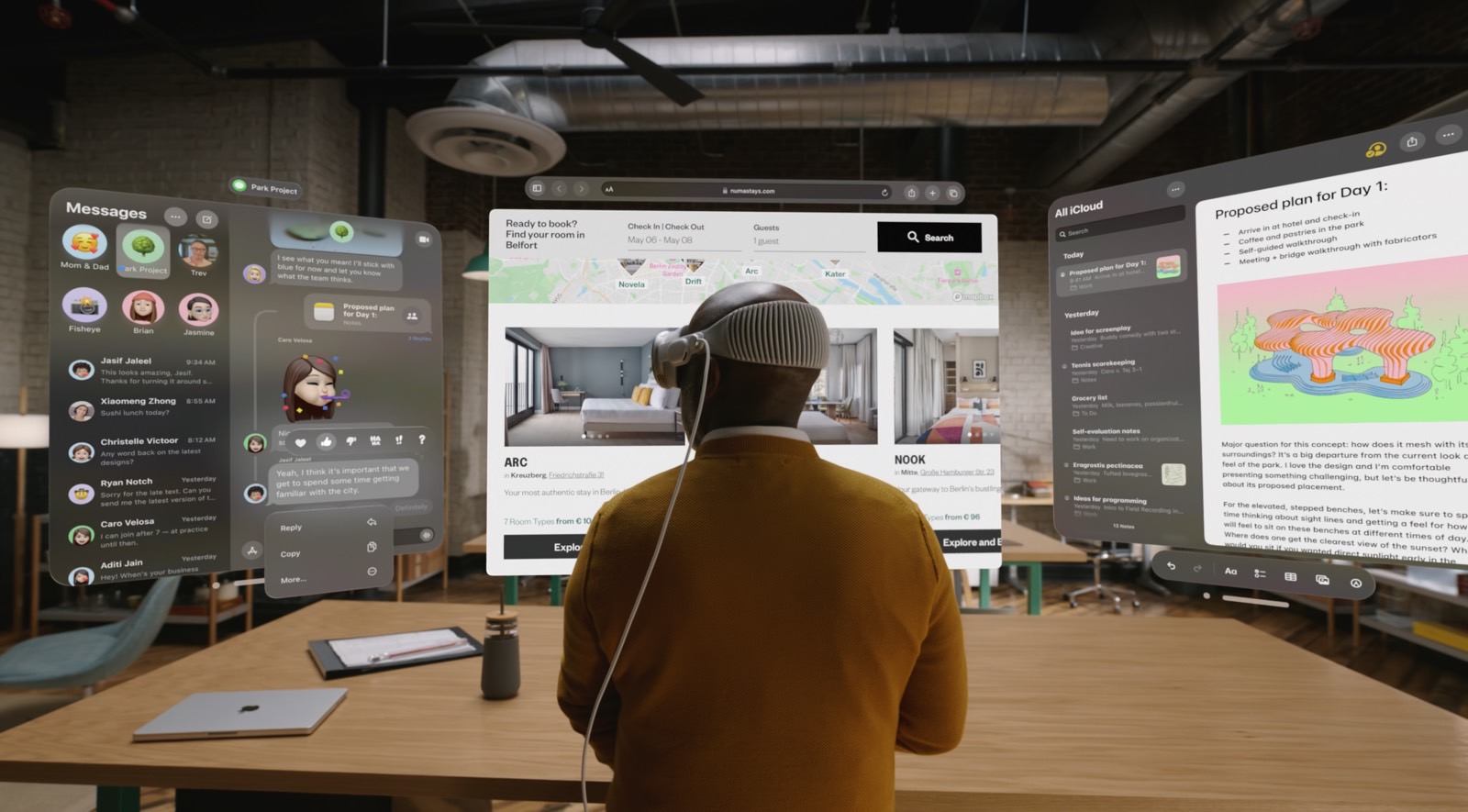 By post-iPhone, I'm referring to Apple's eventual AR glasses that will either replace the iPhone or work together with a smaller handset in our pockets to help us get things done. Even Humane's gadget qualifies. And Humane already seems to have the AI part down, although the computer it works with doesn't feel exciting yet.
As for ChatGPT, OpenAI's hit product should grow significantly in the coming years, getting more powerful just as oversight comes into play.
I'm not saying that you will need to buy a $3,500 headset and run OpenAI's latest chatbot on it to be at the forefront of computing. Pair any sort of spatial computer with a generative AI product, and you end up with the computing experience of the future.
Just as I expect Apple to release its answer to ChatGPT in the near future, I see some of the biggest names in tech coming up with alternatives to Vision Pro. Meta has already started by soft-launching the Quest 3 headset last week. And let's not forget that Samsung joined forces with Qualcomm and Google in February to tease an upcoming spatial computer.
I'm really saying that spatial computing and generative AI experience will give you an edge in the future. These should be your top priorities. You'll use them for school or work. Or simply to get stuff done faster than ever before.
Whatever the case, you should absolutely not miss out on these two products. Generative AI is the easiest to start with. It's available immediately via ChatGPT from OpenAI and Microsoft's Bing Chat. Also, Google has its Bard AI chatbot you can check out. The more you use it, the better you'll be with it.
As for spatial computing, Vision Pro will be your best bet if you can stomach the $3,499 price tag next year. Otherwise, you'll want to experience a cheaper spatial computer the first chance you get. But don't mistake those devices for VR headsets that can only offer fancy games and immersive video content. Next-gen spatial computers are an entirely different breed.