On Wednesday, Google announced a handful of upgrades for its generative AI-powered Search experience, an experiment called SGE. It's now capable of providing answers to questions about places you might want to see as well as any products you're thinking about buying. I spent some time with the updated experience this week, and my overall takeaway is that I desperately hope we have the option to turn SGE off when it rolls out publicly.
Before I go on, I'll note that anyone can take part in the SGE experiment, but you have to join the waitlist for Google's Search Labs first. Once you are accepted as an early tester, you can choose to toggle AI-powered search on or off at your leisure.
I was recently accepted into the Search Generative Experience (SGE) test, but I hadn't taken it for a spin until this week. Needless to say, I wasn't terribly impressed.
"With this improved experience in SGE, you'll get useful insights to guide you along the way, so you can spend less time planning and more time enjoying the plans you've made," Google's VP of Product Management for Search, Rany Ng, claimed in a blog post.
Here was my first search: "When is the best time of year to go to Hawaii?"
Here was SGE's response: "An AI-powered overview is not available for this search."
We weren't exactly off to a roaring start. I erased my search and tried again with a new question about the best activities to do in Hawaii. SGE actually generated an answer this time, telling me to try snorkeling, whale watching, attending a luau, and visiting Waikiki Beach: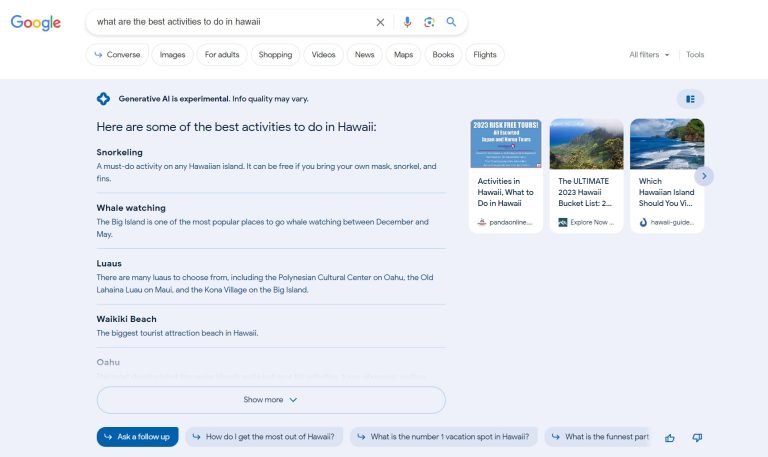 This inspired me to search for Waikiki Beach, but I had already forgotten that SGE was on, so as soon as I tried to start scrolling, a big block of text from the generative AI appeared on the page telling me all about Waikiki Beach. Admittedly, some of the information was both interesting and useful, including the fact that the beach is free to access and that "many of the best O'ahu hotels overlook Waikiki Beach." The only problem is that my first instinct was to scroll down to another blog post or a Wikipedia entry to fact-check the AI.
For me, this just isn't a natural way to use a search engine. I would have to retrain my brain not to begin scouring the search results for the information I needed. But even if I were willing to do that, there's no way that the AI would consistently understand the exact context and perspective I was searching for, especially not in its current state.
Product searches were similarly confusing, as Google's own sponsored results overtake the generative AI response at the top of the page and load immediately while the AI works. When I searched for "a brown sectional couch that costs less than $1,500," I was already clicking on other results before the AI even had time to generate an answer for me.
Once again, the response that it did generate was interesting, as it included a helpful description of each individual couch, including details about the dimensions and the design and any issues that it could find in the user reviews on the product page: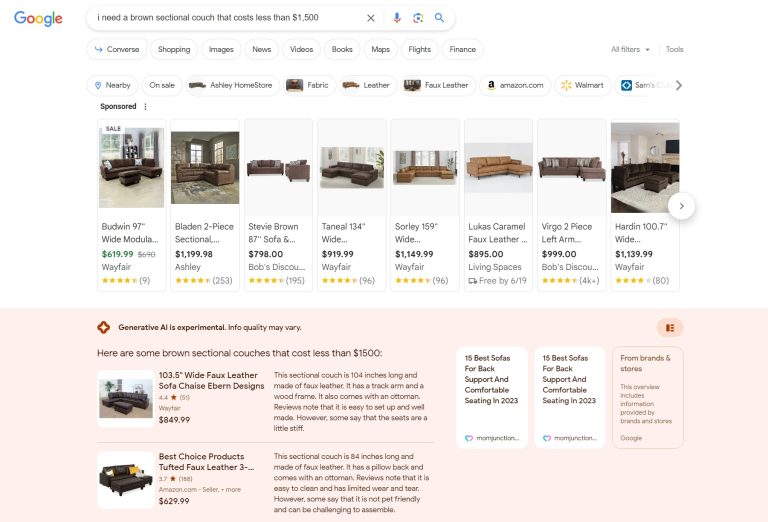 The more detailed your question, the more helpful the answer, but the products it chose for me weren't really what I was looking for. A vast majority were from Wayfair and Amazon rather than actual furniture stores and trusted brands. I genuinely got more use out of the sponsored listings at the top of the page than I did my tailored AI response.
Obviously, this technology is still in the experimental phase, and it will improve in time. But for now, it's not going to replace old-school Googling for me, and I imagine that will be the case for most searchers for the foreseeable future.