For those of you that have been following me for the past 10 years or so, you'll know that I'm a huge fan of Android.
https://www.youtube.com/watch?v=676A6VymGCk
No, I am not a fan of Android. But I haven't used an Android phone regularly enough to critique it in a long time. I turn on the phones that make their way to my office — the Galaxy S8 and Note 8, the old Pixel, the Essential — I sign into my Google account, mess around with the device, wipe it, put it back in the box, look sternly at the phones and tell them they should find a shelf. Because they're going to be sitting on it.
With the Google Pixel 2 XL, I was slightly more interested. I figured Google had to be getting better at this, Android had to be more cohesive and polished, and anyone can make good hardware nowadays, right?
Jesus was I wrong.
Before I completely eviscerate Google, though, there are some things I like about the Pixel 2 XL. I very much like the size and shape of the hardware — the thinness, lightness, and most of all, the textured metal case. I read somewhere that reviewers gave the phone to people who thought the phone was made out of plastic, but that's just because those people must have been heathens.
The phone feels as premium as a device this light and thin can feel, and it's great to hold. More important is the fact that I can actually hold the phone without it slipping out of my hand within 5 seconds. I had never used a case on any iPhone until the iPhone 6. When I first dropped that, and that aluminum case on the sides got slicker and slicker as time went on, it wasn't even possible to go caseless.
I was able to not use a case when I had the Jet Black iPhone 7 Plus, and I figured the glass back on the iPhone 8 Plus would provide some grippiness. It does, but not on the sides, so — not making this up — the instant I took the case off and held the phone in one hand while doing something else, I dropped it onto a concrete floor. It's pretty annoying that Apple makes a device now that has to be used with a case.
Back to the awful, terrible, waste of a phone that's called the Google Pixel 2 XL. While I enjoy the large display that's almost edge-to-edge, the radius of the screen corners combined with how much space the bezels take up above and below the screen are infuriating to me. What's more, this type of screen isn't even really functional on Android. There are system buttons on every app taking up space with black underneath, and sometimes some of the UI at the top of an app also obfuscates the rounded edges.
Take Chrome, for example. This is Google's flagship phone that Google made, with rounded display corners. In 2017. What a joke.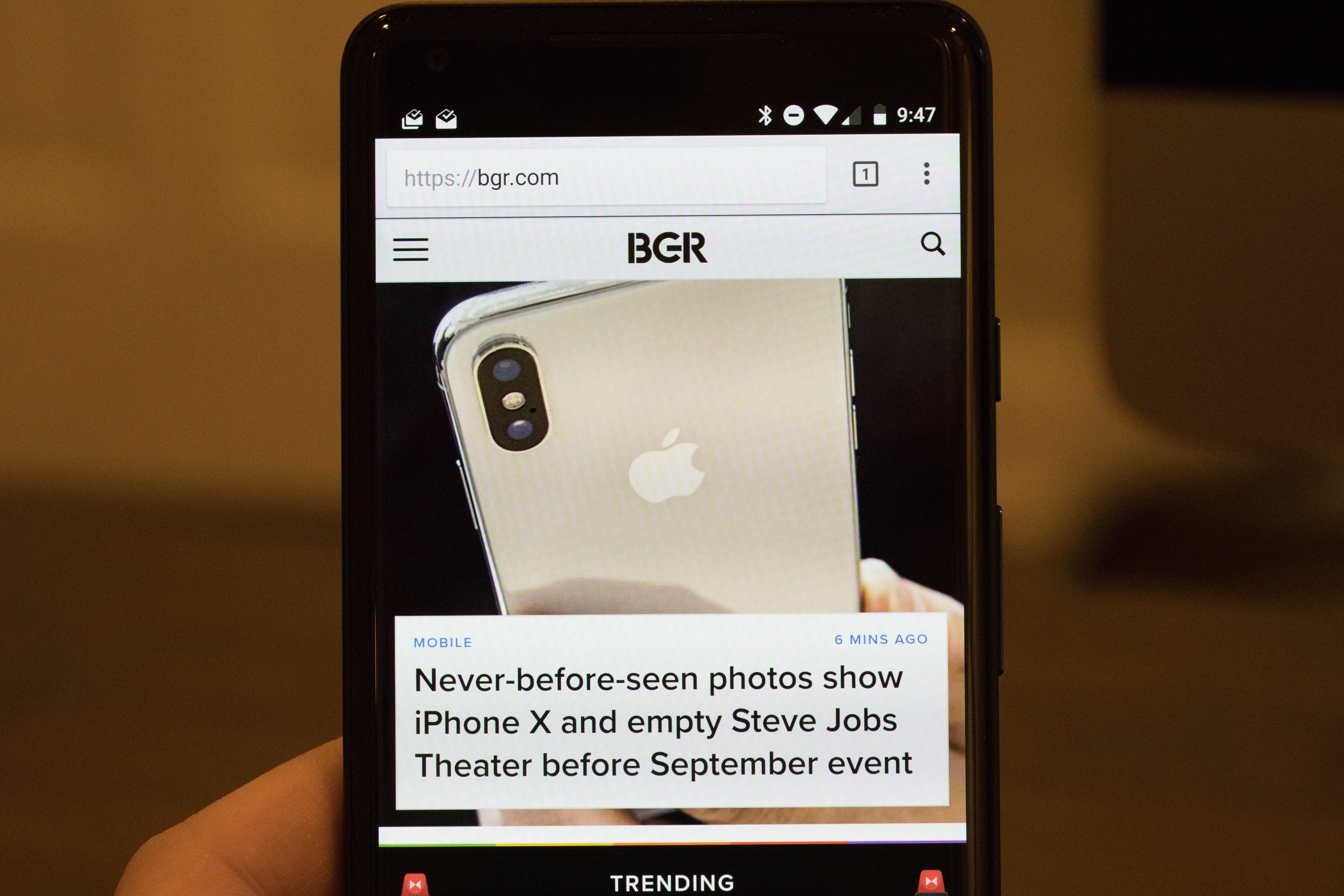 I forgot how painful Android was to use. Forget about it being intuitive or easy, I'm talking about power user level here. I'm talking about Aztec level in GoldenEye 007 type shit. Text entry and editing is still unusable, and apps are the biggest joke I've ever seen. The consistency between app icons is just terrible because Google doesn't enforce any sort of icon shape unlike Apple. I tried to find an IP camera viewing app when I was setting the phone up, and I literally only found an app that I had used when Android had first came out in 2007. I swear to you, the app has not changed in 10 years.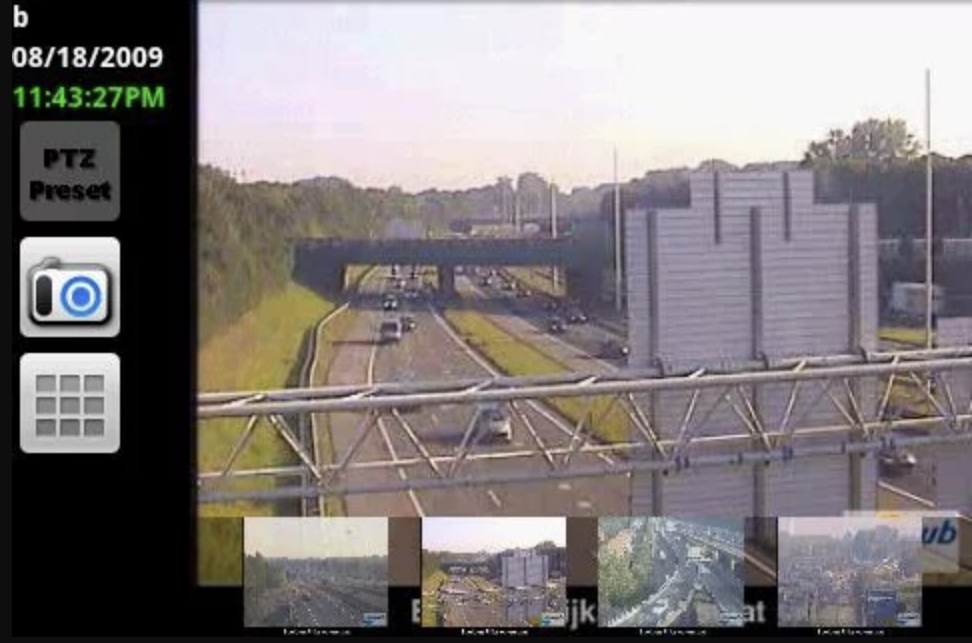 This company makes both the hardware and the software, and is so many years off from Apple it's unbelievable. Yes, Apple's iPhone 6/7/8s are stale as far as bezels and screen shape, but everything else is incredible. Google has yet to nail a single part of the phone experience to the level of polish and sophistication that Apple has had since the rebirth of the smartphone industry a decade ago.
What else about the Pixel isn't great? The camera!
People who reviewed the Pixel 2 XL's camera said it was incredible! Very nice, much wow! I took some photos in and out around my house and found the pictures to be noticeably worse than my iPhone 8 Plus. There was noise in almost every picture, and sharpness and color accuracy (off device) was better on the iPhone. I could not ever use a picture taken on the Pixel on my Instagram. Follow me on Instagram @jonathan.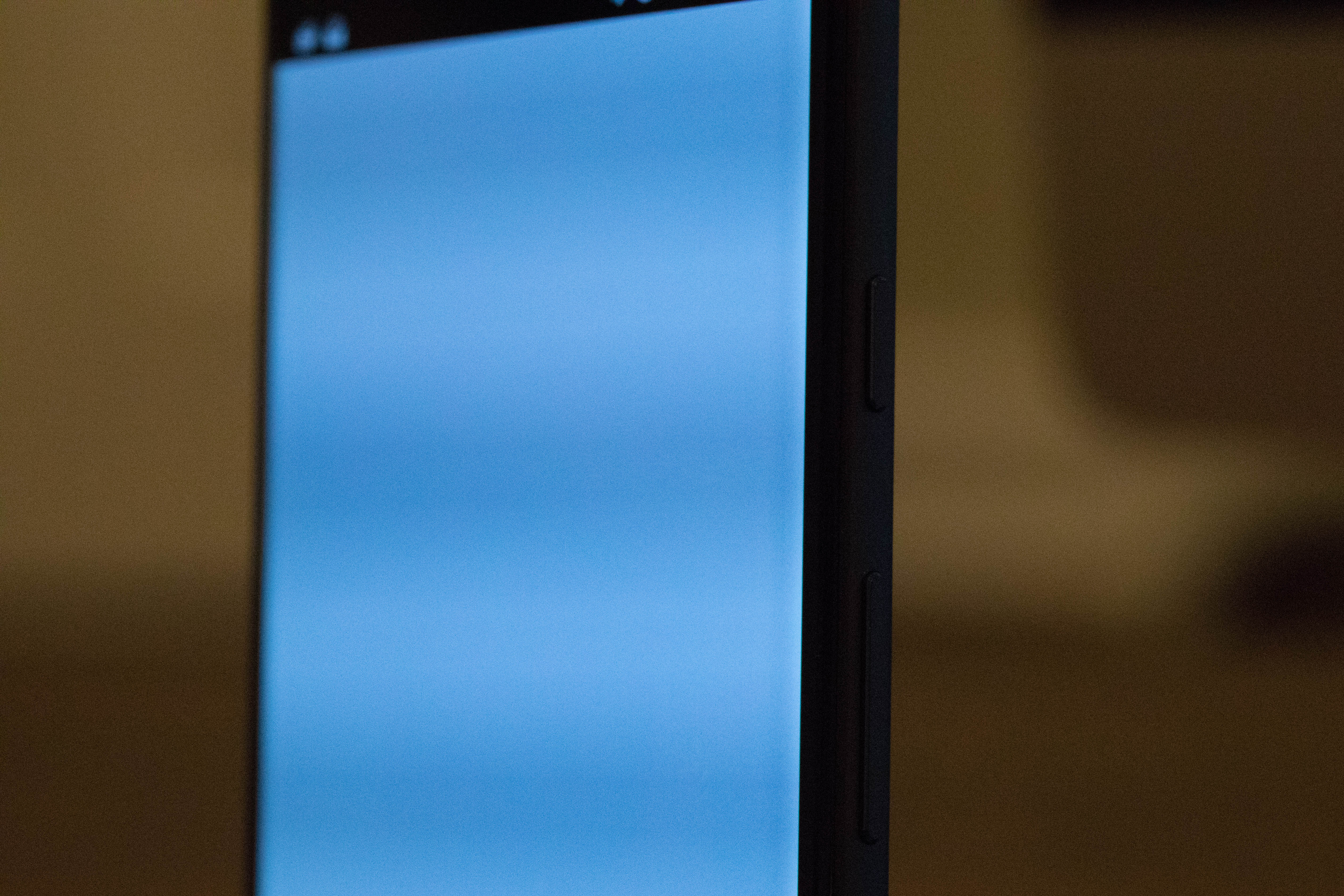 Let's talk about the absolute worst part of the Pixel 2 XL — the display. I am not going to mention who manufactured the display, because that's irrelevant to me. This is Google's phone, they own the entire phone. When you get sick after venturing outside your comfort zone eating pork tartare at a three-star Michelin restaurant, do you blame the restaurant's supplier of pork that's located out west? No, you blame the restaurant. That fucking pork tartare.
It has been written in the pages of the internet that the Pixel's display might be a tad bit blue, but besides that, it's totally fine! My dear friends, it is far from fine. It is an atrocity of engineering, production, and manufacturing. It's not just blue. It doesn't even just feature this awful grainy/paper-like texture to it that reminds of the original Samsung Galaxy Nexus. The viewing angles are Blue's Clues. And there's a terrible banding on the edges where the display is curved.
Please note: I did not edit the photos in any way, except for some light cropping. My photos are usually much better. Thank you.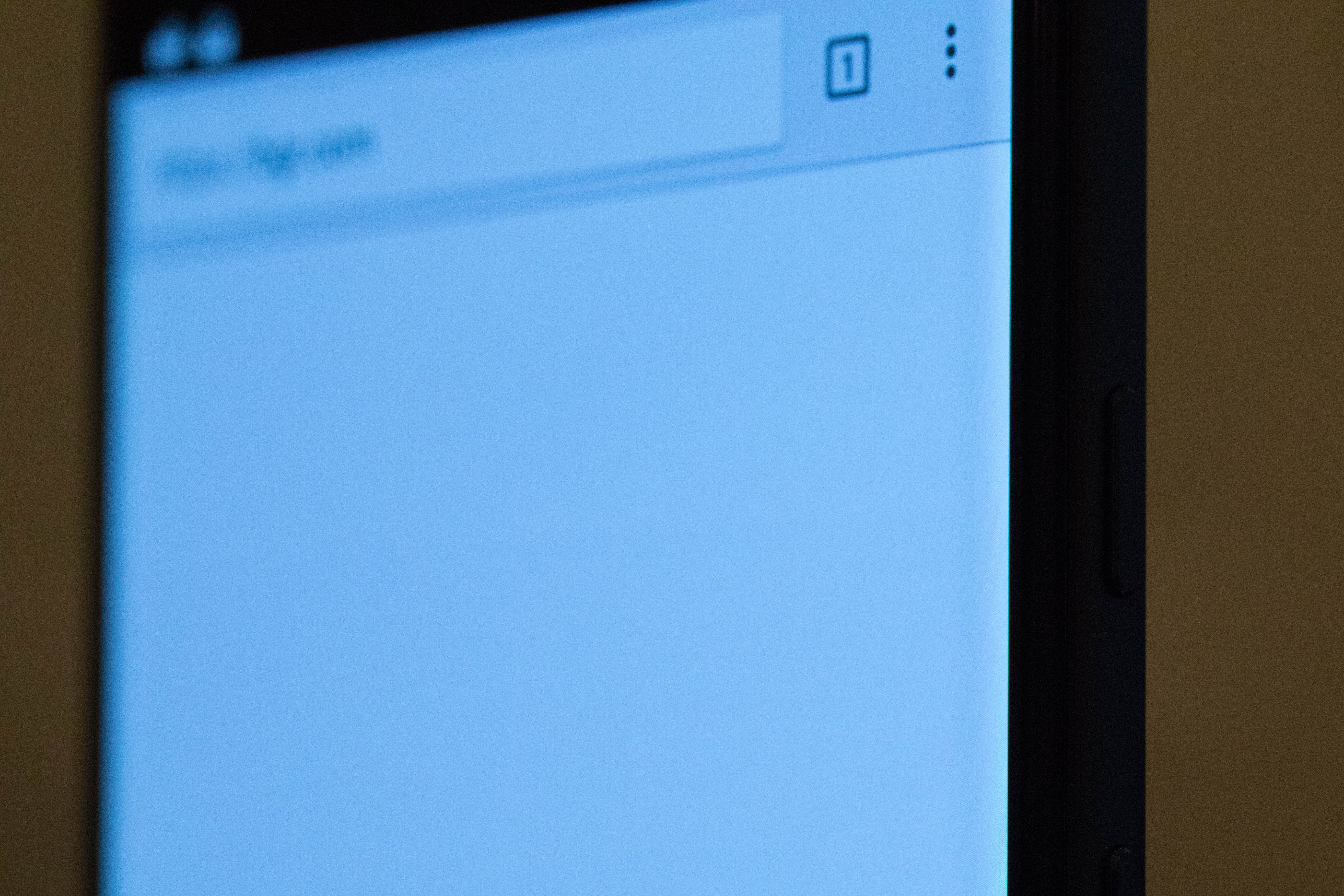 How is this acceptable to anybody who signed off on this sad sack of mashed potatoes? In case you can't tell, I'm actually pissed off at this point. We're supposed to be pushing the industry forward. Google is supposed to be pushing the industry forward, and this is what they release to the world? The focal point of a phone is the display, and they not only blew it, they embarrassed the entire team and company in the process. Look at the phone directly below, and indirectly below that.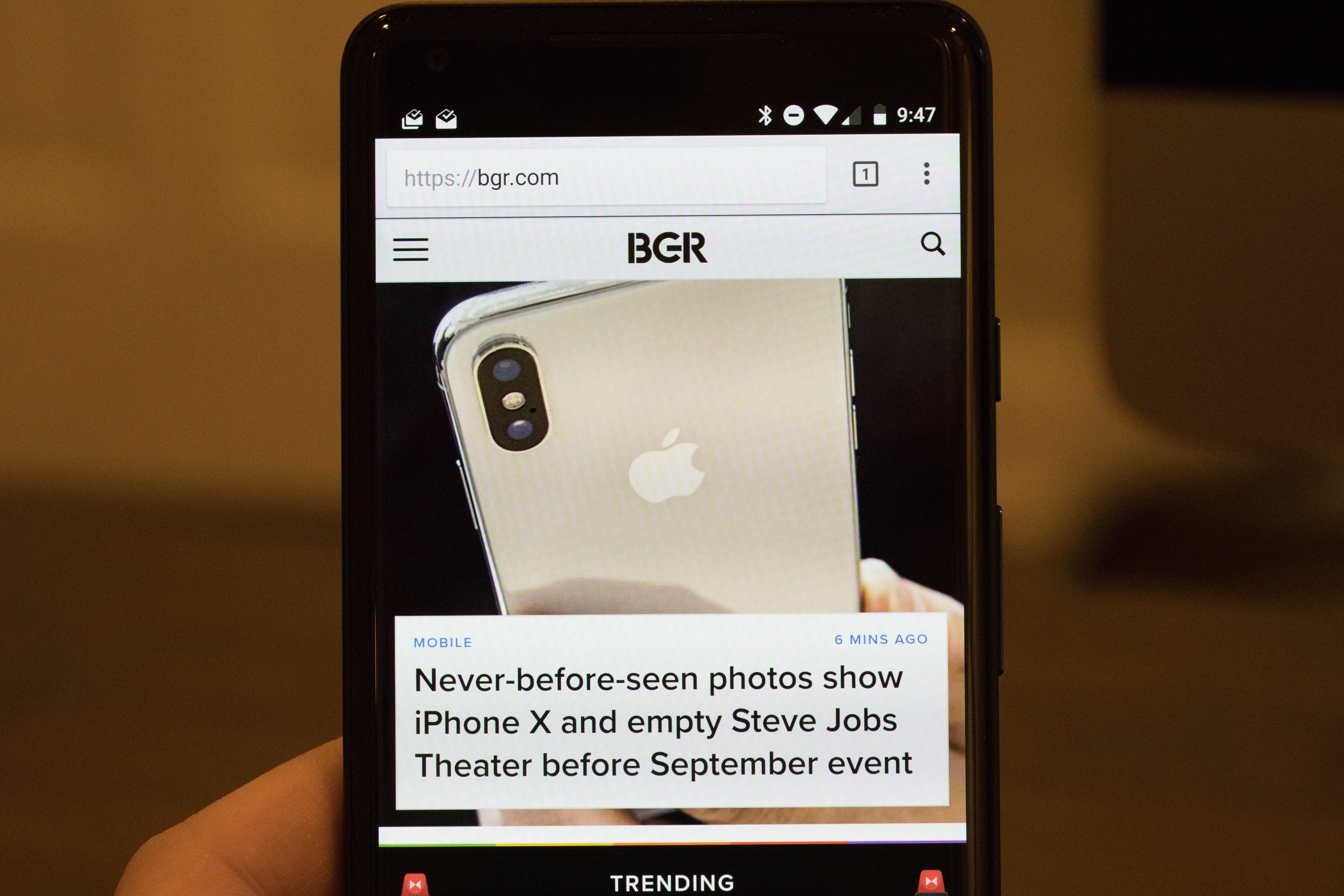 Literally LOL-worthy.
I also need to mention that Apple has the finest displays in the entire world, as far as I'm concerned. They're individually calibrated at the factory, and they're the most accurate LCDs I have ever seen. I can't wait to see the iPhone X's OLED screen because I'm confident it's going to be the best OLED ever used on a mobile device.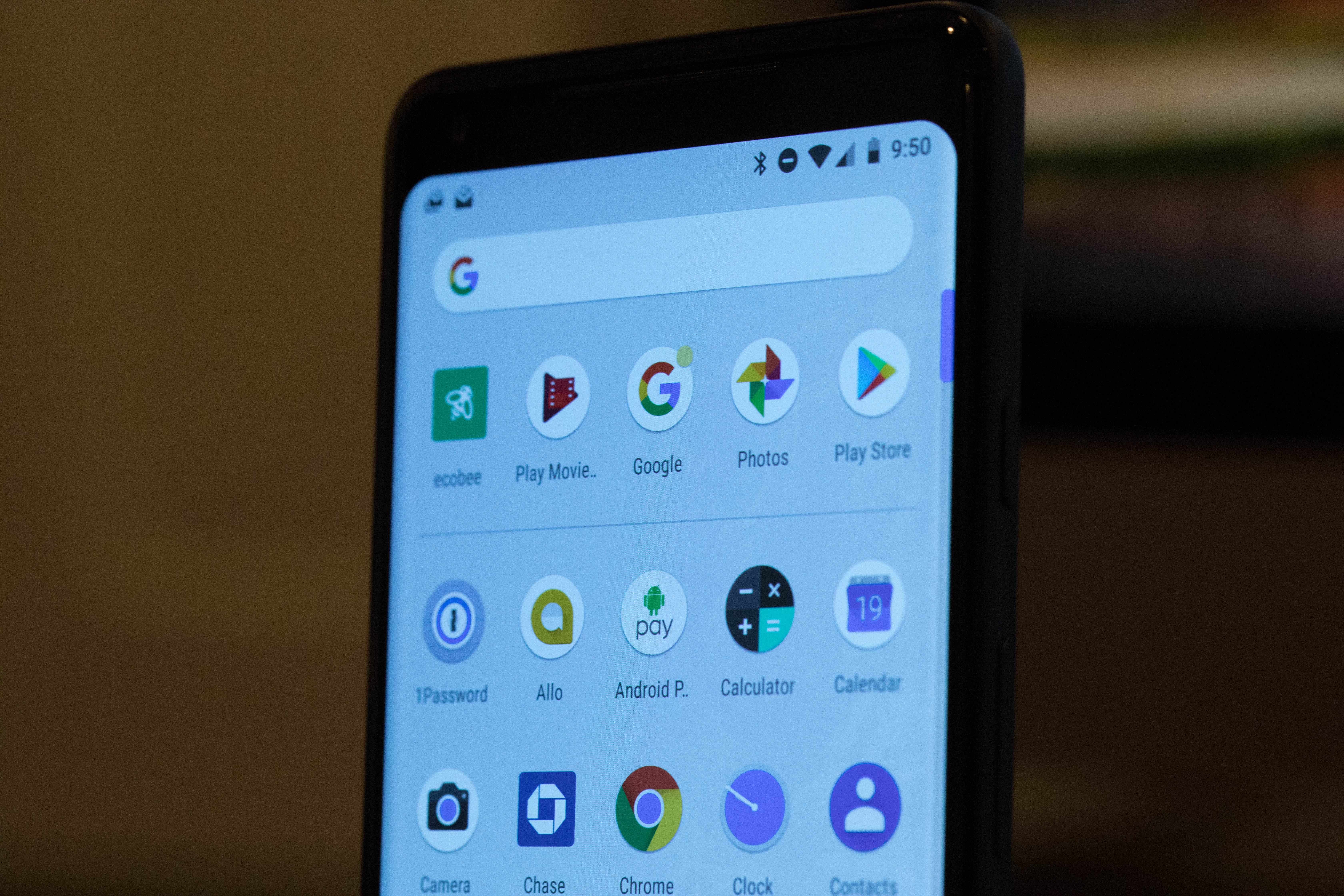 Remember when I told you how awful the Essential phone and company was without even buying one? Weird how no one else wants to speak up about how terrible Google's Pixel phones are, huh? Some have dipped their toes in the water, but none will just come out and say it — this phone is a complete shit show of epic proportions and people should seriously question why the maker of the world's number one OS can't even make a good smartphone in 2017. Pixel 2 XL isn't sitting on a shelf. It's going in the trash.