After a couple of leaks from a trustworthy source recently revealed that Google's upcoming HTC-made Nexus devices would each deliver the same set of high-end specs, the first benchmarks for one of the models has been spotted online, suggesting that both smartphones will offer some serious performance when they launch later this year.
MUST SEE: Foxconn spy shot reveals new iPhone 7 details no one saw coming
Discovered on GeekBench, a "Google Marlin" benchmark test reveals some specs for the handset, as well as scores for the unannounced Nexus phone.
Identified as "Google Marlin," which should be the Nexus 6P successor, the phone managed to pull off a 2084 score in single-core tests, and 4969 in multi-core tests. Comparatively, the iPhone 6s gets 2490 and 4332 in the same tests.
The Marlin is still a prototype device, so scores might improve by the time it's released in the coming months. But the GeekBench test seems to indicate that Google's 2016 Nexus devices will offer impressive performance.
Check out the screenshot below.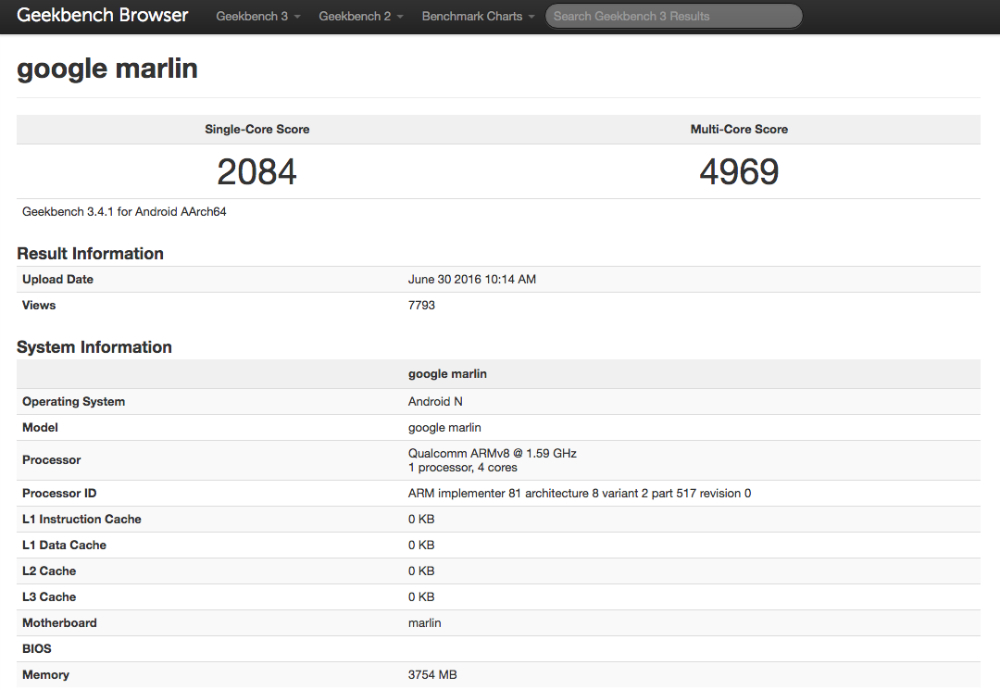 The listing also reveals that the phone packs a Qualcomm quad-core Snapdragon processor clocked a 1.6GHz, 4GB of RAM, and Android 7.0 Nougat (Android N). The HTC Nexus M1 (Marlin) will be almost identical to the HTC Nexus S1 (Sailfish) when it comes to hardware, which means that both devices should score similarly in tests.
Google is expected to launch the final version of Android 7.0 at some point this summer, with new Nexus hardware likely to arrive once Nougat is available. Meanwhile, neither HTC nor Google have confirmed this new Nexus partnership. The two companies have already launched a couple of Nexus devices in the past, including the original Nexus One smartphone and the Nexus 9 tablet.