With iPhone 7 and iPhone 7 Plus (or iPhone 7 Pro?) production now reportedly underway, we've seen a number of leaks and rumors that have painted a fairly clear picture of what we can expect from this year's new iPhone models. In fact, a pair of stories that were almost certainly planted by Apple's PR team at The Wall Street Journal and Reuters recently confirmed much of what we already knew. But it appears as though Apple still has a few surprises up its sleeve that the company is saving for its big iPhone 7 and iPhone 7 Plus unveiling this coming September.
At least, Apple was saving some new features for September until they just leaked thanks to a spy shot that apparently leaked from Apple's top iPhone manufacturing partner.
MUST SEE: Verizon, America's most expensive carrier, is about to get even more expensive
Following more than a dozen reports from solid sources and photo leaks, there are some details surrounding the upcoming new iPhone 7 and iPhone 7 Plus that have become very safe bets. If things play out as we expect them to, the phones will look a great deal like their predecessors, the iPhone 6s and iPhone 6s Plus. They'll have the same general design and shape, though they'll be a bit thinner and the plastic antenna lines on the back of the phones will feature a new, slightly less abrasive design.
We also expect the iPhone 7 and iPhone 7 Plus to feature new camera. The iPhone 7 will apparently sport an upgraded single-lens camera while the larger iPhone 7 Plus will seemingly sport a new dual-lens design. It's unclear whether the new dual-lens camera will be present on all Plus models or just a high-end Pro version.
Lastly, the new iPhones won't have 3.5mm audio ports.
Beyond all that, we've seen a number of questionable rumors that haven't yet been firmed up by solid sources. Among them are some reports that claim the iPhone 7 will come in either a new blue color or a Space Black color, and another series of more believable reports stating that the storage tiers for the new iPhone 7 and iPhone 7 Plus will be 32GB, 128GB and 256GB.
Now, what seems like a pretty huge leak may have confirmed two more iPhone 7 features that no solid source has reported at this point.
An image was posted on Chinese tech site MyDrivers.com on Monday that contains what the site claims to be a photograph taken of a slide from an internal presentation at Foxconn. Foxconn, as most will recall, is one of Apple's top iPhone manufacturing partners, tasked with taking all the components from Apple's suppliers and assembling finished iPhones.
The photo in question was reportedly snapped during an internal meeting at Foxconn, though it is unclear exactly who was in attendance. The image was reposted by Twitter user The Malignant, who regularly posts leaks that often end up panning out.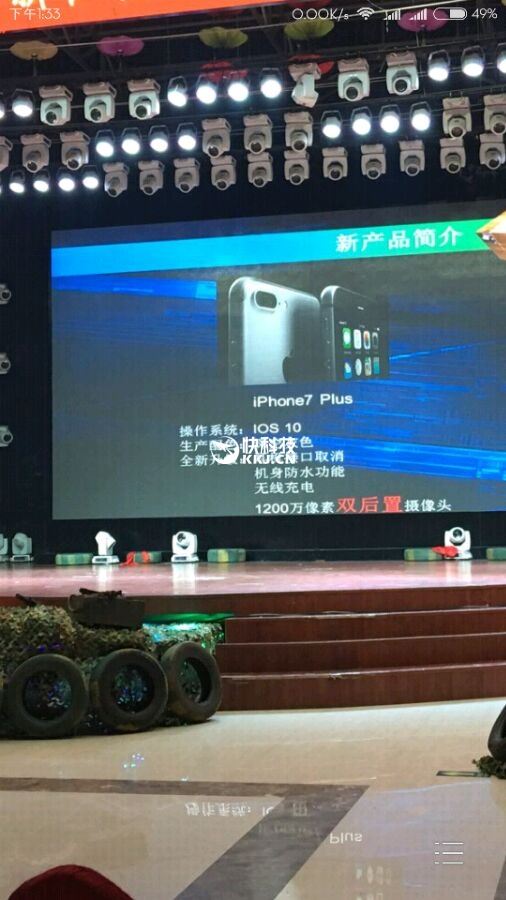 Beneath a concept photo of the iPhone 7 Plus — concept photos are sometimes pulled off the web and used in internal presentations, so it's not exactly a red flag — there are a few iPhone 7 Plus specs listed on the slide. Among them are a 12-megapixel dual-camera setup, wireless charging support and an IP68 water and dust resistance rating. The last two notes there are the surprises — we've seen rumblings here and there but as we mentioned, no solid source has confirmed either detail ahead of this leak.
Will we finally get iPhones that Apple's is comfortable with labeling as water-resistant this year, now that Apple is doing away with the headphone jack? Will we be able to charge them without having to plug them it? It sure looks that way, but obviously nothing is set in stone until Apple confirms it.