The second half of 2016 was bittersweet for Samsung. Granted, it was far more bitter than it was sweet, considering Samsung had no choice but to cancel the hottest smartphone it has ever created when it kept exploding in users' hands. It also had to recall more than 1 million handsets, a process that is still ongoing today. Yes, bitter indeed. But the sweet part came when data released by a market research company suggested that Samsung phones accounted for 22% of all activations over the holiday period, a figure that was actually up 1% compared to the holidays in 2015.
Samsung's road was rocky indeed toward the end of 2016, but the company is moving on. We've already seen Samsung unveil three new Galaxy smartphones ahead of CES 2017, but the star of the show for Samsung in the first half of the year is undoubtedly the upcoming Galaxy S8, which is set to be announced sometime this quarter. Now, let's take a look at what we can expect from a device that is already shaping up to be one of the hottest Android phones of 2017.
With 2017 finally here and everyone buzzing about the Galaxy S8, we thought it would be the perfect time to revisit all of the rumors from the most solid sources we've seen so far. We're now just a few months away from the Galaxy S8 unveiling, and plans are likely finalized at this point.
So what can we expect from Samsung's hot new Galaxy S8?
First and foremost, all signs point to a stunning new design that will see the thick bezels around Samsung's gorgeous quad HD Super AMOLED displays minimized as much as possible. The sides of the display will curve down just like they do on the Galaxy S7 edge and the Galaxy Note 7, so there won't be any bezel on the sides. Then, the top and bottom bezels will be smaller as well thanks to the removal of Samsung's customary oblong home button. The fingerprint scanner will reportedly either be embedded in the display, like we're expecting on the iPhone 8, or it'll be placed on the back of the phone like the Google Pixel.
Also of note, we're expecting two different Galaxy S8 models that will feature different sized displays. Both models will sport curved edges on the sides of the screen, according to multiple reports. In terms of overall design, they'll likely look something like this render by Veniamin Geskin: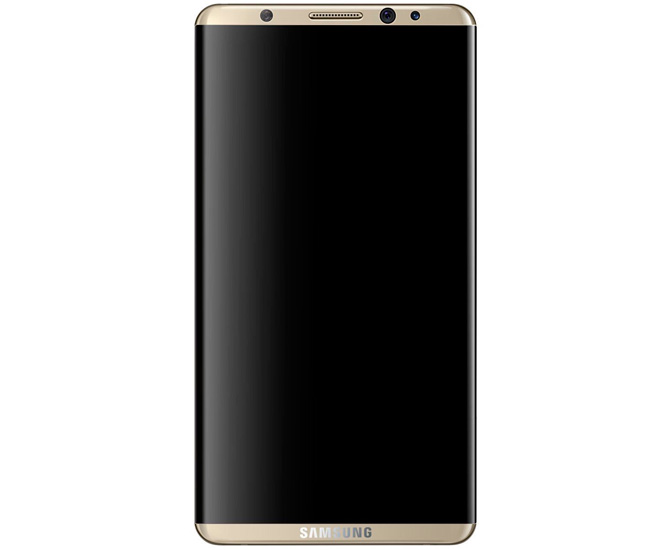 One other thing to be aware of in terms of design: Samsung's Galaxy S8 will reportedly ditch the standard 3.5mm headphone jack. Remember how Samsung took multiple shots at Apple when it ditched the dedicated headphone jack on the iPhone 7 and iPhone 7 Plus? Remember how we said it wouldn't be long before Samsung followed Apple's lead and did the same thing? Yeah.
In terms of power, you can obviously expect the new Galaxy S8 to be the fastest and most powerful Samsung smartphone ever created. We recently shared details about the processors that will be running the show in the Galaxy S8, and you can read all about them right here. In the US, you're looking at a 10nm octa-core Qualcomm Snapdragon 835 chipset with four high-power cores and four efficiency cores. Early benchmarks look promising, and a comparable Samsung Exynos processor will power Galaxy S8 models in other regions.
Finally, it looks like Samsung is cooking up some pretty awesome features for its new Galaxy S8 lineup. The iris scanner from the Galaxy Note 7 should make the leap to the Galaxy S series, and a recent report suggests Samsung's Galaxy S8 might include S Pen support from the Note series as well. The company's Viv acquisition might result in the debut of a Samsung personal assistant feature on the Galaxy S8 — if Google doesn't block it — and there are also rumors of an exciting new desktop mode feature that would allow users to connect the Galaxy S8 to a monitor and keyboard in order to power a full-fledged desktop computing experience.
Excited yet? You should be. Samsung is expected to unveil two new Galaxy S8 models in March ahead of a global Galaxy S8 release sometime in April.