After all the evidence that surfaced during trials in recent years, there's pretty much no way to rationally argue against the fact that Samsung got its start in the smartphone business by copying Apple. The company even created a 132-page guide to copying the iPhone pixel by pixel so that its engineers could rework Samsung's Android build to be more like iOS. That stigma has stuck with Samsung more than it should in some cases, though, and there's precious little doubt that the company travels its own path much more now than it has in the past.
Over the years, Samsung's Galaxy S and Galaxy Note smartphones have gained a wide range of features that are unique to Samsung phones. And if this latest rumor about the upcoming Galaxy S8 pans out, Samsung is getting ready to debut some exciting new functionality that you might never see on an iPhone.
We've seen plenty of rumors surrounding Samsung's upcoming new flagship smartphones for the first half of 2017. In fact, just this morning we saw a leak the shows off just how powerful and energy-efficient the new handsets will be. But Steve Litchfield of All About Windows Phone got his hands on possible evidence of a very intriguing new feature that may be coming to Samsung's Galaxy S8, and this is definitely the first we've heard of it.
Why is a Galaxy S8 rumor originating on a Windows blog? Because the new feature in question mirrors something that Microsoft added to Windows recently — a nifty (in theory) feature called Continuum that allows a Windows phone to connect to a dock and power a desktop experience.
Why is Continuum only nifty in theory? Because it still doesn't get around the fact that no one wants a Windows experience on their phone. Toss Android into the mix, however, and you might be onto something here.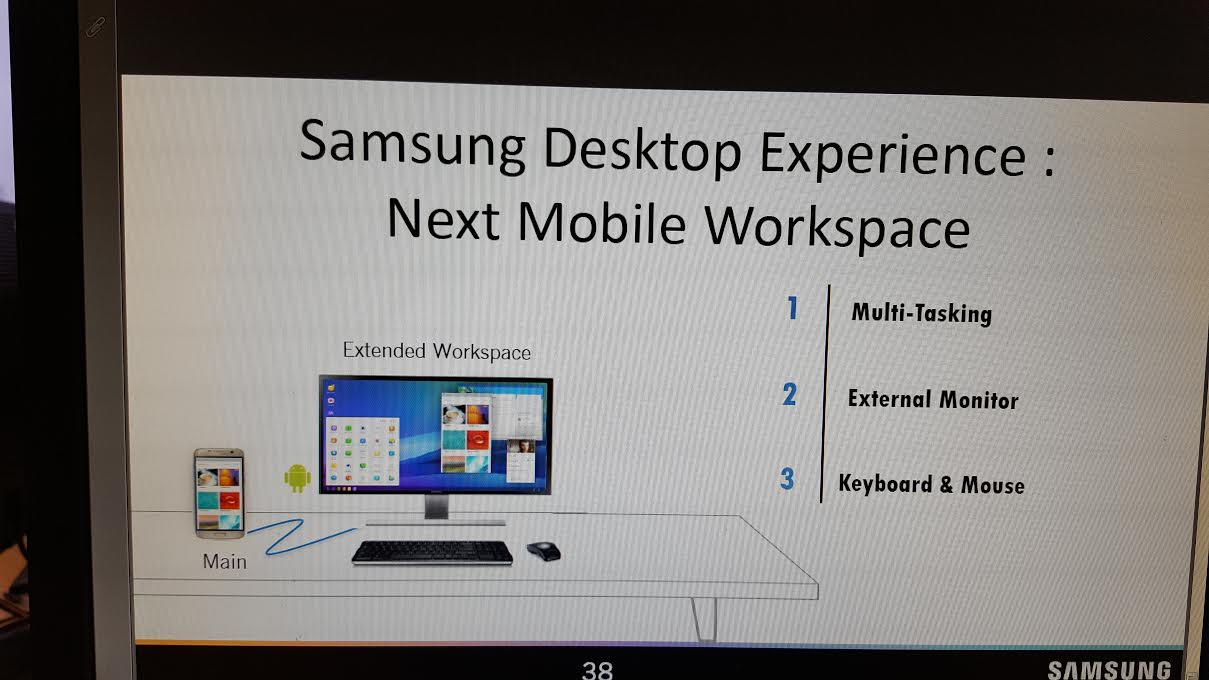 The slide above was published by All About Windows Phone on Monday, and it was reportedly taken from an internal Samsung presentation that focuses on the upcoming Galaxy S8. As you can plainly see, the slide shows a solution that would allow the Galaxy S8 to connect to a monitor, keyboard and mouse to power a desktop experience of sorts.
A solution like this would allow Galaxy S8 owners to carry a single device that would power both mobile and desktop computing experiences, but they wouldn't have to live without all of the mobile apps they want, as is the case with devices like the Windows-powered HP Elite x3.
If this rumor pans out, Samsung may have a very compelling pair of new Galaxy S phones in store for us in the coming months.