I know what you must be thinking right now. Why are Galaxy S8 leaks and rumors still relevant considering that the phone is already official, and we're just a few days away from its official in-store launch? Well, there might be relevant information in such leaks that could tell us more details about where Samsung is heading in terms of smartphone design. The Galaxy Note 8, due later this year, will probably have a similar design to the Galaxy S8 with a few critical twists.
A few days ago, we saw pictures showing purported Galaxy S8 prototypes that looked nothing like the final Galaxy S8 design when it comes to the back of the handset. Rather than sporting that weird camera-and-fingerprint-sensor combo on the back, those prototypes featured a dual camera and no fingerprint sensor. Samsung wanted to embed the biometric sensor under the display, but it wasn't able to do it in time for the Galaxy S8.
Таким был S8+, таким стал Note 8 pic.twitter.com/Q1Fk8tfMpt

— Eldar Murtazin (@eldarmurtazin) April 16, 2017
A new Galaxy S8 leak shared on Twitter by Russian tech blogger Eldar Murtazin shows two images of a Galaxy S8 prototype first posted online by Asia leaker KK, including a picture of the rear side complete with a dual camera setup. The dual lens camera has a vertical orientation, and the heart rate sensor and flash are present under it. Murtazin also seems to believe the design will be used for the Galaxy Note 8 that's supposed to come out in the second half of the year.
Recent reports indicated that Samsung is already working on the Galaxy Note 8. Even the Galaxy S9 development is already underway. The Galaxy Note 8 is expected to have an Infinity display that's even bigger than the one found on the Galaxy S8+, and ship with a built-in S Pen support.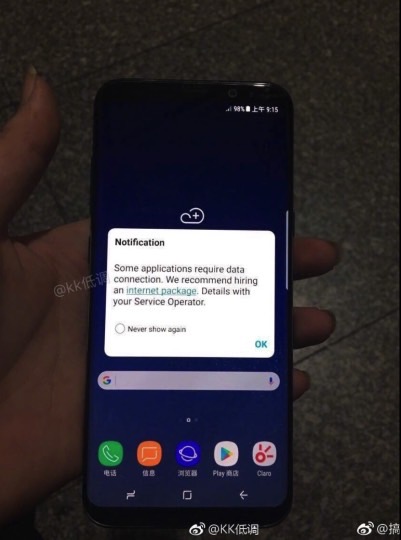 Samsung has reportedly partnered with Synaptics for embedding the fingerprint sensor in the display of its flagship smartphones, but the latter wasn't able to deliver the technology in time for the Galaxy S8's launch. It's likely that Samsung is still interested in the project, especially considering that Apple is also working on similar Touch ID tech for the iPhone 8.