Samsung has a brand new version of the Galaxy S8 version you can finally buy, one that you've seen featured in countless leaks so far: The Galaxy S8 Active.
Intended to be more durable than the regular Galaxy S8 and Galaxy S8+, the Active model is finally official. As expected, AT&T is the place to buy it, just like all Active models before it.
Just as expected, the Galaxy S8 Active will have a flat screen. And while the display isn't as big as the normal Galaxy S8's, it still occupies most of the front of the phone. The screen measures 5.8 inches, and it's a 2K Super AMOLED display with 18.5:9 aspect ratio.
The phone sports a metal frame and a polycarbonate back, which means it'll handle accidental drops much better than the normal S8, which is the most fragile smartphone SquareTrade has ever tested. The S8 Actibve is dust and water resistant, just like the Galaxy S8 models, but it also comes with military certification (MIL-STD-810G).
The phone will get you the same specs as the Galaxy S8 model, except for the battery, which is significantly bigger at 4,000 mAh. Bixby support is also included out of the box. Samsung's Galaxy S8 Active will be available for preorder on August 8th, hitting stores on August 11th. AT&T will charge you $28.34 per month for 30 months for the new phone, which totals $850.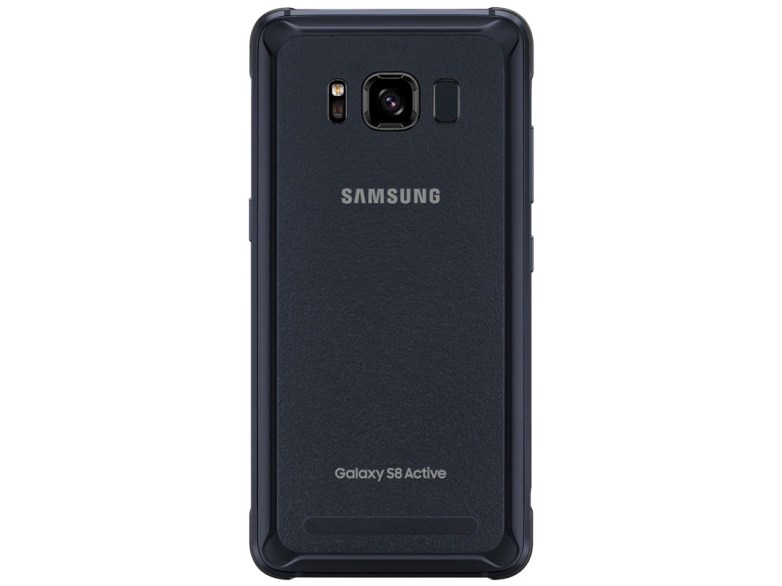 AT&T has a bunch of promotions ready for interested buyers, including a buy-one-get-one (BOGO) deal for customers who add a new AT&T Next line and add DirecTV. If you trade in an eligible smartphone, you'll get $200 of your Galaxy S8 Active purchase. You can also get $500 towards a Samsung TV is you buy an eligible smartphone on AT&T Next and DirecTV. The phone should be available online on Tuesday at this link.
The press release follows below.
Enjoy Your Entertainment Virtually Anywhere with the Rugged and Durable Samsung Galaxy S8 Active, Available at AT&T on Aug. 8

Galaxy S8 Active, Samsung's toughest Galaxy Smartphone yet, features reliable durability with a refined design and premium performance

When You Buy a Samsung Galaxy S8 Active You Can Be Eligible for a $750 Credit Towards Another Samsung Galaxy Smartphone, $500 Off a Samsung TV and More

DALLAS, Aug. 7, 2017 – Starting tomorrow, AT&T* customers can visit att.com/galaxys8active to pre-order the new Samsung Galaxy S8 Active, a Galaxy smartphone that offers a durable premium solution for life's everyday missteps. Designed around a metal frame with an improved, rugged structure, this device is shock-, shatter-, water-, and dust-resistant.1 The smartphone will be available in stores on Aug. 11 in either Meteor Gray or Titanium Gold. For a limited time, the latest Galaxy S8 Active device will be exclusively available from AT&T.

Customers can take advantage of all of the following offers when they purchase the Galaxy S8 Active or any of the latest Galaxy Smartphones – Galaxy S8 or Galaxy S8+ – on AT&T Next with eligible wireless service:
· Get a Galaxy S8 FREE when you add a new line on AT&T Next® and add DIRECTV,2

· Get $500 towards a Samsung TV purchased online when you buy an eligible smartphone on AT&T Next and add DIRECTV,3

· Get a Samsung Gear S2 for 99-cents or the Gear S3 for $49.99 on a 2-year agreement when you purchase the smartphone on AT&T Next,4

· Get up to $200 in credits when you buy the eligible smartphone on AT&T Next and trade in an eligible smartphone.5

"Only AT&T is offering you access to entertainment on your terms with Samsung Galaxy S8 Active starting this week," said Kevin Petersen, senior vice president, Device and Network Services Marketing, AT&T. "With the combination of its rugged and durable design and instant access to the DIRECTV NOW app, you can stream movies and TV at the pool, the beach or on the ski slopes anytime and anywhere."

"Our new Samsung Galaxy S8 Active is designed with tested durability and strength to address the needs of consumers who need a more rugged device for their lifestyle," said Tim Baxter, President and CEO, Samsung Electronics North America. "We are thrilled to introduce the fifth-generation Galaxy Active, which offers the best of Galaxy features in a tougher package."

The Galaxy S8 Active delivers advanced entertainment features that everyone can enjoy, including hard-working parents, corporate athletes and outdoor enthusiasts. From virtually anywhere, your entertainment can always be within reach. Designed with even more resilience, this smartphone is built to withstand almost anything with its military-grade, dust and water-resistance body6 and shatter resistant screen.7

Features of the Galaxy S8 Active:
· Durable Design – Constructed with military-grade materials for the utmost durability. This shatter, dust and water-resistant smartphone has a metal frame and bumper to protect against shock, abrasion, tilting or twisting. The back cover also has a rugged, tough texture for a secure grip.

· Meet Bixby – Bixby is a smarter way to use your Galaxy S8 Active with an intelligent interface that learns from you to help you get more done. Bixby includes intelligent vision, voice, a personalized home page and smart reminders. It's like having a personal and intelligent voice assistant at your fingertips.8

· Activity Zone – With a simple swipe or press of a button, the Hello Bixby home screen greets you with quick access to active lifestyle features such as a stopwatch, barometer, compass, and flashlight. This makes Bixby a great companion for your outdoor adventures.

· Expansive Screen & Durability – A shatter-resistant screen that provides a protective layer for the 5.8-inch Quad HD Super AMOLED Display. The screen's 18.5:9 aspect ratio provides an expansive display making the device easier to hold, so you can enjoy bright, vivid colors while watching your favorite shows and movies on DIRECTV NOW.9

· Long-lasting Battery – A battery that won't slow you down. You can power up wirelessly with a large 4,000 mAh battery.9

· Smart Camera – Samsung's best smartphone camera is now even smarter. The advanced 12MP F1.7 Dual Pixel rear camera and 8MP F1.7 Smart autofocus front camera deliver bright, sharp photos, even in low-light conditions.

· Strong Security – The Galaxy S8 Active is secured from the "chip up" with Samsung Knox, the defense-grade mobile security platform designed to protect the integrity of the device. It also offers a selection of biometric features such as fingerprint and iris scanners. Samsung Knox has become a trusted and robust security solution with 29 governments trusting it to secure their workforce.10

You can buy the Samsung Galaxy S8 Active on AT&T Next for $28.34 for 30 months when you have eligible service.11

The Galaxy S8 Active from AT&T comes ready with the DIRECTV NOW app. That makes it easy for AT&T Unlimited PlusSM and AT&T Unlimited ChoiceSM customers to watch their favorite movies and shows on the brilliant, expansive 5.8-inch display for as little as $10 more a month, after a $25 a month video credit.12

The Samsung Galaxy S8 Active is the latest 5G Evolution capable device, giving you a taste of the future of connectivity with our 5G Evolution technology in parts of Austin and Indianapolis, and in over 20 major metros by the end of the year.

With 5G Evolution, we're aggressively deploying equipment, investing in the right mix of spectrum and technology, and laying the foundation on our path to 5G while standards are being finalized.

The Galaxy S8 Active gives you access to voice over LTE (VoLTE), making it possible to take advantage of certain AT&T services including:13
· AT&T NumberSyncSM – Gives customers more ways to use their smartphone number on any compatible device, even when you don't have your phone handy.

· AT&T Wi-Fi Calling – Allows you to talk and text from almost anywhere you can get an active Wi-Fi connection.

· AT&T HD VoiceSM – Provides crystal clear call quality with reduced background noise.

· AT&T Video Calling – Let's you make and receive HD Voice calls combined with real-time video.

· Advanced Messaging – Allows you to send high-resolution photos and larger video files, up to 10MB per attachment.

· AT&T Enhanced Push-to-Talk – Makes it possible for customers to quickly communicate with coworkers and work teams over 4G LTE and Wi-Fi.

In addition, with HD Voice capable devices like the Galaxy S8 Active, you can download free apps like AT&T Mobile Security & Call Protect to help you gain more control over nuisance calls and help you avoid downloading unsafe apps and files.14
For more information on the Samsung Galaxy S8 Active, go to att.com/galaxys8active or visit one of our 5,000+ stores or Business Premier online.

1Shatter resistant for drops from 5 feet or less on a flat surface. Drops may cause scratches or other damage to device screen or body.
2 Buy One Get One: Limited time. Each req's $750 on installment agmt & elig. svc. Req's a new line. Free after $750 in credits over 30 months. Credits start in 2-3 bills. If svc cancelled, device balance due. Taxes, fees, & restr's apply. See att.com/deals for details.
3 $500 TV Offer: Ends 8/31/17. Void in Puerto Rico & U.S.V.I. w/in Req's elig. wireless svc (min. $50/mo.) & new 24-mo. TV agmt w/elig. TV svc (min. $29.99/mo.).Excludes DIRECTV NOW. TV svc must be installed, eligible device must still be on its AT&T Next agmt & both accts must remain active. Activation, early termination & other fees, & restr's apply. See att.com/deals for details.
4 Gear S2/S3 Bundles: Req's elig. Service on both devices (min. $60/mo.). Tax due at sale. If wireless svc is cancelled, device balance due. Other charges & restr's apply. Visit a store for details.
5 $200 Trade-In Offer: Limited Time. Online and select locations only. Req's at a participating store trading in an elig. Smartphone w/min. $20 trade-in value & meet AT&T Trade-In Program reqmts. Not an upgrade program. Fees & restr's apply. Details at att.com/gs8
6 Military Grade Design: This device passed military specification (MIL-STD-810G) testing against a subset of 21 specific environmental conditions, including temperature, dust, shock/vibration, and low pressure/high altitude. Device may not perform as shown in all extreme conditions. See user manual.
7 Shatter, Water & Dust Resistant Screen: Screen is shatter-resistant up to 5 feet on a flat surface. Water-resistant up to 5 feet of water for up to 30 minutes; rinse residue/dry after wet. This device passed military specification (MIL-STD-810G) testing against a subset of 21 specific environmental conditions, including temperature, dust, shock/vibration, and low pressure/high altitude. Device may not perform as shown in all extreme conditions. See user manual.
8 Bixby: Service ability may vary by country.
9 Screen measures diagonally as a full rectangle without accounting for the rounded corners
10 Knox is a mark for a Samsung device tested for security and is specifically configured with enterprise use in mind. For information about Samsung's Knox device, please refer to http://www.samsung.com/us/knox.
11 AT&T Next: Req's well-qualified credit & 0% APR installment agmt. Tax due at sale. If wireless svc is cancelled, device balance due. Fees, other charges & restr's apply. See store for details.
12 Video Credit: $10 after $25 monthly video credit. Credit starts in 3 bills. Pricing subject to change. Terms, conditions, and rest's apply. See att.com/unlimited for details.
13 AT&T Services: Certain AT&T feature services require both caller/sender and recipient to be in an AT&T HD Voice coverage area and that each has a feature-capable device. Other restrictions apply. For each service, see landing page (linked above) for more details.
14 AT&T Mobile Security & Call Protect: HD Voice compatible device req'd. Data charges may apply for app download and usage. Add'l restr's apply. AT&T Mobile Security only avail. to AT&T postpaid wireless customers with Android smartphones. AT&T Call Protect is avail. to AT&T consumer and business (except Government) postpaid wireless customers with iPhone 6 or above or Android smartphones.

*About AT&T
AT&T Inc. (NYSE:T) helps millions around the globe connect with leading entertainment, business, mobile and high speed internet services. We offer the nation's best data network** and the best global coverage of any U.S. wireless provider. We're one of the world's largest providers of pay TV. We have TV customers in the U.S. and 11 Latin American countries. Nearly 3.5 million companies, from small to large businesses around the globe, turn to AT&T for our highly secure smart solutions.

AT&T products and services are provided or offered by subsidiaries and affiliates of AT&T Inc. under the AT&T brand and not by AT&T Inc. Additional information about AT&T products and services is available at about.att.com. Follow our news on Twitter at @ATT, on Facebook at facebook.com/att and on YouTube at youtube.com/att.

© 2017 AT&T Intellectual Property. All rights reserved. AT&T, the Globe logo and other marks are trademarks and service marks of AT&T Intellectual Property and/or AT&T affiliated companies. All other marks contained herein are the property of their respective owners.

**Claim based on the Nielsen Certified Data Network Score. Score includes data reported by wireless consumers in the Nielsen Mobile Insights survey, network measurements from Nielsen Mobile Performance and Nielsen Drive Test Benchmarks for Q4 2016 + Q1 2017 across 121 markets.

About Samsung Electronics America, Inc.
Headquartered in Ridgefield Park, N.J., Samsung Electronics America, Inc. (SEA), is a recognized innovative leader in consumer electronics, mobile devices and enterprise solutions. A wholly owned subsidiary of Samsung Electronics Co., Ltd., SEA is pushing beyond the limits of today's technology and providing consumers and organizations with a portfolio of groundbreaking products in appliances, home entertainment, Internet of Things, mobile computing, smartphones, virtual reality, wireless infrastructure and wearables, in addition to offering leading content and services related to mobile payments, 360-degree VR video, customer support and more. Samsung is a pioneering leader in smartphones and HDTVs in the U.S. and one of America's fastest growing home appliance brands. To discover more about Samsung, please visit http://www.samsung.com. For the latest Samsung news, please visit news.samsung.com/us and follow us @SamsungNewsUS.

About Samsung Electronics Co., Ltd.
Samsung Electronics Co., Ltd. inspires the world and shapes the future with transformative ideas and technologies. The company is redefining the worlds of TVs, smartphones, wearable devices, tablets, cameras, digital appliances, medical equipment, network systems, and semiconductor and LED solutions. For the latest news, please visit Samsung Newsroom at http://news.samsung.com.