Samsung's next flagship phone will get us even closer to the smartphone design of our dreams. Samsung already unveiled a bunch of new versions of its Infinity display that all push us closer to a bezel-less smartphone. On top of that, a flurry of reports in the past few weeks all said the same thing, that the Galaxy S10 would have a new Infinity-O display, the screen design with a hole for the selfie camera that will be first featured on the Galaxy A8s and on an upcoming Huawei phone. But can the Galaxy S10's design also support Face ID-like 3D facial recognition?
Apple's newer iPhone models like the iPhone XS and XR all have notches at the top because they all support Face ID, a feature that requires an array of sensors and cameras: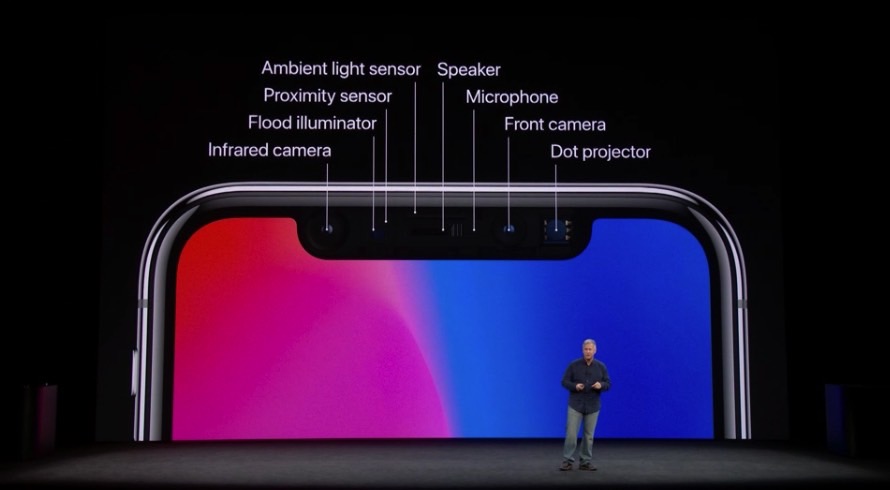 Here's one more illustration that explains the purpose of each component:
Drilling a single hole through the display wouldn't be enough for Face ID. However, Samsung is making at least four distinct Galaxy S10 versions, and at least one of them will have a dual-lens front camera, according to recent reports. A second camera will require an additional hole in the screen, but that doesn't necessarily mean Samsung will use the dual camera setup for 3D facial recognition. After all, Google put two front cameras on the Pixel 3 to enable wider selfies, not to enable Face ID.
Not to mention that Face ID, as we have seen above, requires a dot projector and a flood illuminator. But what's interesting about Galaxy S10 rumors, especially the ones that come from Korea, is that they deliver all sorts of details. For example, a story from TheElec a few days ago was first to mention that Samsung will use "Hole in Active Area" (HIAA) technology to make Galaxy S10 screens and that a diode pumped solid state laser (DPSS) will be required for drilling. The same report said that Samsung Display will drill two different size holes in the panel for the front camera lens and infrared (IR) sensor. The report noted that the proximity sensor, light sensor, and LED status indicator would all be found under the screen — here's how the current sensors setup looks on the Galaxy S9 phones:
Why would the Galaxy S10 require an infrared sensor if not to support advanced 3D face scanning? Assuming the report is accurate, we may not have enough holes in the screen to accommodate other components seen in Apple's notch. TheElec did not elaborate on what Galaxy S10 versions will come with two HIAA holes, but reports that followed also mentioned the technology, saying that HIAA OLED screens will be a Samsung exclusive for a while.
I'll also important to point out that while we have seen purported Galaxy S10 screen protectors out in the wild, all the leaks showed protectors that would fit single-hole screens.
But let's dig up a report from mid-January that said Apple's 2019 iPhones will have a smaller notch thanks to an innovation that would allow Apple to combine the FaceTime camera with the infrared camera. As a result, the notch size would be reduced significantly, although components like the dot projector and the flood illuminator would still be required.
Even if it can make Face ID work on Infinity-O screens, does Samsung really need 3D facial recognition for the Galaxy S10 right now? Was the Korean giant able to bypass Apple's supply chain lockup with its own Face ID innovations that would make Face ID possible on a device that only has a couple of holes in the screen rather than a full notch?
Not to mention that Samsung has been developing a more sophisticated in-display fingerprint technology than what's currently available from other Android vendors. The Galaxy S10 is said to feature an ultrasonic fingerprint sensor under the display instead of an optical one. So Face ID might not even be needed on a phone rocking a fast fingerprint sensor under the screen. Also, the Galaxy S10 phones supposedly won't have iris recognition cameras, which seems to be another indication that Face ID isn't in the cards. Early reports did say the handset would have Face ID support, but 3D face recognition hasn't come up lately in Galaxy S10 rumors.
Meanwhile, Huawei's Mate 20 Pro comes both with Face ID support via an iPhone-like notch, and an in-display optical fingerprint sensor. And Samsung might not want to be perceived as a company that can't match the work of its biggest Android rival, especially considering what Huawei has been up to lately.