First introduced in 2021, Figma's FigJam is getting the most important feature it could add in 2023: Artificial Intelligence capabilities. Starting today, the company is making this open beta available for customers in all tiers for free.
According to Figma, FigJam is a space for teams to meet, jam, and get work done. By helping team members brainstorm and plan in a more engaging way, these new AI features will help people break the ice with the whiteboard and get it customized for the team's needs in just a second.
With FigJam AI, the platform will focus on three main features:
Generate: Go from a blank canvas to a personalized template or visualization with a simple prompt. It will help reduce prep work, facilitate more fun and engaging meetings, and help you communicate visually.
Sort: Automatically cluster stickies into key themes, which will help you spend less time organizing and more time focusing on big ideas while also identifying trending topics.
Summarize: Create a summary from a sea of stickies in one click. It helps you get clarity on key takeaways and align on the next steps.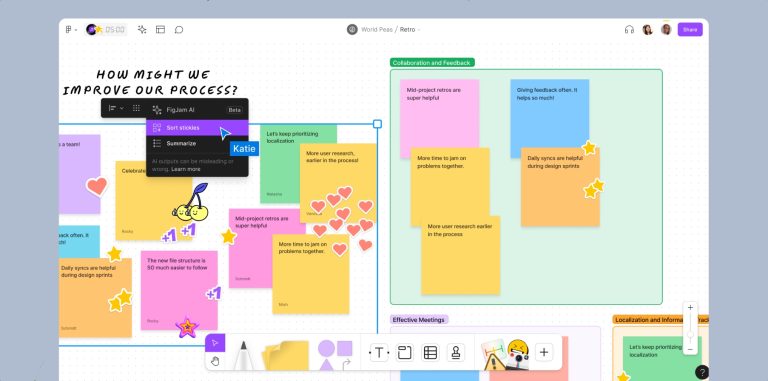 BGR was part of a briefing that showcased these AI features in action. During the presentation, we could see how users could make a weekly sync, plan a three-part project, create a Gantt chart, or even create a 1:1 call with all the basics of a presentation ready.
In addition, thanks to FigJam widgets and plugins – there are more than 1,500 of them –you can make the presentation more interactive and enticing to all participants.
At the end of the day, FigJam is all about sharing ideas with your team, and you can do that while on a Zoom/Microsoft Teams/Google Meet call or using your iPhone, iPad, or browser.
You can learn more about FigJam here and discover how you can take advantage of these new features, as teams from Netflix, Spotify, and Stripe are already doing.