I wouldn't blame anyone for wanting to leave Facebook for good after hearing that their personal data may have been used without consent by Cambridge Analytica and any other Facebook app developer smart enough to collect user data in a similar fashion. But ditching Facebook, whether that means deactivating your profile or deleting it altogether, is easier said than done. Like it or not, that Facebook account also lets you log into other Facebook apps that you may like, including Messenger and Instagram. You'll also lose access to any friends and family on Facebook who have protected accounts if you completely delete your profile.
Luckily for you, there are ways to #DeleteFacebook without actually deleting your Facebook account — though, that still means Facebook will collect some data and make money off of you. But most of your sensitive data can be removed from the site without fully deleting your account.
We've probably covered these privacy settings in the past, but the Electronic Frontier Foundation has a good write-up on how to limit Facebook apps from collecting your data.
You have two options, including a severe method and a mild one. The easiest and most extreme solution is to head to Settings, then Apps, then Apps, Websites and Plugins. Once in there, click on Disable Platform. What this does is to prevent Facebook from allowing you to sign into other websites or apps, like Instagram and anything else you use a Facebook login for.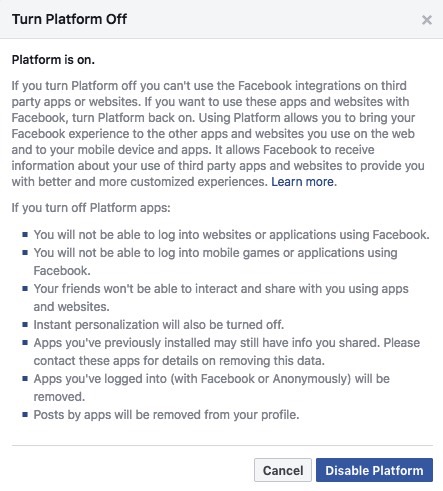 The other option is in the same menu. Instead of Apps, Websites and Plugins just go to "Apps Others Use" and deselect everything on that list. That way, your personal information stays out of the hands of other people.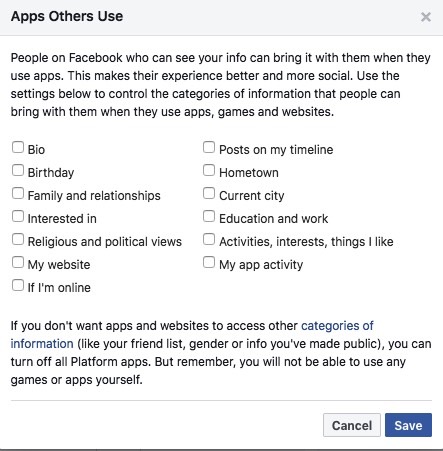 From the same App Settings page, you can remove individual apps that you've let into your Facebook life in the past. On top of that, you can take additional measures to minimize your exposure to privacy breaches, and Gizmodo has a few tips.
What you have to do, basically, is to keep your activity to a minimum. Remove information from your profile that you don't want anyone to have access to, including personal information that appears on your profile page, as well as previous likes, check-ins, interests, tags, and whatever else you think should not be shared with Facebook or third parties. Your activity log offers a timeline of your Facebook actions, and it's an excellent place to start if you want to remove content or hide it from the general public.
Finally, go the Ads section of Facebook and turn off Facebook's ability to collect data about you from the other websites you visit.

Also, edit the Your information section to block Facebook from sharing data about you with advertisers.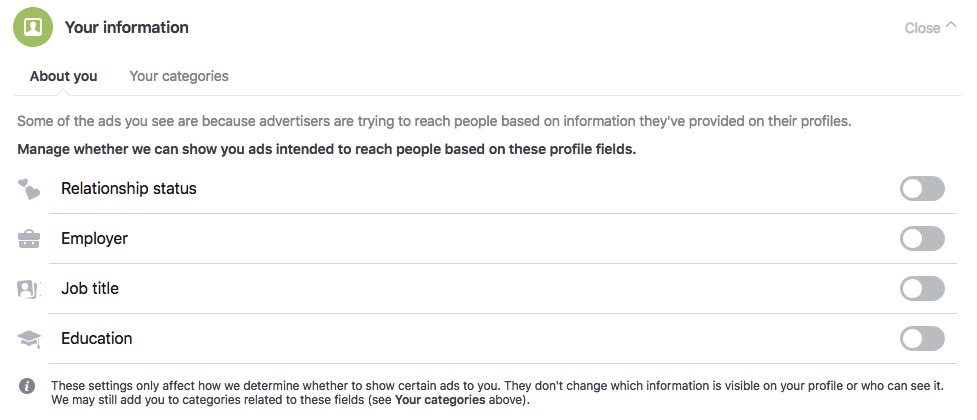 Once that's done, and as long as you keep your activity inside Facebook to a minimum, Facebook and others will have a harder time collecting personal data and targeting you with ads. However, the data others have collected about you in the past based on your previous privacy settings won't simply disappear.
If you want to step up your privacy game, you can take additional measures. In your browser, you can install add-ons that block cookies, remove cookies yourself, or use incognito mode at all times. Getting a VPN service might also be a good idea.